Last Updated on 6th October 2014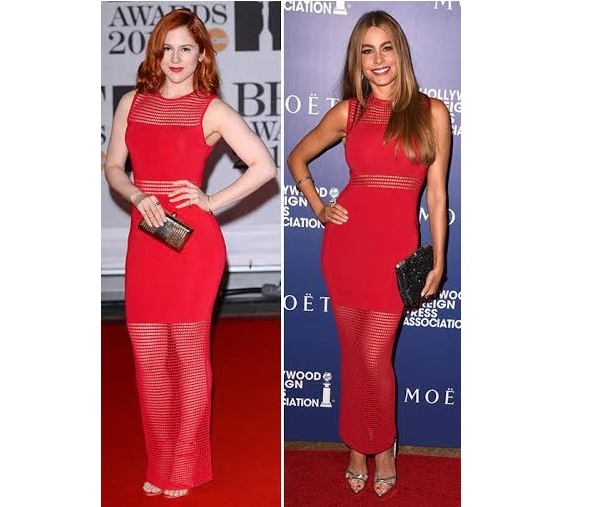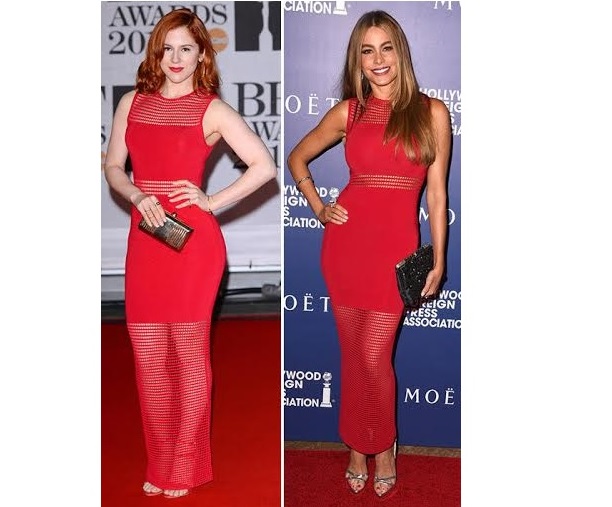 One wore it to the Brit Awards, and one wore it to the Hollywood Foreign Press Association's Banquet. It's another tale of two girls and one dress. The duo this week is singing sensation Katy B and sexy senorita, Sofia Vergara… Did you enjoy all that witty alliteration?
Both ladies wore the same Ronny Kobo open-stitch dress only a few weeks apart. What makes this decision so much harder is the fact that both ladies dresses hug their curves perfectly… It's going to be a tough one!
Katy B isn't known for shying away from controversial fashion choices, so it's no surprise she decided to wear such a ballsy dress. The red contrasts beautifully against her super pale skin, making the meshed areas stand out, almost colour blocking the red and white. Her simple accessories and small silver clutch are perfect for this dress; the intricate statement piece would become overwhelming with heavier accessories. On the down side, we're not a fan of the red hair and red lipstick with this dress; it runs the risk of starting to look 'too much.'
Sofia Vergara looks stunning as always, her body looks incredible in this dress. Her hair is perfect, beautiful and free-flowing, again, a great move so as not to look 'over done.' We're afraid we do dislike the large black clutch. It's incredibly overbearing and seems to be fighting for attention with the dress.
This week Katy B takes the style queen crown. We can forgive the red overload…..mainly because she looks like Little Red Riding Hoods sexy, badass older sister. Her skin tone is great for this dress too and makes the whole looks more dramatic. In addition her accessories are completely understated and on the money.
Which look do you prefer?