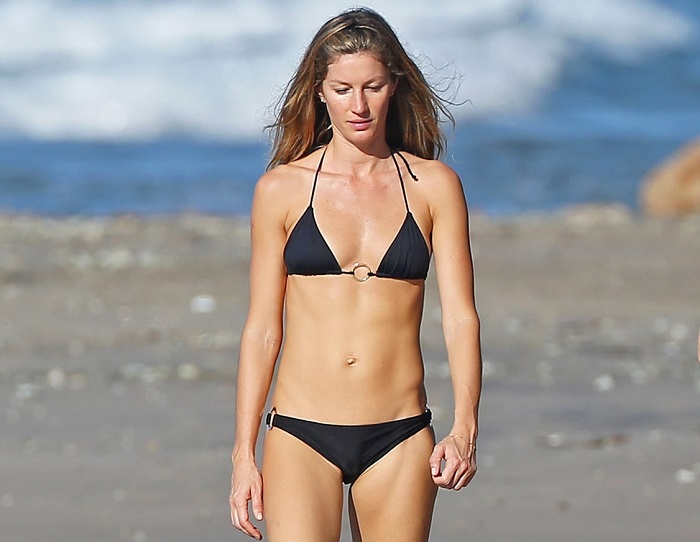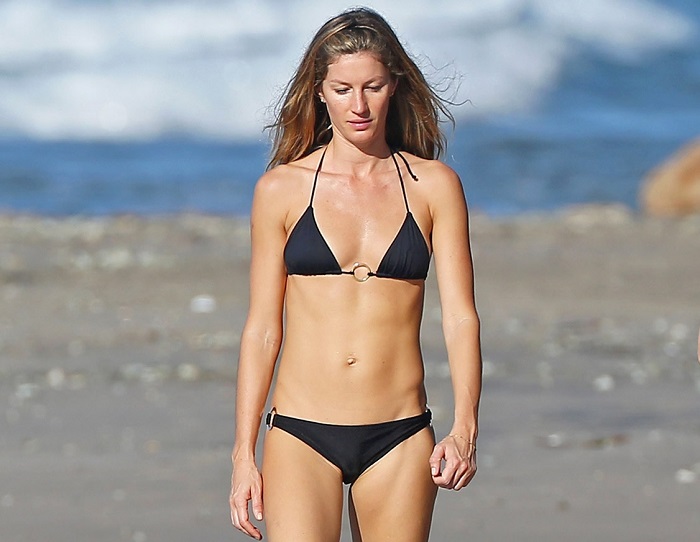 You work hard for that athletic figure: don't waste it hiding behind an unflattering swimming suit. Turn heads with the right bikini, one that will enhance your smaller bust and will show off your well-toned lower half. Here's what you should consider when looking for the most becoming swimwear to highlight your shape.
Embellish to Add Emphasis
In general, women with a sporty body type should focus on feminine details. Because your body is generally a straight line, you'll want to add the illusion of curves. To do that, avoid shapeless tank tops and boy-cut bottoms. Instead, try a top with embellishments, such as fringes or ruffles. The Raisins brand out of southern California offers the Shayla bikini line that has a soft flounce, which drapes over the top piece, giving the impression of a larger bust.
You can also benefit from a padded top, which gives the impression of a fuller figure. Halter-style strap styles gather the bust to create more impact as well. While you're at it, emphasize your back with a suit that has strappy lines. Crisscross lines work well to highlight your sculpted trapezoid muscles.
In addition, remember to choose bright colours and feminine prints. They both can naturally give the look of curves, which is exactly what you are trying to do. In short, you want to:
Wear a padded top to add cleavage
Rock the ruffles to emphasize everything
Embrace straps that bring the eye upward
Avoid boxy, straight looks like boy shorts
Un-broaden Your Horizon
If your athletic build includes wide shoulders, avoid bandeau tops, which can make them look even broader. Instead, you want to balance out your body. If your upper half is boxy, you can even it out with a solid color on the front and a print or ruching on the sides. An asymmetrical neckline will also work to draw the eye up, instead of straight across.
Do You Want Thighs With That?
Athletic figures also tend to have powerful thighs. The bikini bottom should fit below the belt line to better balance out proportions. Look for pieces with a flattering tapered-back, allowing you to show off your toned glutes from the back and side.
Finding the right fit can seem like a challenge, but once you know what to look for it shouldn't be too difficult. Celebrate your shape with bright colours and patterns. Your top half can benefit from a few adornments to create the illusion of curves for an otherwise straight body. Emphasize your slim hips and shapely legs with a tapered bottom.
Find a variety of sporty swimsuits at stbernardsports.com!