Last Updated on 23rd September 2015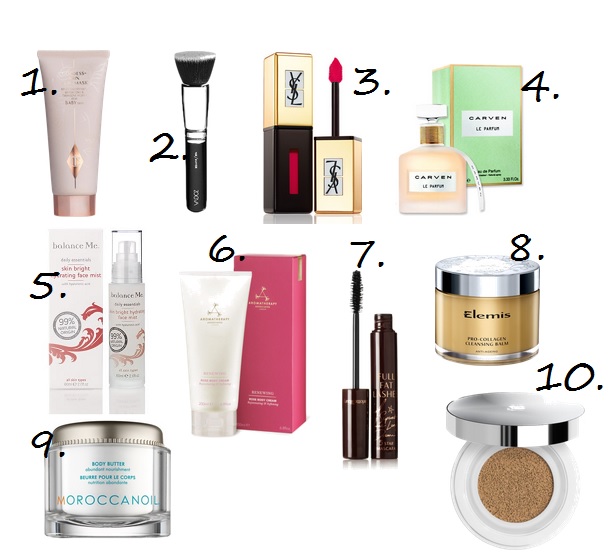 We still can't believe it's nearly the end of September already. It truly feels as though January was just yesterday. Before we know it, Christmas will be upon us and we'll be on the hunt for must-have beauty buys to recreate fabulous looks just in time for party season. But, until then we've got some really lovely treats for you this week and we must admit it was pretty tough to round up all our faves to just 10. But here goes…
1. Charlottte Tilbury Goddess Clay Face Mask. An absolute must for your weekly beauty routine, our only regret, is that we didn't discover this face mask sooner.  Be warned, we break out after every use, but after a couple of days our skin looks and feels so great, and it's worth the temporary panic. £45 available at Charlotte Tilbury
2. ZOEVA Silk Finish Face Brush. Admittedly when it comes to face brushes, we're utterly devoted to MAC but ZOEVA's silk finish face brush has made us reconsider our loyalty….the finish is flawless. £11 available at ZOEVA.
3.Yves Saint Laurent Glossy Stain Pop Water (Misty Pink). The latest addition to our low-key day look, YSL's lip colour adds a hint of pink to lips while keeping them soft, moisturised and hydrated for up to 10 hours. £18.20 available at FeelUnique.com
4. Carven Le Parfum Eau de Parfum Spray 30ml- This distinctive, delicious floral scent has become our signature scent and we suspect it will be for a while to come. It's smells absolutely divine and lasts all day. £33.50 available at Fragrance Direct.
5. Balance Me Skin Bright Hydrating Face Mist – We love hydrating mists (especially this one by Balance Me) mainly because of their value for money. Not only can they be used to refresh dehydrated skin, but they are the perfect alternative to a toner. £20 available at Balance Me.
6. Aromatherapy Associates Rose Hydrating Body Gel. Ideal for dry skin, and lightly fragranced, Aromatherapy Associates rose hydrating body gel is packed with essential oils which leave skin radiant and glowing. £32 available at Aromatherapy Associates.
7. Charlotte Tilbury Full Fat Lashes. If you find yourself having to coat your lashes in mascara just to get a length that's enviable, then Charlotte Tilbury's full fat lashes is well worth the price tag. Just two coats will have your lashes super long and luscious. £22 available at Charlotte Tilbury.
8. Elemis Pro-Collagen Cleansing Balm – We usually find coconut oil very effective when removing make-up but Elemis' cleansing balm does a great job. Suitable for all skin types, it removes all traces of make-up whilst leaving skin soft and perfectly cleansed. £39.50 available at Elemis.
9. Moroccan Oil Body Soufflé. Another great option for dry skin, this amazing body butter (rich in Argan, Shea, Cocoa and Mango butters) is a must have. Smells gorgeous and leaves skin smooth and hydrated. £43 available at Harvey Nichols.
10. Lancôme Cushion Foundation Compact. While we wouldn't recommend Lancôme's first liquid cushion compact foundation for your evening make up (when perhaps a heavier foundation might be necessary) it is perfect for light coverage and provides a lovely lasting finish for a day look. £19.50 available at FeelUnique.com.