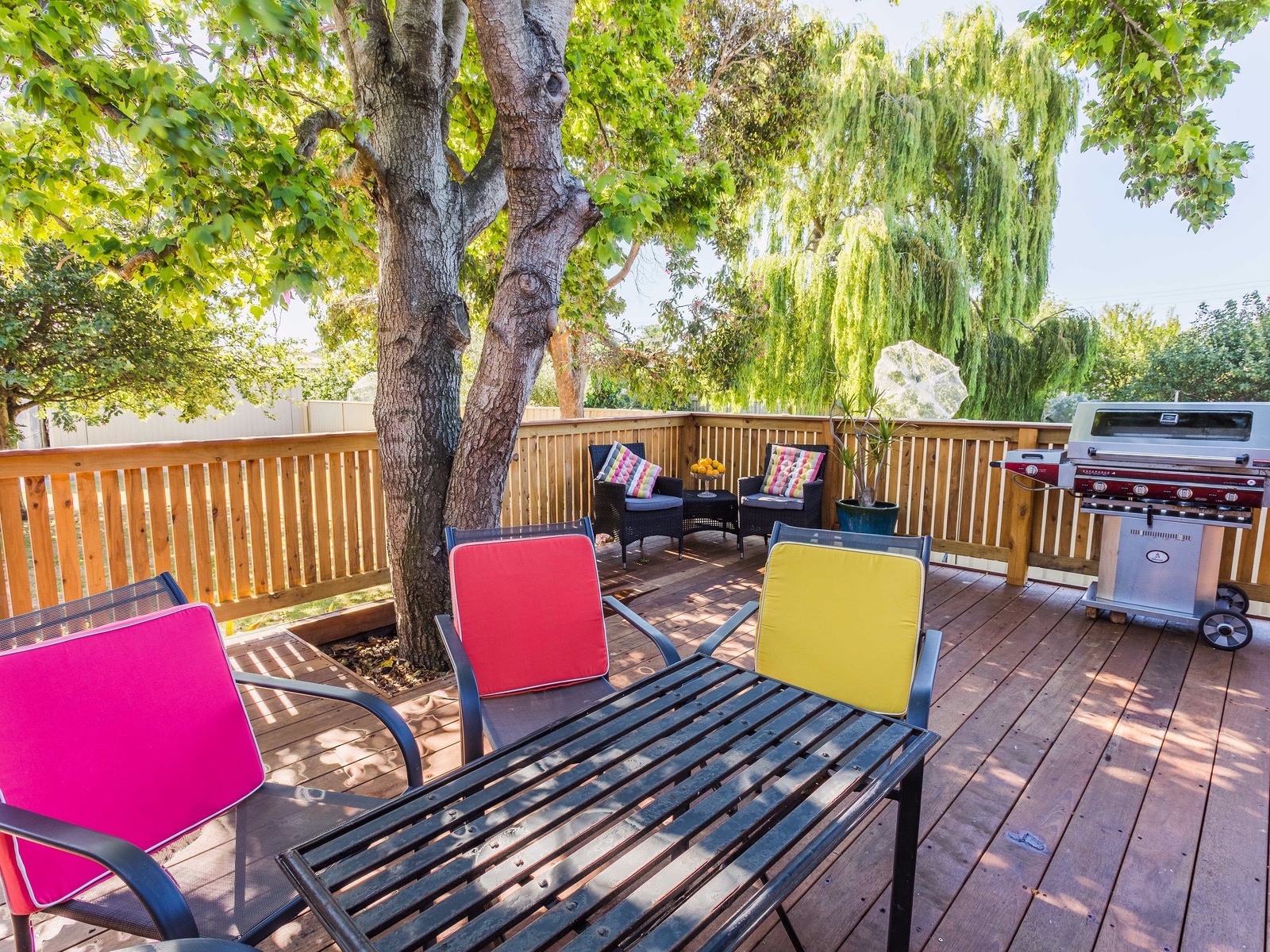 If you fancy a beach break with the girls or a romantic city break with your other half, but can't quite afford either of these options, don't sweat it. There are others way to go on vacation, and with some creativity, you can do it without leaving your zip code. In fact, why not make it really budget friendly and create a vacation feel in your backyard?! Here's how to do it…
Set up a spot for maximum relaxation
First things first – there's no way you're going to feel like you're on vacation until you're actually able to relax, so make yourself a designated 'good-vibes-only' area. A sun lounger; a side table for your magazines, drinks and books; a handy stash of snacks and drinks; and an email-free-zone (no checking work email while you're on vacation!) will all help to make it feel like you're million miles away from your day to day responsibilities.
Overhaul your pool
If you have a pool, it's worth spending a little money on making it the best pool going – after all, it's the only one you're going to be jumping in and out of. Get it professionally cleaned and consider replacing the pool deck paving stones – that way, you'll enjoy hanging out in it and it'll look a whole lot nicer too. Don't have a pool? Don't worry. There are plenty of backyard water hacks to see you through those hot afternoons.
Make an authentic playlist
If you fancy the vibe of a Mexican beach but haven't made it quite that far, nothing beats listening to a decent playlist. Get yourself a Spotify account and spend a little time putting together a playlist that reflects the destination you would have chosen to visit if you were on vacation. Whether it's Cuban beats, Brazilian sounds or Parisian café tunes, it will definitely make it feel like you're a long way from home.
Have a backyard cookout
One of the best things about going on vacation is the new types of food you try, isn't it? Well, give yourself the chance to do the same in your own backyard. Gather some recipes you've never even heard of before, then pay a visit to the grocery store to stock up on what you need. Cook what you can outdoors (especially if you can grill meat, fish or veggies) and bring the dishes you've assembled inside to your backyard to eat them. Eating alfresco like this is so much like being on vacation, and you may even find a few new dishes to add to your regular rotation!
Learn how to make a decent cocktail
Finally, plenty of us wouldn't consider it a vacation without a decent cocktail or two, so why not mix your own at home? From bitter, sophisticated Negronis to refreshing Daiquiris, buy the liquors and mixers you need and kick back with a glass in your hand… you're on vacation!
[Image]