Last Updated on 3rd January 2018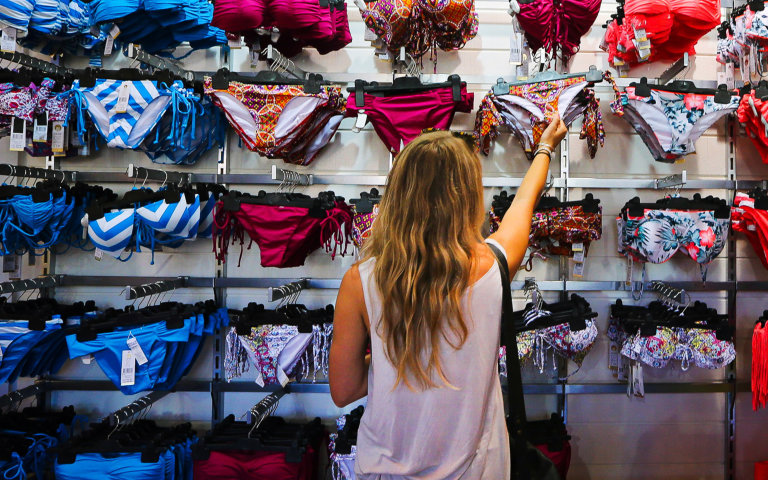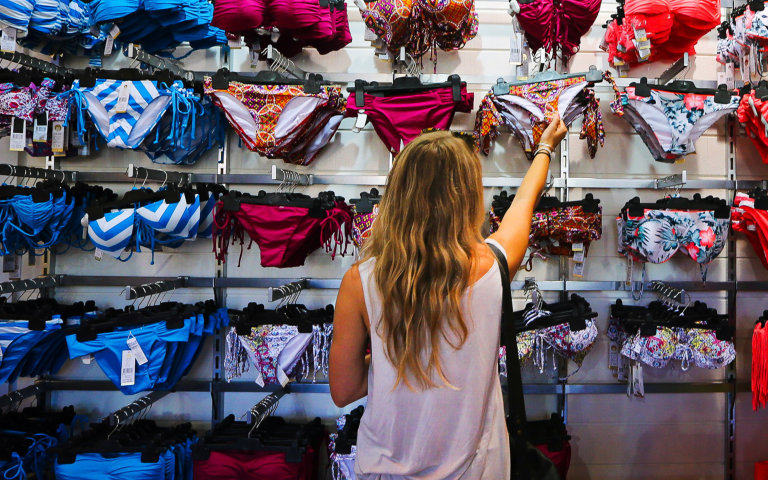 It might be winter at home right now, but if you're planning a festive-season holiday to a tropical location, or just want to get prepared for when the weather warms up, it's time to think about buying a fashionable new swimsuit.
If you're like most women though, you probably struggle to find swimwear that you really love, not only for its style but also for its comfort. If so, to help you out, read on for some solutions to common swimsuit shopping dilemmas .
Not Having Enough Support for a Big Bust
Many women with larger busts struggle to find swimwear that gives them enough support. If you're in this situation, search for products which have thicker straps and double-stitched bands, as opposed to something like a string bikini which won't have any support at all. One- or two-pieces with underwire and other structure are also the best choice, plus look for padding on the underside of the cups to provide lift. Fuller coverage on the sides of the top can also help with support and comfort.
When shopping for a swimsuit, you'll also find you get a better fit if you choose a product with specific cup sizes, as opposed to the more generic Small, Medium, Large or Extra-Large sizes. Furthermore, if your top half is larger than your bottom half, you should consider buying mix-and-match separates. When you do so, you can choose different sizes for each piece, and ensure you get the perfect fit as a result.
It also helps to focus on brands which specifically cater to women with large busts. Shopping online, where the variety tends to be much larger than in your local swimsuit shop or department store, can also help.
Needing to Find a Way to Add Curves
If, on the other hand, you have a small bust and struggle to find swimwear that makes you look like you have any curves, there are different things to look out for. For example, you'll need to ensure tops aren't too loose, so that you don't end up continually pulling straps up or have to be worried about a wardrobe malfunction.
To give you the illusion of a bigger bust, and elongate a petite frame, if needed, keep an eye out for swimsuits with padded tops. As well, embellishments up-top like bows, ruffles, buttons, frills, and tassels can make you look like you have a bigger chest, as can strong patterns and bright colors that divide up the torso and keep the eye moving. Stripes can also work well.
When it comes to styles, you might like to consider an off-the-shoulder "Bardot" design, or a higher halter-neck and other sporty styles which usually enhance the size of a bust visually. For example, many of the products in the Jessica Simpson bikini range would be suitable. If you're interested in a one piece in a solid-block color, it pays to choose a product that has details like a belt, cut-outs, or a deeply-plunging neckline. These things will help to create the illusion of a curvier silhouette.
Tummy Worries
For many women, one of the biggest swimsuit shopping dilemmas is finding swimwear that doesn't leave them constantly self-conscious about their tummy. If you're in this situation, it's all about choosing a product wisely. For instance, if you like the idea of wearing a two-piece but want some tummy control, consider a high-waisted bottom. To ensure this doesn't look too dumpy (or diaper-ish!) though, it's best to opt for something with side lacing or cutouts to break up the material.
In addition, search for bathing suits which have been developed specifically for women with more rounded stomachs. These products have 'secret' support in them plus sculpting panels and other strategies to help draw in the tummy. In addition, swimsuits with ruched details or patterns can also provide a good distraction on the eye when it comes to heavier tummies. Plunging necklines can also be a good choice, because they work to draw the eye upwards and away from the body's middle section.
Tan Lines
Ending up with tan lines that ruin the look of your everyday or special-occasion outfits can also be a worry for many women. To avoid getting tan lines when you spend a lot of time in swimwear out in the sun, it's best to stick to simple, strapless bathing suits. Choose products without fancy trims, multiple straps, or lots of cutouts. If you're worried that a costume will look too boring as a result, keep in mind that you can easily add fun and attitude by selecting a bathing suit with a vivacious print and/or bright colors.