As you get older, you gain sartorial experience and know what works for your style. You no longer wish to compromise on quality or versatility, and you understand that having one very well-made object is worth five items that may be trendy but aren't of as high a quality. By the time a woman has hit her stride, she has a pretty good sense of her style. And, hopefully, she has a few high-quality accessories that can take her to the opera for a night or dinner with her girlfriends. If you're building your wardrobe and want to express your bold personality, here are eight accessories for strong women, from high-end women's watches to stylish bags.
1. A Stylish Hat
A hat is an integral accessory that is beautiful and useful to keep the sun off your face and protect your skin against photodamage. The type of hat you choose is dependent on your sense of style and your face shape. For form and function, look for fedoras that give your ensemble a retro, 90s vibe, or opt for a broad-brimmed Panama hat in felt to add texture and depth to your outfit. Cashmere or Merino wool knit beanies are luxe options for the cooler months, and a newsboy's cap gives just the right measure of insouciance to an otherwise basic outfit.
2. Quality Belts
Another accessory that instantly ties together an outfit and gives some shape to even the most voluminous clothes is a good belt. Belts aren't just for holding up your pants. A black, obi-style wide belt with a big buckle looks great with summer frocks and helps transition into cooler seasons. A skinny belt can nip-in at the waist to transform a shapeless outfit and give you enviable curves. If you wear your belts under your clothes on your pants, look for a belt buckle that lies flat so that it won't bunch and catch on your clothes. If you wear belts with skirts and dresses, any belt buckle will work. Choose belts in genuine leather with high-quality leather buckles to ensure that it becomes a long-lasting addition to your wardrobe.
3. Silk Scarf
Endlessly versatile, a silk scarf can be tied in numerous ways, updating a simple tee and jeans into something a trifle more Je ne sais quois. Always opt for high-quality genuine silk over synthetic variants, and don't be afraid to play with color and pattern. Your silk scarf can add a pop of color to a neutral outfit, highlight a new 'do, or accent your handbag.
4. Functional Bag
There are three functions that a woman's bag should accomplish—it should fit what she needs to carry, it should be long-lasting, and it should look great. There are a lot of outstanding choices available, from luxe Hermes Birkin totes to Patagonia messenger bags. Your go-to handbag should be big enough to fit all of your daily gear but not be cavernous and unwieldy. Having all your necessities within hand's reach doesn't help you if you're constantly rummaging through mounds of stuff in your purse to find something.
Crossbody, satchel, or shoulder styles are ideal for everyday use, while clutch bags are better suited for evening events or special occasions. The shape or size of your bag depends on your carrying needs. However, you should choose a bag made of high-quality, weather-resistant material that will last a long time.
5. Long Earrings
A classic pair of long earrings can instantly elevate your outfit. Chandeliers, chain earrings, or hoops, whatever type of earring suits your face shape and taste and can take you from afternoon into evening would be a great accessory to have on hand.
Hoop earrings offer a chic, minimal silhouette that won't detract from your outfit. Go modern with alternate materials like 3D printed hoops, or keep it classic with an authentic gold or silver pair. Chandelier earrings add an element of glamor to your outfit and are perfect for wearing on a special occasion. Choose a pair set with multi-colored gemstones to make a big style statement, or try adding a little boho-chic style to your ensemble with tasseled earrings.
6. Classic Studs
Small and subtle enough to please any minimalist, you can still make a statement with a pair of stylish stud earrings. The simplest version of this earring style is a gold or silver ball, or a simple yet classy stud with a gem, such as the perennial favorite diamond studs. Much like men's cufflinks, studs are a way to express your individuality in a small and manageable way. Jacket earrings or mismatched, asymmetrical studs are exciting takes on a tried-and-true classic.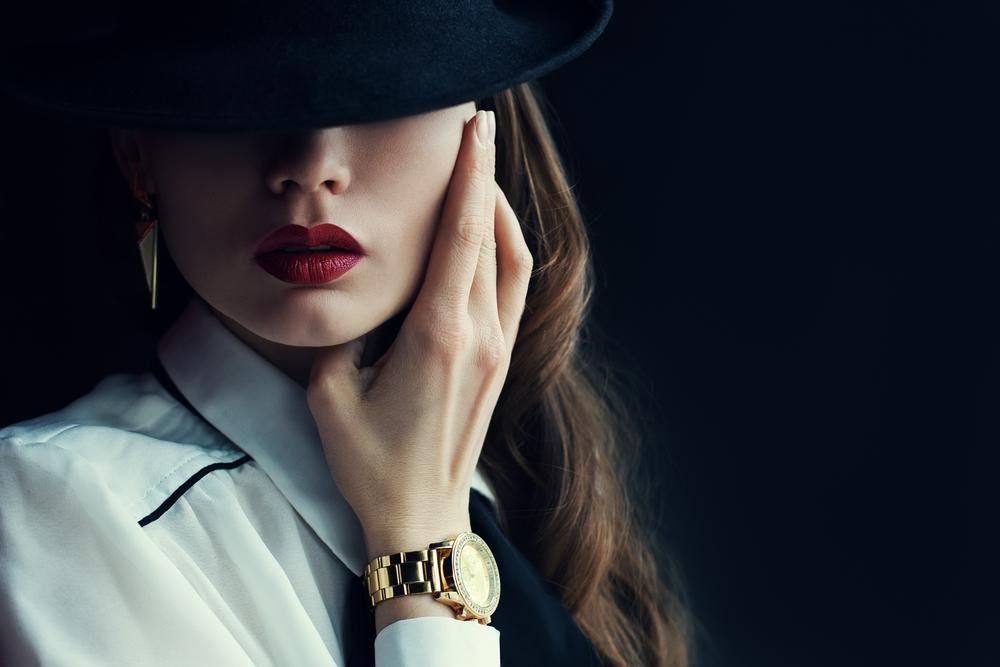 7. Luxury Watch
High-end women's watches are a mainstay for strong independent women of the 21st century. Although timepieces for function are primarily obsolete, as you can check the time on almost any digital device you own, that's not what having a gorgeous luxury watch is about. A luxury watch is an investment in your future and a testament to the strong, independent woman you're becoming. Whether you choose a chunky statement piece or a slim watch like a Cartier, select a watch that succinctly represents your character and style.
Many watch enthusiasts enjoy collecting high-end watches, so they have one to wear for every occasion. Perhaps you want to go with an understated but well-made TAG Heuer for your daytime look but want something a little more flashy, like a Blancpain Ladybird, to go with nighttime ensembles.
8. Chic Sunglasses
Sunglasses are crucial not only for adequate eye protection but also for the finishing touches on an ensemble. Sunglasses stave off eye strain and squinting to minimize fine lines, and they also give you a timeless air of mystery.
The right pair of sunglasses should reflect your face shape and personal taste. Cat's eye and aviator styles are ideal for round or oval faces, as the angles balance out your face's natural curves. Women with a rectangular or square face benefit from wearing oversized, round, or wayfarer sunglasses.
The Take-Home Message
Every woman develops her style as she grows and evolves in her lifetime, and there are a few accessories that no woman should go without. These accessories present a polished look with high-quality craftsmanship and versatility that will never let you down. A silk scarf, a crossbody leather bag, a luxury watch, and some oversized sunnies make up the perfect ensemble for any strong independent woman in the 21st century.