Whether you're unable to travel due to distance and a hectic work schedule or COVID-19 restrictions are keeping you home for health and safety reasons, you might not be able to see your family, friends or coworkers in person for the holidays. Thankfully, though, there are so many ways you can celebrate together, regardless of where you're spending the season.
From coordinating a festive trivia game to donning your favorite holiday party dress for happy hour over video chat, here are eight fun virtual holiday party ideas everyone will love.
1. Set up a virtual trivia game featuring family traditions, holiday history and more.
When you spend the holiday season with your friends and family in person, one of the most special things is getting the chance to have engaging conversations with each other. While you might not be able to recreate the experience of a holiday party entirely while remote, one way to get everyone participating in the fun is to host a virtual trivia night! Questions can be related to the history of the holidays you celebrate, family traditions that make it unique to you or even quirky details about the people who are participating. Keep it short and sweet so that the fun of spending time with people you love isn't overshadowed by the intensity of competition.
2. Enjoy some wine and cheese pairings at a virtual happy hour.
If you're missing the opportunity to gather with the girls this year for a holiday happy hour, you can still enjoy a tasting from afar! Step into a pair of cute heels, swipe on a sweet lip gloss and sign in to a video chat where you can get together and gossip. You can take some time in advance to select similar options so that the wine and cheese tasting has some structure to it, or purchase your tried-and-true selections knowing you won't have to share.
3. Organize a Secret Santa-style virtual gift swap.
If you're used to hosting a gift exchange for your friends around the holiday season, you don't have to sacrifice the tradition altogether this year! With just a little bit of extra planning, you can recreate the experience from the safety and comfort of home. Have participants put together their wish lists with a bit more advanced notice, choose the recipients and gift-givers in advance, invite participants to ship their gifts directly to their recipients' homes and open the presents together over a video call.
4. Watch your favorite cheesy Christmas movie together.
What would the holiday season even be without a binge of sappy Christmas rom-coms?! Even if you can't snuggle up on the couch together this year, you can stream your favorites at the same time over a video chat with an extension like Teleparty. Of course, it's not exactly the same experience, but it's a fun way to get together without needing to travel.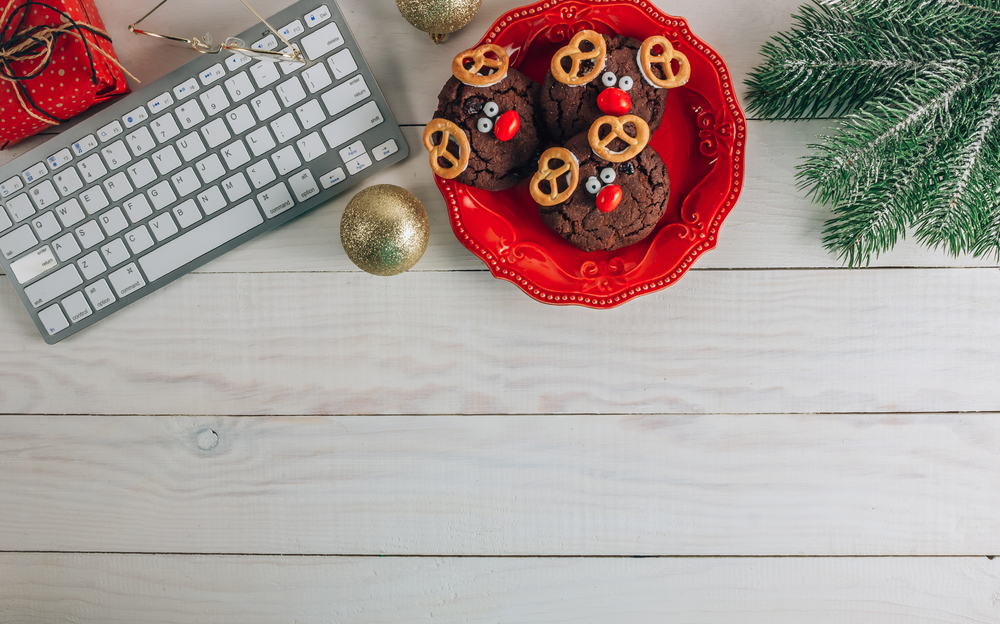 5. Celebrate your creative culinary skills with a virtual cookie decorating session.
If cookie baking or donut decorating are a big holiday tradition for your family, or even if you're looking to start a new one this year, turn on your video chat and let your creative juices flow! Gather baking and decorating supplies in advance and then decorate your cookies, or gingerbread houses or donuts together virtually. While you won't be able to taste the deliciousness of other people's hard work, you'll be able to enjoy the process in a fun and unique way.
6. Engage in a little (healthy) competition by hosting a contest inspired by the spirit of the holiday season.
While you want to make sure that you keep the overall vibe feeling positive and lighthearted, you can still get people into the holiday spirit with a little bit of healthy competition!
Create many reasons to give awards out so that everyone is a winner:
Best video chat background
Most festive outfit
Best holiday-themed makeup
Holiday spirit award
Most endearing Ebenezer Scrooge
You can let your party guests choose the award winners, or even make up their own categories!
7. Host a holiday classic: The Ugly Christmas Sweater party.
While the concept of the ugly Christmas sweater party has only been around for a few decades, it's turned into a go-to occasion for so many people! If you're looking to host something fun where everyone can dress up in cute sweaters and festive accessories, this is the perfect opportunity. Dazzle in ornament earrings, paint your eyeliner on in a candy cane pattern, add some colorful hair clips or tuck a pair of super festive socks into some cute boots. You can make your look as understated or all-out as you'd like.
8. Send over some surprise holiday swag for your friends, family and colleagues.
If you have a way to access your loved ones' addresses during this time, consider surprising them with some unexpected treats. You could send your gifts over with a message not to open until you're all on a video chat together so that you can all experience the holiday magic in front of each other. Whether you send over stocking stuffers or something more involved, they'll appreciate that you've thought of them during this particularly unusual time.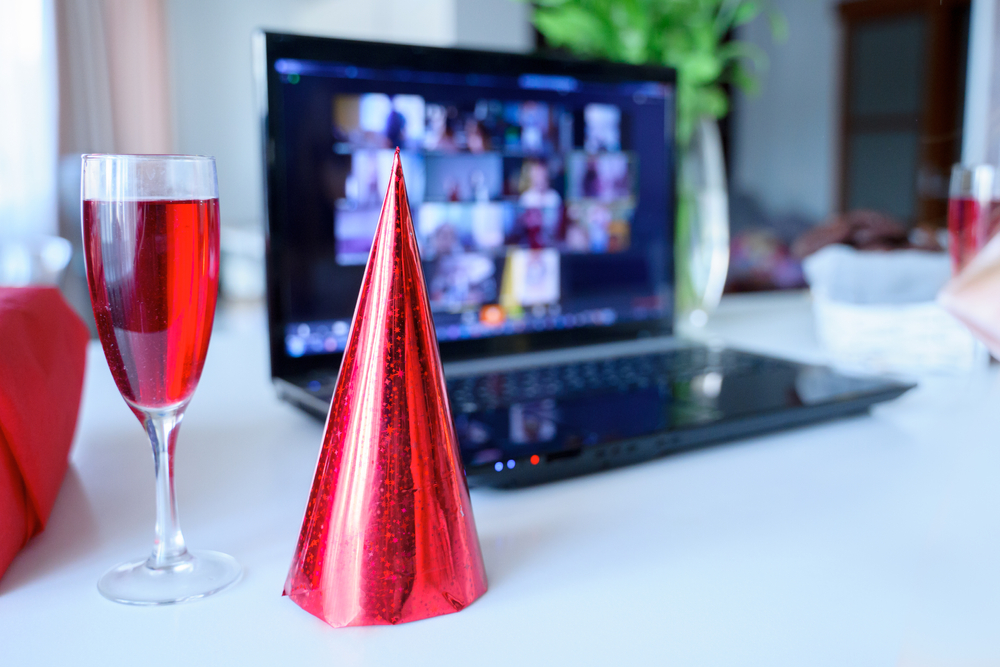 Getting Together (Online) for the Holidays
If there's anything certain about 2020, it's that it's been a year chock full of uncertainty. While most of us would probably prefer to be able to get together with our families and friends in person this year, there are thankfully many ways to recreate the experience pretty convincingly from home. After all, the best part of the holiday season is spending the time with those you love, no matter how or where you make it happen.