Last Updated on 24th November 2022
There's something about French women and their effortless sense of style. It's like they just instinctively know how to put together the perfect outfit, no matter what the occasion.
Even when they're just running errands or taking a leisurely stroll, they always look chic and put-together. So, what is it that makes French women's style so great?
For starters, they have a great eye for detail. They know how to accessorize an outfit to make it look more polished and stylish. French women also tend to stick to a more subdued colour palette, which helps them to attain that classic, timeless look.
And, of course, they always seem to radiate an aura of confidence, which is really the most important ingredient of all. French women may not have all the answers, but when it comes to style, they definitely know a thing or two.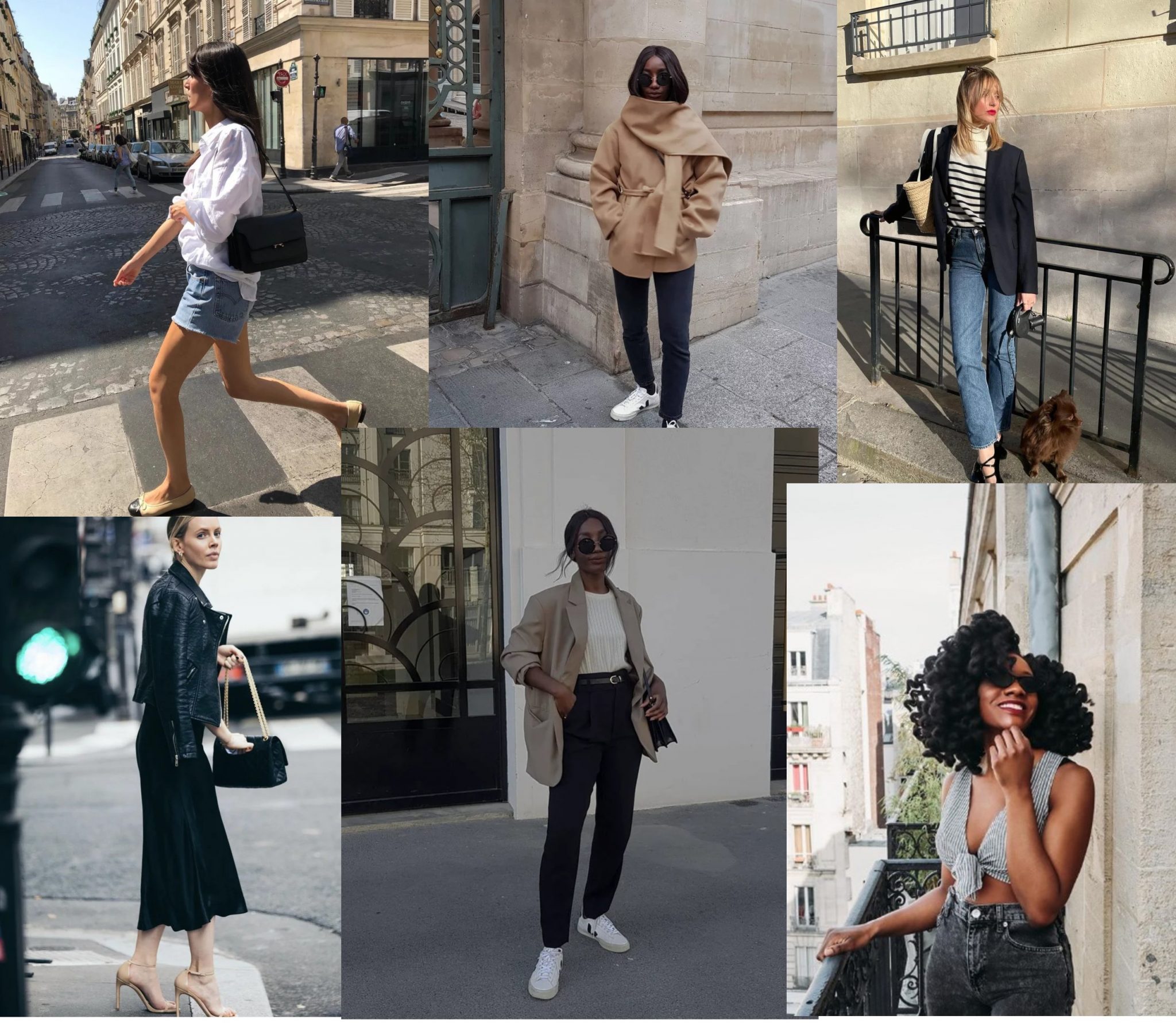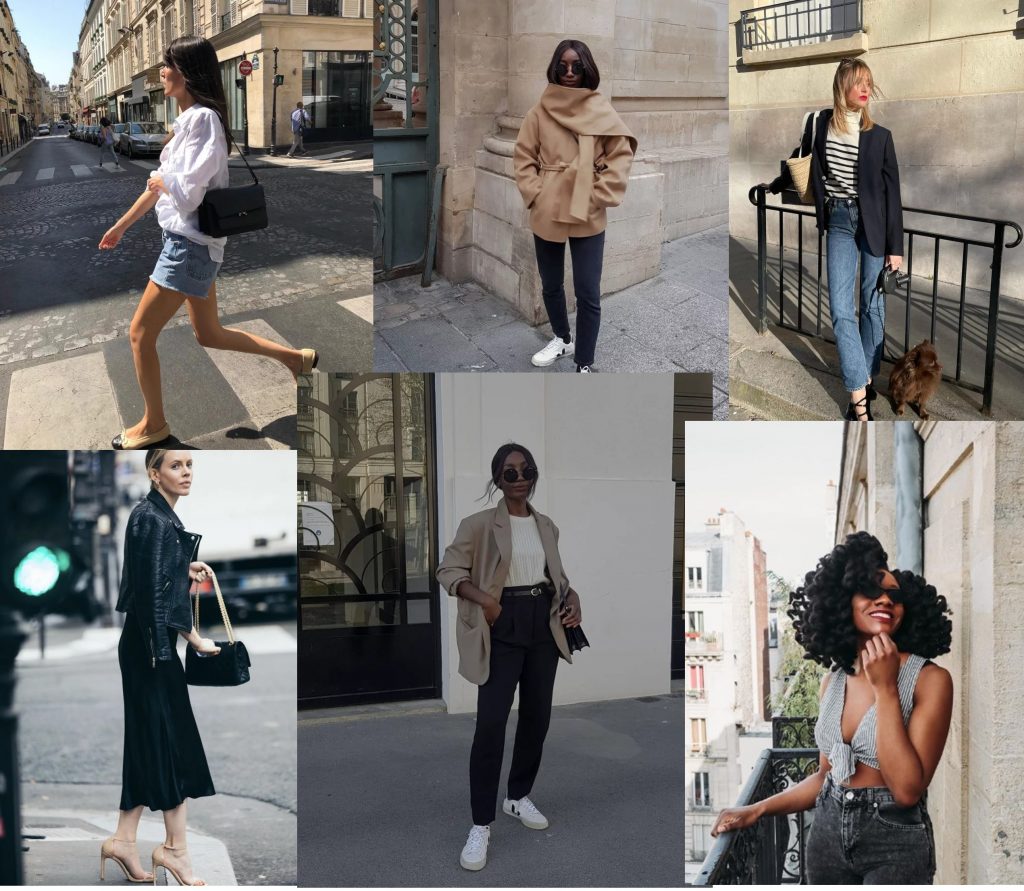 How do you dress like a French woman?
If like many of us you're looking to add a little french flair to your wardrobe, keep reading for some expert tips on how to achieve that effortless Parisian style!
Choose Quality Over Quantity
Instead of buying many cheap pieces, look for key investment pieces that will last you for years to come. French women don't believe in having lots of clothes; rather, they believe in having fewer items that are of higher quality. Investing in quality pieces means that you can create multiple looks with one item and help reduce waste by purchasing an item that won't end up in landfills after only a few wears.
Accessorize With Scarves and Jewelry
Whether it's a bright printed scarf, a cozy wool scarf, or an elegant silk one—scarves are a classic accessory that never go out of style in France. French women understand the power of the perfect scarf and use them to add a pop of colour and texture to any look. So don't be afraid to wrap yourself up in some chic scarves for a truly French-inspired outfit!
Find Your Signature Style
It's important to find your personal style when dressing like a French woman; no matter what trends come and go, it's essential to have your own signature look. Think classic lines, muted colours, simple patterns, tailored silhouettes – all the things that make French fashion so iconic! Once you have found your signature style, be sure to stick with it.
Be Comfortably Stylish
Yes, French women understand the importance of looking stylish, but they're all about comfort too. They focus on buying high-quality pieces that fit their body well and flatter their figure. This ensures that they feel comfortable and look put-together in any ensemble.
Make Sure Your Clothes Fit Well
Know your body type and be sure to invest in clothing items that fit you perfectly and highlight your best features. No matter how cute an item is, if it doesn't flatter you then don't bother buying it! Invest in items with a tailored look because above all french style is all about being effortlessly chic!
Ditch the high heels
This all goes back to french women's style being very much focused on comfort. French women don't believe in wearing very high heels because they believe that comfort comes first. They prefer to choose lower, more comfortable heel styles such as block or kitten heels which are not only stylish but also much easier to walk in!
Forget the trends
French women don't give a damn about the trends – instead, they create them. And as we mentioned above, french clothing style stands the test of time. So instead of buying something that everyone else is wearing, look for timeless pieces that are classic. Investing in quality items that will last you for years to come is the best way to dress like a French woman—no matter what the current trends are.
Less is more
Less is more when it comes to French culture. From food to wine to art, the French have always valued quality over quantity. And when it comes to fashion, minimalism allows French women to focus on buying fewer, higher-quality pieces that will last them for years. Additionally, minimal fashion is often more comfortable and flatters a wider range of body types than some of the more flashy trends. So it's no wonder that French women have embraced minimalism as their go-to style. For us, this is perhaps the most important lesson French women have taught us about fashion. When curating your french wardrobe opt for simple and elegant ensembles, composed of just a few well-chosen pieces.
Avoid bold colours
One of the things that set French women apart is their use of colour. They tend to steer clear of bold, attention-grabbing hues, instead opting for more subdued shades. This doesn't mean that French women favour boring neutrals, though. They simply know how to use colour in a way that is flattering and chic. By choosing colours that complement their skin tone and avoiding those that wash them out, French women are able to create timeless looks that are always in style. Now, this doesn't mean you have to wear all blacks and greys – instead, opt for muted colours that help create a more polished and sophisticated look.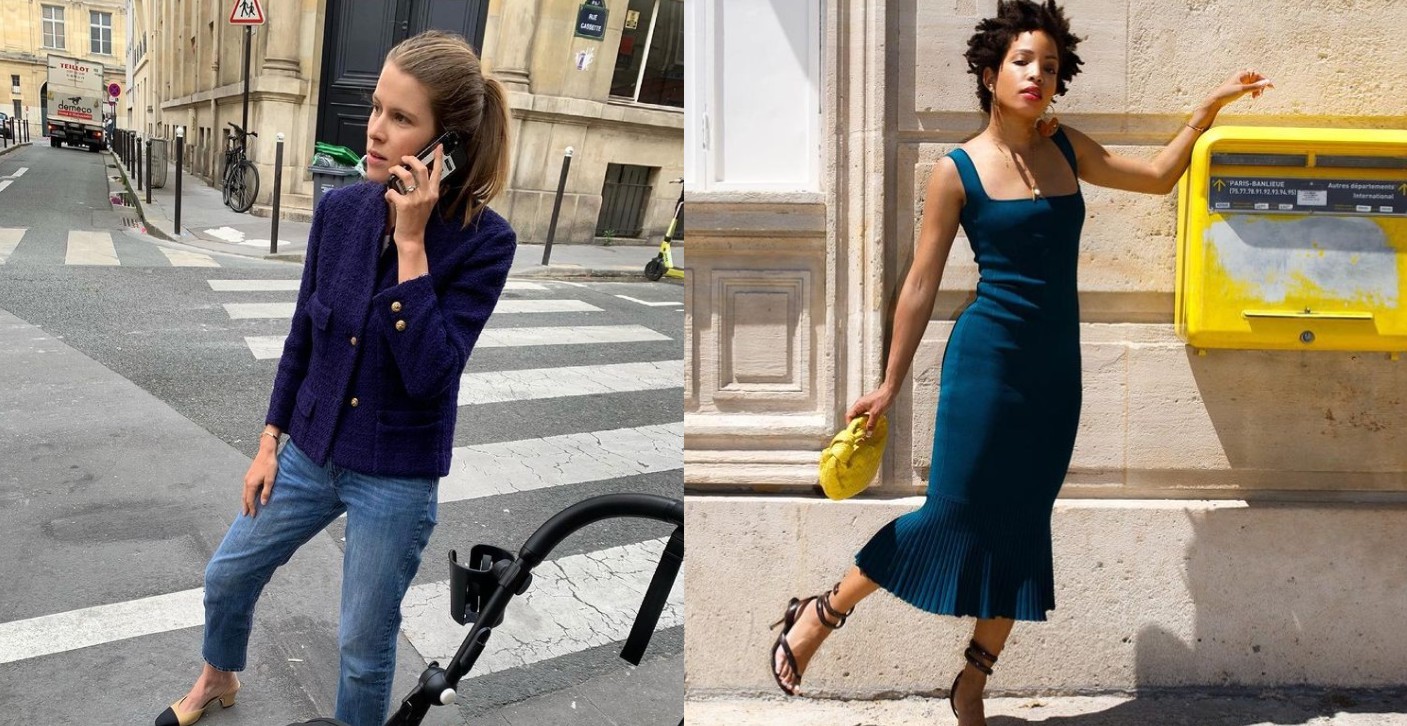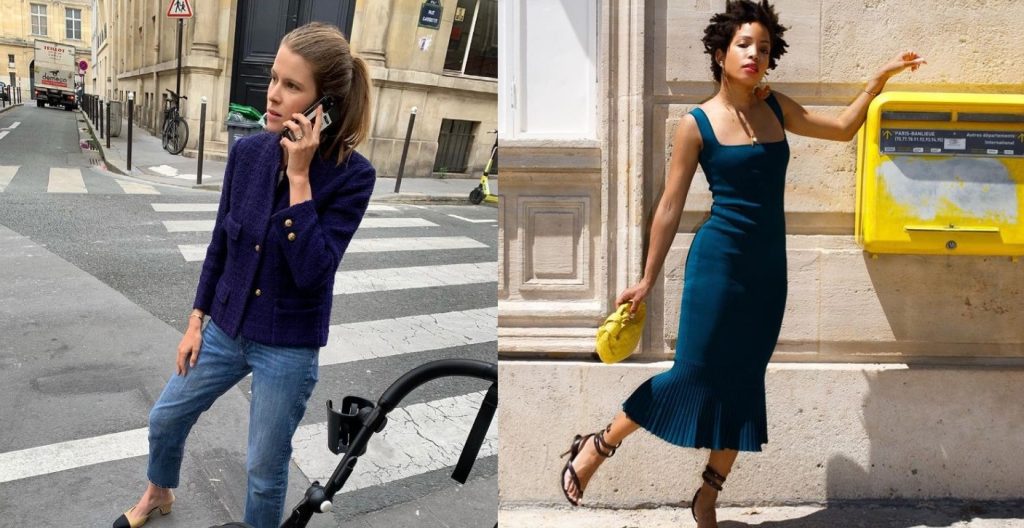 The Essentials You Need To Complete Your French Wardrobe
For centuries, French women have been revered for their effortless ability to look stylish and put together no matter the occasion and wanting to know how to dress french is a question that many women have pondered. But what is it that makes french style so iconic? It all boils down to the wardrobe staples that every French woman has in her closet!
The Breton Striped Shirt
The classic Breton stripe shirt is a timeless piece of clothing that never goes out of fashion. Perfect for any season, this striped shirt looks great when paired with jeans or a skirt for a casual yet stylish look. If you're feeling bold, try wearing it with a bold statement necklace or scarf for some extra flair.
A Classic Black Blazer
A black blazer is essential for achieving that typical french girl style look. Whether you opt for a single-breasted or double-breasted blazer, its structured shape will instantly add an air of sophistication to any outfit. Pair with white trousers and a crisp white shirt for a chih ensemble that'll never go out of style.
A Little Black Dress
It wouldn't be right to talk about French woman's style without mentioning the little black dress (LBD). This versatile piece of clothing is perfect for any occasion, from casual days out to formal events like weddings and birthday parties. Wear it alone or layer it over other pieces for an outfit guaranteed to turn heads.
Jeans
Jeans are another staple in the wardrobes of French women everywhere. Whether you opt for skinny jeans or straight leg jeans, dark washes are considered more flattering and slimming than lighter washes, which can make your legs look shorter and wider. But whatever wash you choose, make sure it's comfortable and fits well — above all, French fashion is all about feeling good in what you wear.
Statement Scarf
A statement scarf can instantly pull together any outfit, making it an essential item in any French woman's wardrobe. Choose one in bright colours such as red or yellow, or go classic with black and white stripes – either way you'll be sure to turn heads wherever you go!
Trench Coat
No french wardrobe would be complete without a trench coat. A trench coat is the epitome of French chic, and if you want to dress like a french woman you'll need at least one trench coat in your closet. Choose a classic beige colour for maximum versatility, or opt for something more bold with striking details such as leather trim or eye-catching buttons.
Ballet Flats
Ballet flats are a staple in any French woman's wardrobe, and it's easy to see why. They are stylish, practical, and incredibly versatile. They can be dressed up or down, and they go with just about everything. Plus, they're perfect for walking around the city all day long. No wonder French women can't get enough of them!
A Tote Bag
A good quality leather tote bag is key any french wardrobe in the making. Both stylish and practical. The classic shape and structure of a tote bag make them timeless, so investing in a good quality one is definitely worth it!
A White Shirt
A white shirt is the ultimate go-to item for French women – wear it alone or layer under jumpers or jackets for an effortlessly chic look. Choose one with a collar for a more formal look, or opt for something without one for a more casual feel.
Black leather jacket
A black leather jacket is the perfect finishing touch to any French-inspired wardrobe. Choose one with a well-fitted silhouette for maximum impact, and wear it over almost anything for an instant upgrade to your look.
Sunglasses
Last but not least, don't forget your sunglasses! Whether you prefer aviators or cat-eyes, these are essential to complete any french inspired outfits and add that extra air of sophistication.
Best French Fashion Brands
Sézane: Who doesn't love Sezane? Their clothes are the epitome of french girl style and perfectly blend vintage and romantic.
Ba&sh: One of our favourite brands, Ba&sh is the brainchild of friends Barbara Boccara & Sharon Krief. Their collections are super feminine and wonderfully timeless.
Rouje: Founded in 2016, and worn by Lou Doillon and Inès de la Fressange, Rouje offers retro, contemporary pieces that stand the test of time. We're currently obsessed with their baguette bags!
Isabel Marant: A celeb favourite and launched in 1989, Isabel Marant has become synonymous with cool Parisian style. Marant's collections are designed to dress "women for their real lives – walking down the street or zipping off on a scooter".
Maje: From ready-to-wear to accessories, Maje excels at both on-trend and classic luxury pieces.
Zadig & Voltaire: For a more boho vibe, it's all about Zadig & Voltaire. From, printed blouses to bold jackets and western-style boots, we want everything this label has to offer.
Sandro: A more 'grown up' version of its sister brand Maje, Sandro offers quality wardrobe essentials.
The Kooples: For sophisticated Parisian staples, look no further than The Kooples. Founded by brothers
In a nutshell, dressing like a French woman is about more than just following the latest fashion trends. It's about finding your own unique style and embodying it in an effortless, classic way. It's about being confident yet stylish and never sacrificing quality for quantity.
More importantly, you don't need expensive designer clothes or lots of accessories; it's all about finding the right items that work together seamlessly while still being timeless. Focus on quality pieces and accessorize with scarves and minimal jewelry, – these are all keys to mastering the art of dressing like a French woman! Bonne chance!