If you're looking for a new pair of men's sneakers, and you want something luxurious, then you've come to the right place!
When it comes to luxury men's sneakers, there's no shortage of options. From Gucci to Christian Louboutin, Golden Goose to Saint Laurent, Fear of God to Chuck Taylor, the options are endless.
So how do you know which sneakers are worth your hard-earned money?
Because let's be honest if you're going to buy a pair of expensive sneakers you want to know you're putting your money in the right place.
We've put together an edit of the best luxury sneakers for men along with an ultimate guide for making the right choices when choosing a pair of designer sneakers.
So, whether you're looking for a statement sneaker to rock on your next night out, attention-grabbing trendy sneakers, or classic high end men's sneakers that will last for years, we've got you covered. 
The best designer sneakers for men
Here's our edit of the top luxury sneaker brands that are making the best designer sneakers right now!
Adidas YEEZY Boost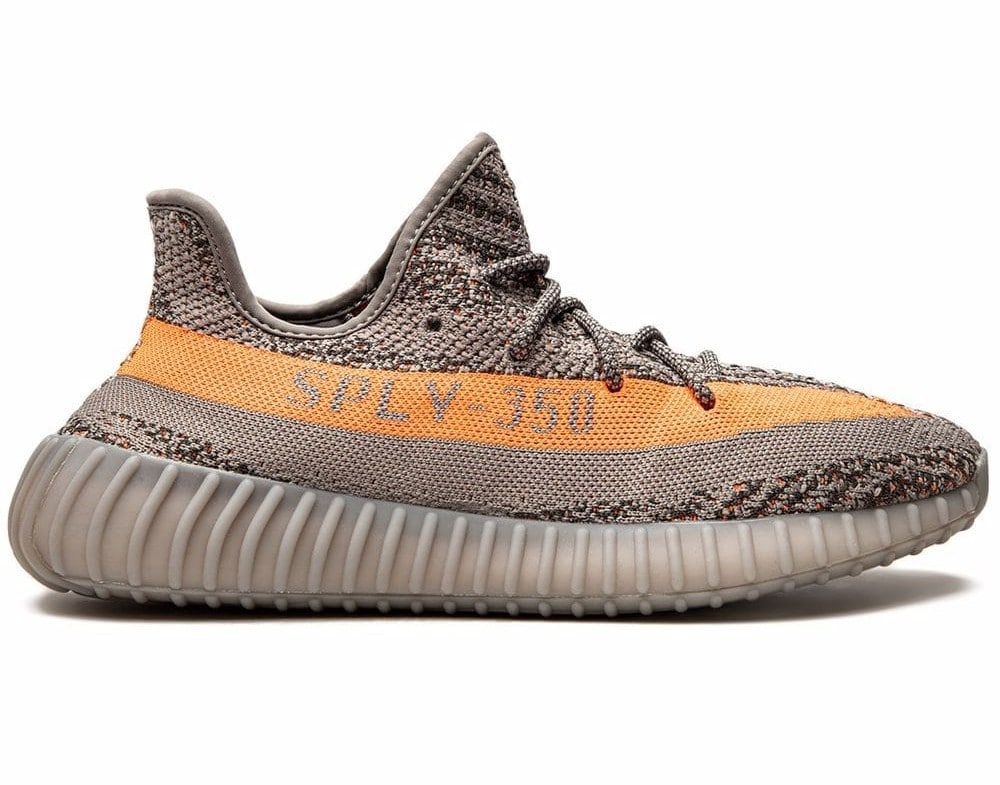 You know that feeling. You've been eyeing up a new pair of sneakers for weeks, saving up your pennies until you finally have enough to buy them. And when you finally do, they're even better than you imagined. That's how we feel about the YEEZY Boost from Adidas. Love him or hate him, there's no denying that Kanye West has helped create a design that's not just stylish but comfortable too.
Golden Goose Deluxe Brand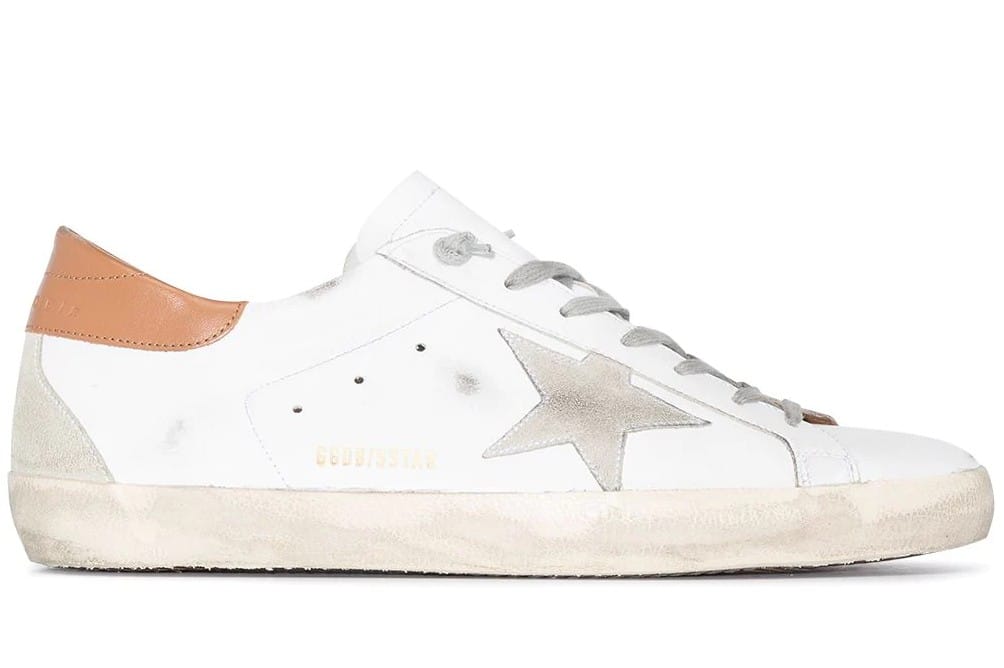 Golden Goose sneakers are the perfect blend of high-quality materials and cool, contemporary style. Each pair is lightly distressed for a unique, vintage sneakers vibe. And, the detailed suede star and gold lettering make these shoes (in our humble opinion) one of the best casual sneakers for men.
Balenciaga track trainers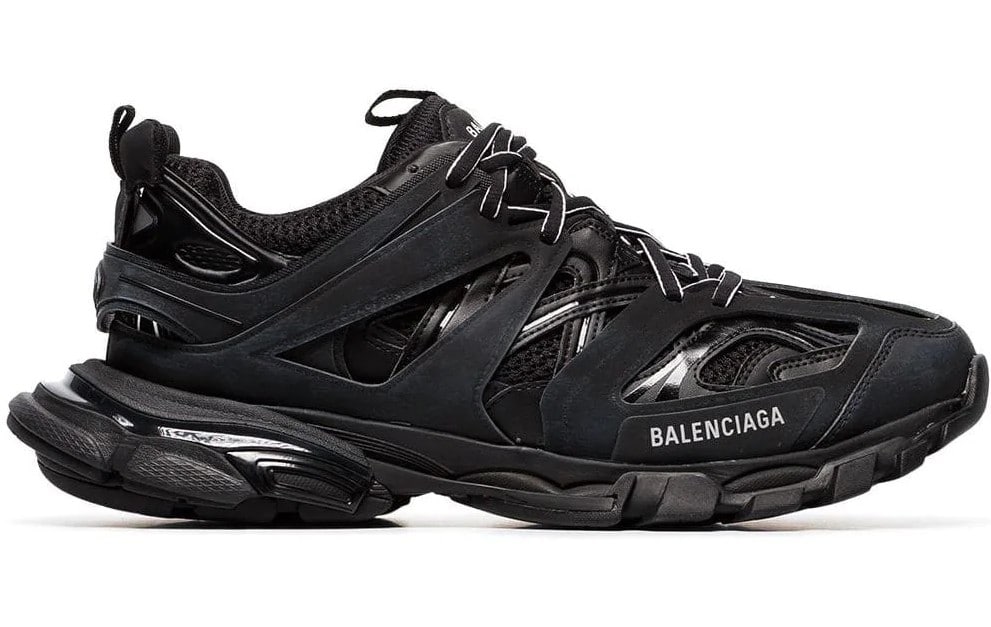 Want to step up your style game? Check out Balenciaga's track trainers. These shoes will keep you looking good while also keeping you comfy throughout the day. With a chunky sole and versatile design that can be dressed up or down, these sneakers will complement any sneaker collection nicely.
Nike Air Jordan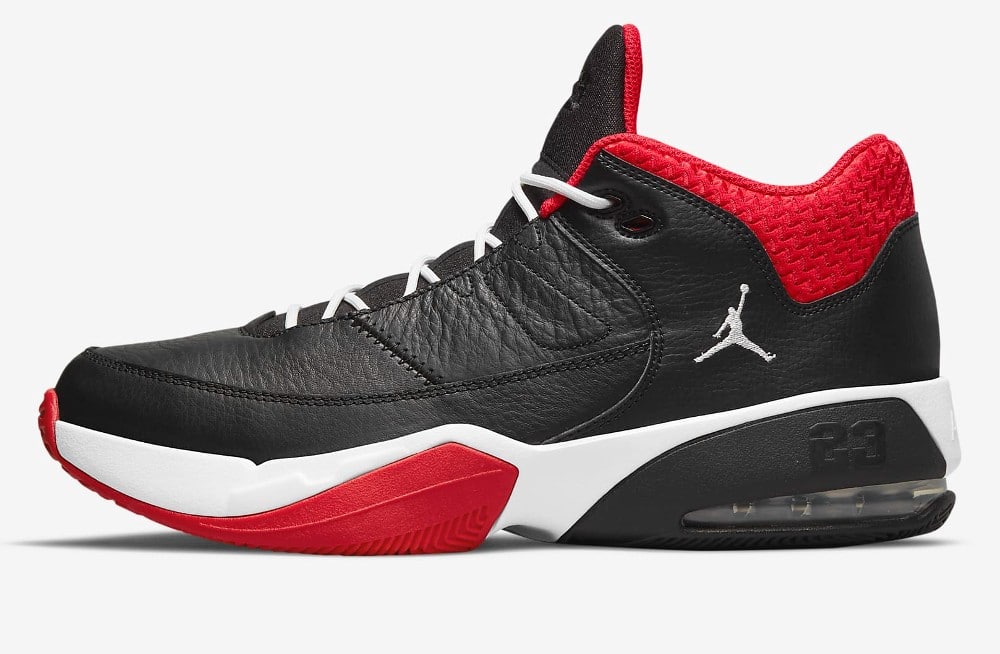 When it comes to Nike sneakers, no model is more recognizable than the Nike Air Jordans. Made exclusively for Michael Jordan in 1984, Nike Air Jordans were released to the public in 1985 and they've become a cultural phenomenon in their own right.
Adidas Stan Smith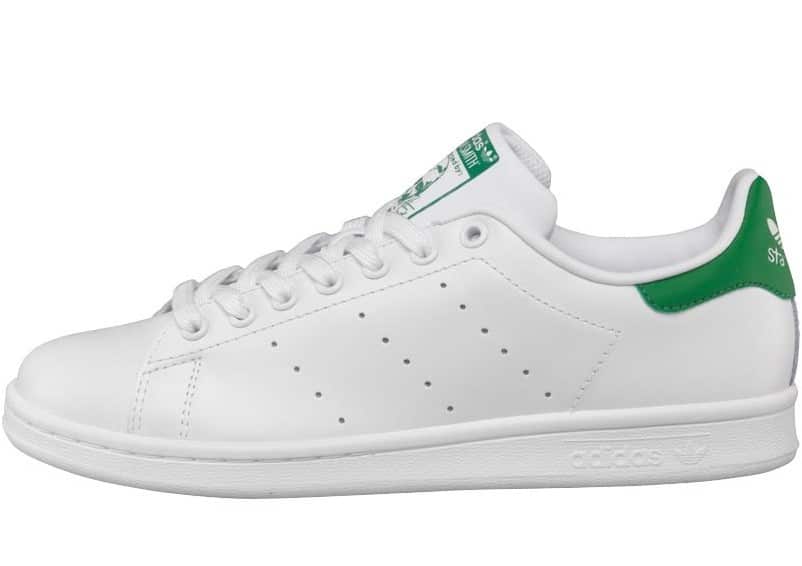 Adidas was one of the first companies to start making sports shoes, and they've been on top of their game for more than 60 years! Their iconic Stan Smith model was first released in 1973 and has become one of the most recognizable sneakers ever made. Even though it looks like a simple white sneaker at first glance, there's actually much more to this shoe than meets the eye. The perforated 3-Stripes are now an Adidas trademark, while the green "Gum" outsole matches perfectly with each colorway! So if you want your shoes to be completely unique, the Stan Smith is definitely worth looking into.
Gucci Ace sneakers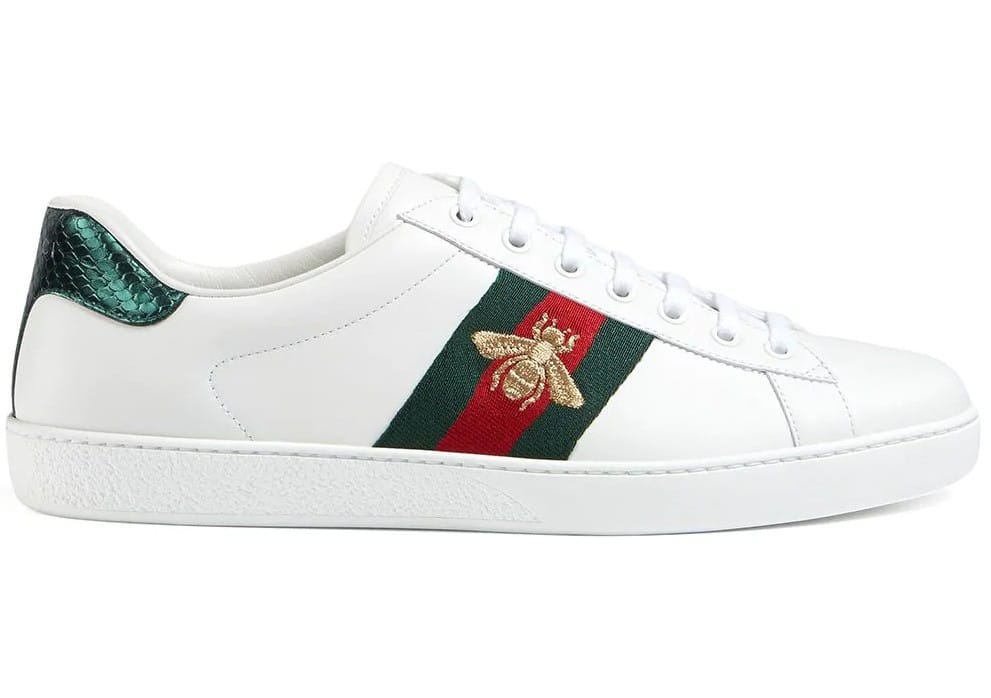 There's no need to sacrifice style for comfort when you're rocking a pair of Gucci's Ace Sneakers. Designed with your comfort in mind, featuring a soft suede upper and a comfortable rubber sole, they're a great option for guys who want to add a touch of luxe to their everyday look. Made from premium leather, these luxury sneakers are sure to turn heads no matter where you go.
Common Projects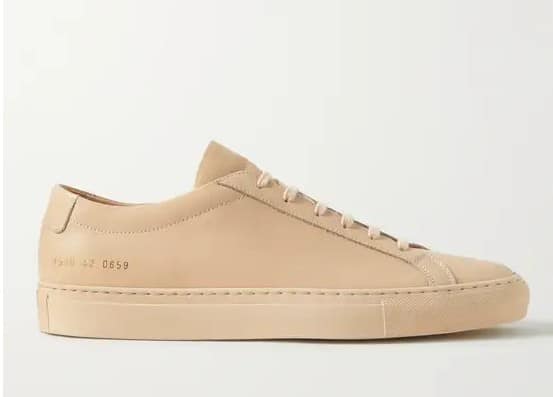 For something more classic look no further than the Achilles sneaker by Common Projects. These sneakers are simple but stylish, perfect for any man who wants to look his best without having to put too much effort into it. Made from premium materials and with so many different colours and styles available, there's sure to be a pair of Achilles sneakers for you.
Nike Air Max 95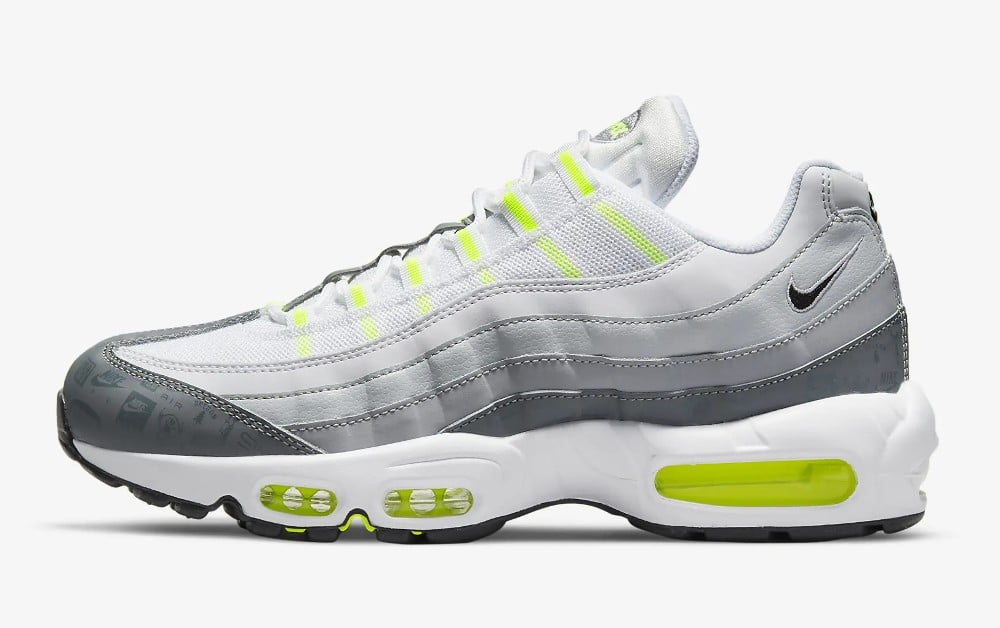 Some men's sneakers are just plain ol' sneakers. You put them on to walk from point A to point B. They're comfortable and get the job done. But there are other sneakers that are so much more than that. Sneakers like the Nike air max 95s were created with lifestyle in mind. They're not just for running or working out, they're for living life in style. With a sleek design and plenty of colour options, these sneakers are perfect for any man who wants to stand out from the crowd.
Tom Ford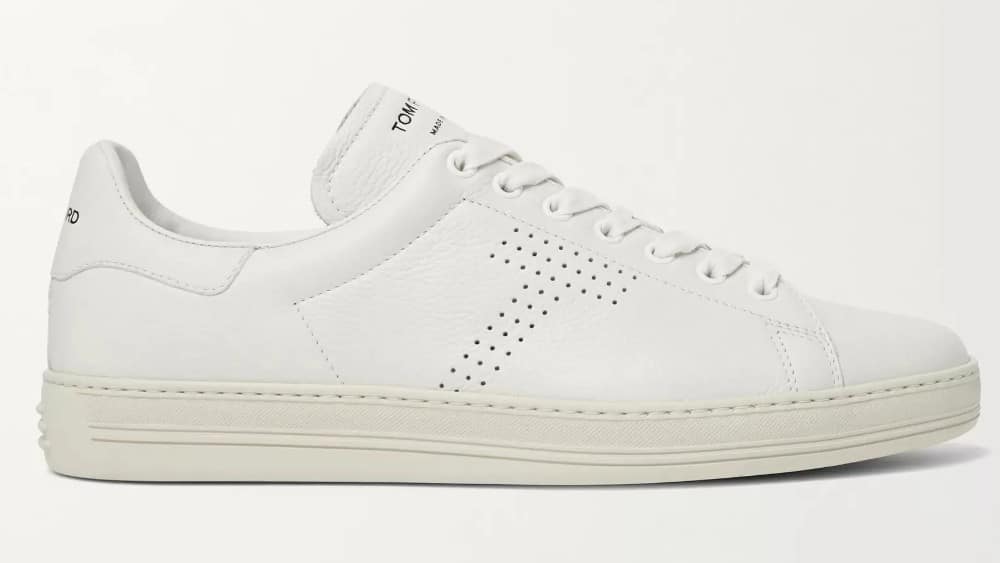 For the creme de la creme of luxury sneakers, Tom Ford is where it's at. The Warwick is a fashionable and adaptable alternative that can be dressed up or down according to the occasion. And let's be honest, you really can't go wrong with a pair of Tom Ford sneakers because of the brand's reputation for quality and style.
Maison Margiela the Replica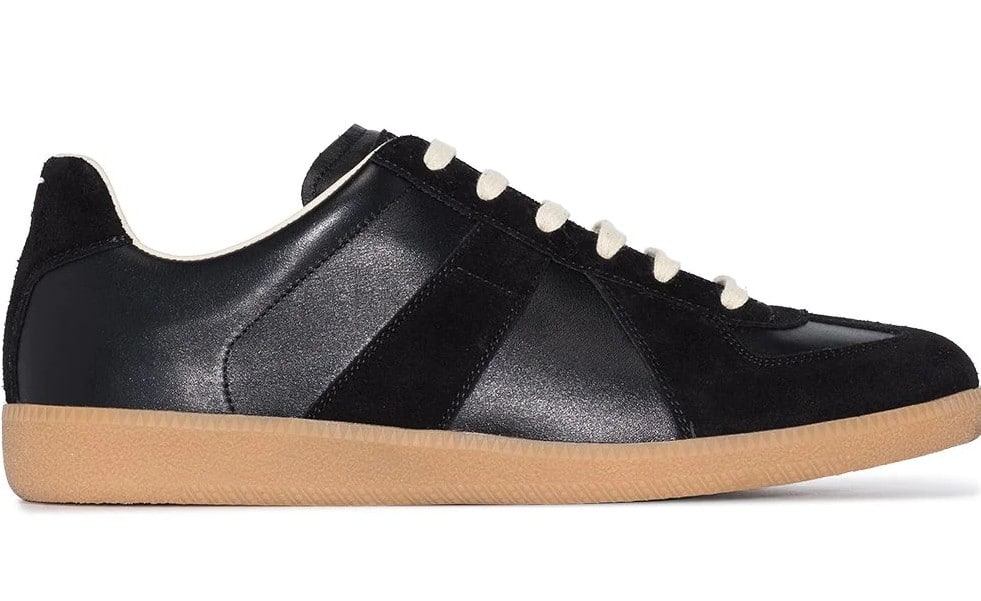 What do you get when you cross a high-end fashion designer with a sneakerhead? Replica sneakers by Maison Margiela, that's what. These kicks are so hot right now, and for good reason. They're super trendy, but still totally comfortable and versatile. Look no further than these bad boys if you want to add a little luxury to your footwear collection.
Off White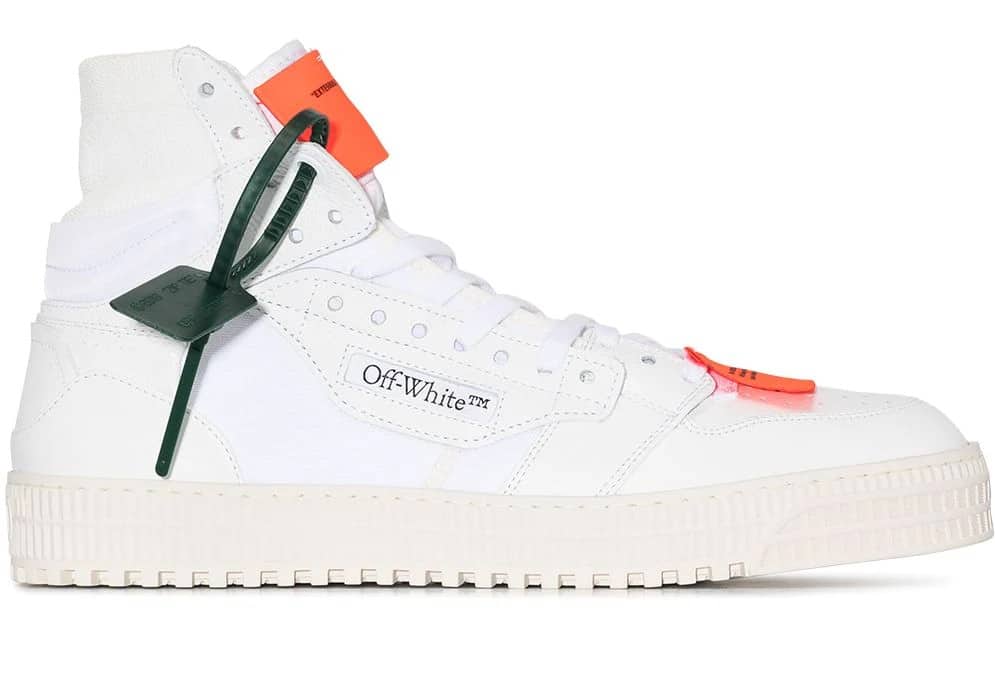 Off-White's 3.0 Off-Court high-top sneakers are perfect if you're looking to make a statement with a sneaker that's on-trend yet unique. Featuring all of Off-White's well-known trademarks these are sneakers that can really only be worn on special occasions.
Brunello Cucinelli low top sneakers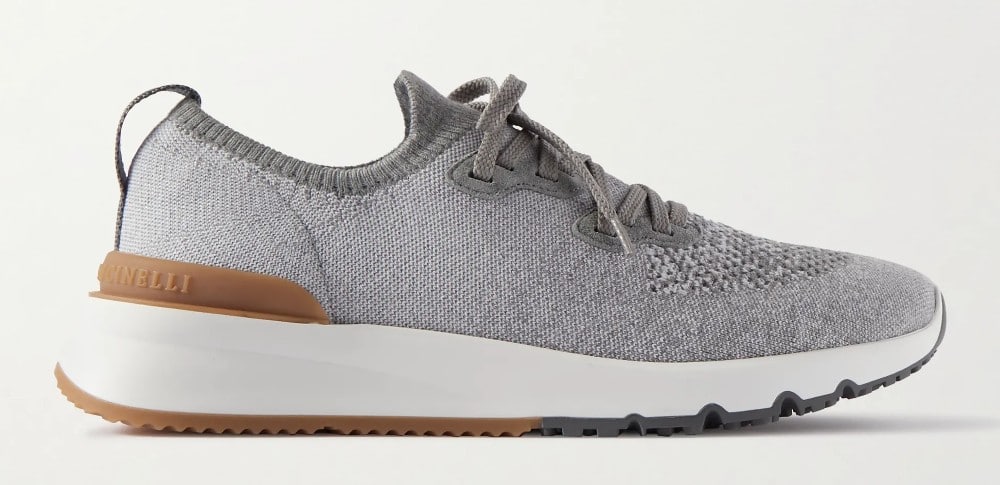 From running errands to hitting the gym, just about any activity can be accomplished while wearing sneakers. But when it comes time to dressing up, many men find themselves at a loss as to what type of luxury sneakers are appropriate. Luckily, there is one option that always looks stylish: Brunello Cucinelli low-top sneakers. With their sleek design and versatile colour options, these shoes will take your look up a notch without sacrificing comfort. So why not give them a try? You may be surprised at how much you love them!
Y-3 Ajatu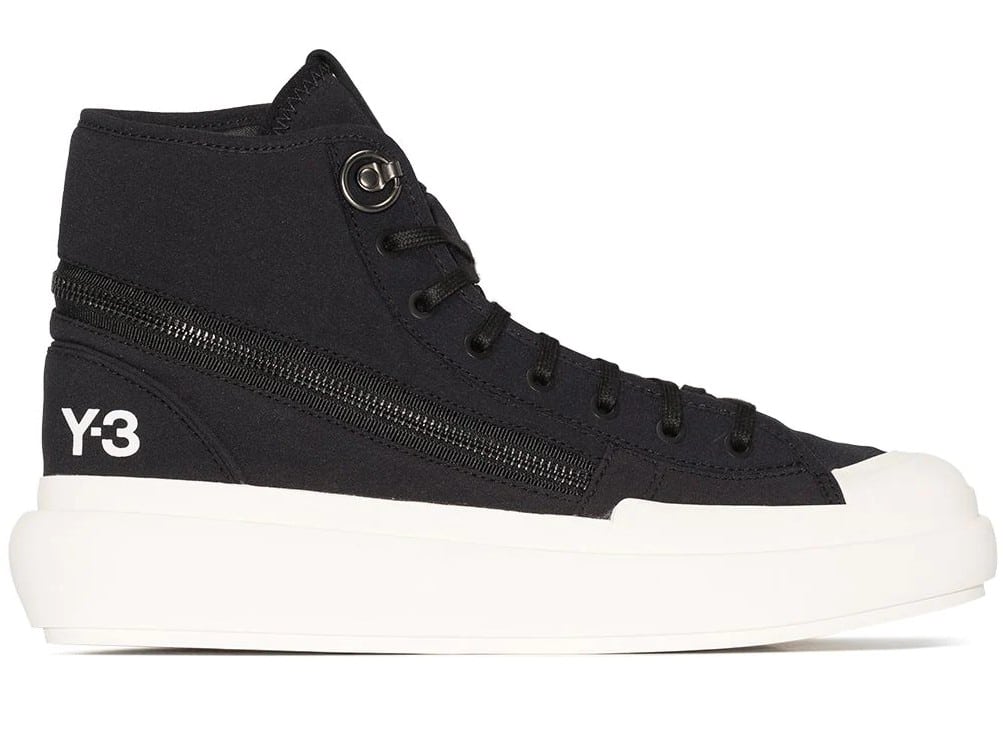 Looking for premium sneakers that will have you turning heads? Check out the new Ajatu high-top sneakers from Y-3. These sneakers are perfect for men who want to make a statement with their style. With a unique, yet understated design, these sneakers will add an edge to any look. Plus, the comfortable fit and high-quality construction make them perfect for everyday wear. So if you're looking for a versatile and stylish sneaker, be sure to check out the Ajatu from Y-3.
Christian Louboutin Happyrui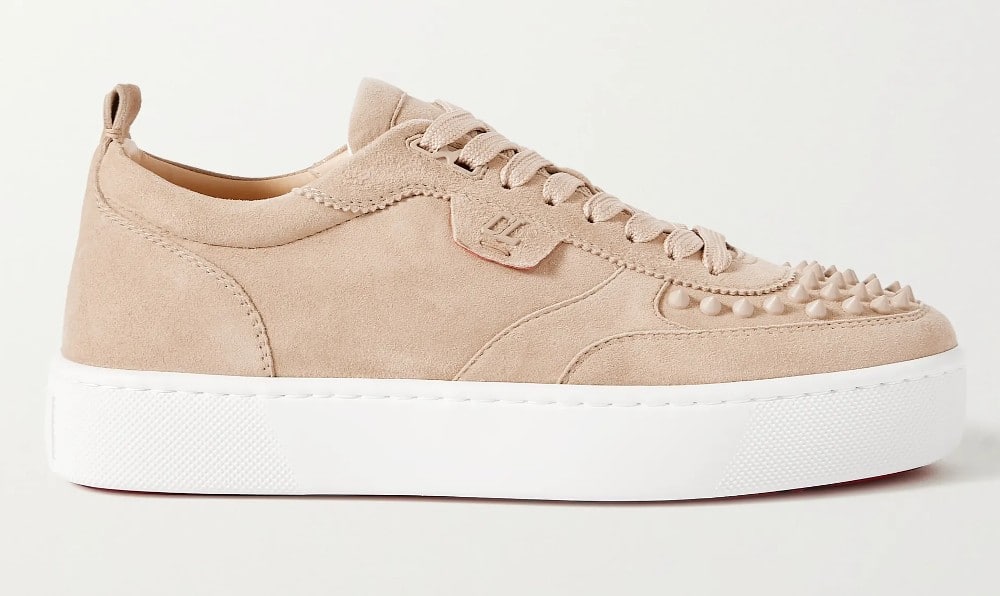 Are you looking for a way to set yourself out from the crowd? Then these Christian Louboutin Happyrui Spiked Suede Sneakers are for you. You'll turn heads wherever you go with their eye-catching spiky style.
Fear of God Backless Sneakers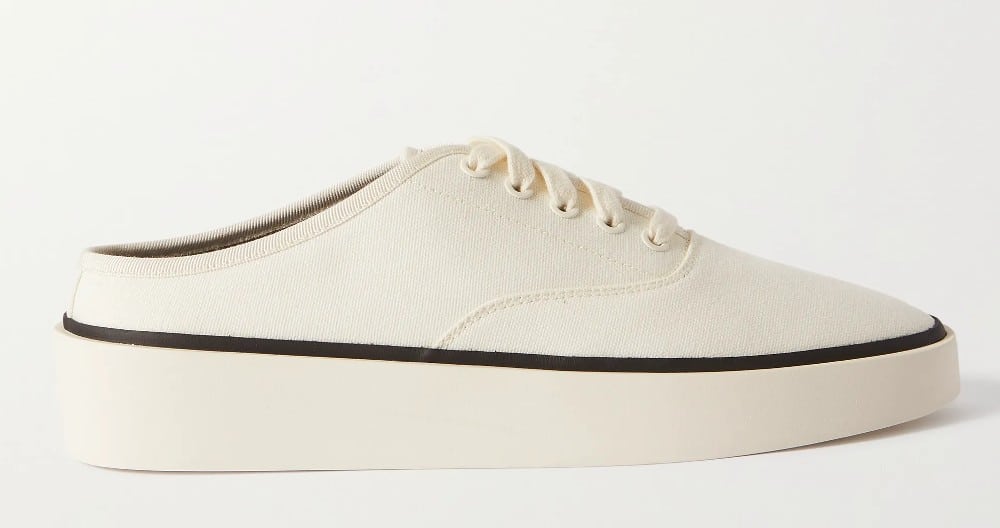 These unconventional luxury sneakers are the creation of Mr Jerry Lorenzo, the founder of Fear Of God. Made in Italy, they've been purposely designed to easily put on and off, because Lorenzo was so frustrated at stepping on the backs of his shoes whenever he wanted to quickly pop out of the house. They are the ideal summer footwear, with their impeccable design.
Rhude Distressed Leather High-Top Sneakers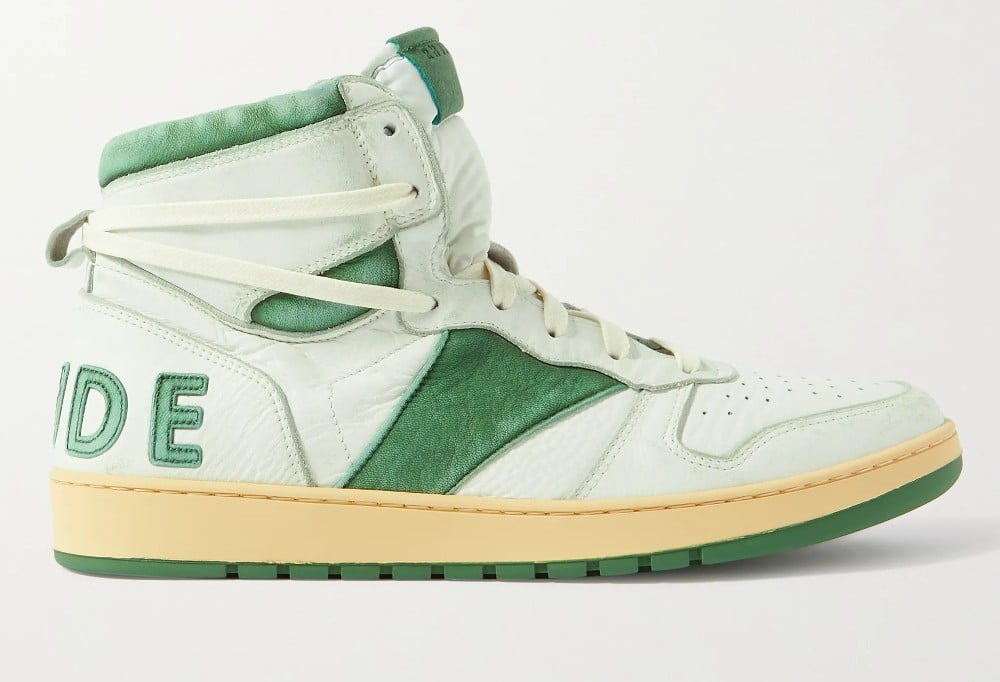 Inspired by vintage basketball shoes, Rhude Distressed Leather High-Top Sneakers are not only on-trend, but they're also perfect if you love the distressed look. Worn by celebrities including Kendrick Lamar and Snoop Dogg, Rhude Distressed Leather High-Top Sneakers are great option if you're looking to keep your outfit casual.
Balmain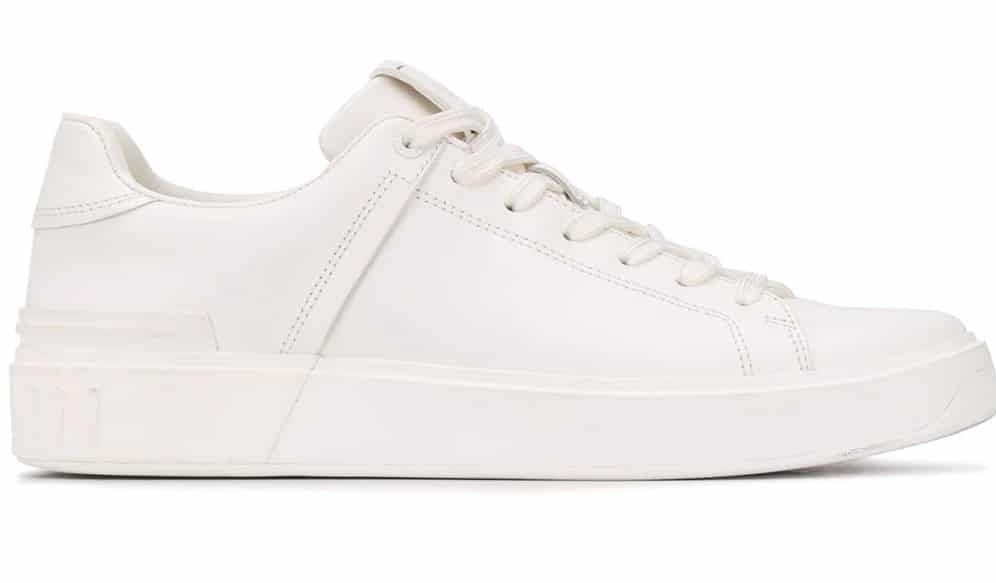 There's nothing more satisfying than finding the perfect pair of sneakers to suit your style. And when those sneakers are from Balmain? Even better! Balmain's B-Court low-top sneakers are a classic style and timeless making them the perfect investment.
Lanvin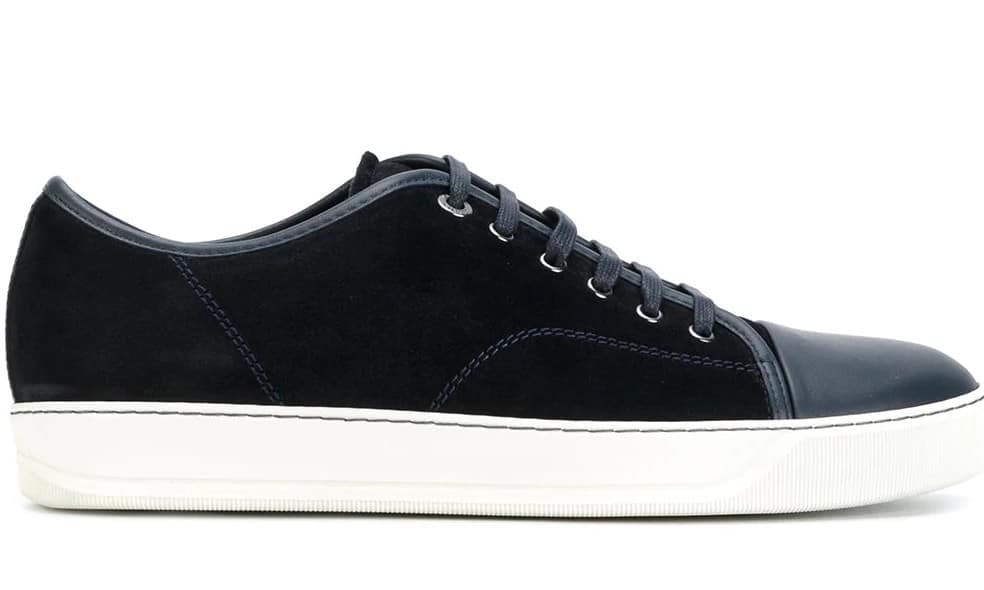 Lanvin's toe-capped designer sneakers feature a sleek suede design with a patent toe cap that gives them a touch of elegance. They're perfect for adding a touch of sophistication to an everyday outfit.
Prada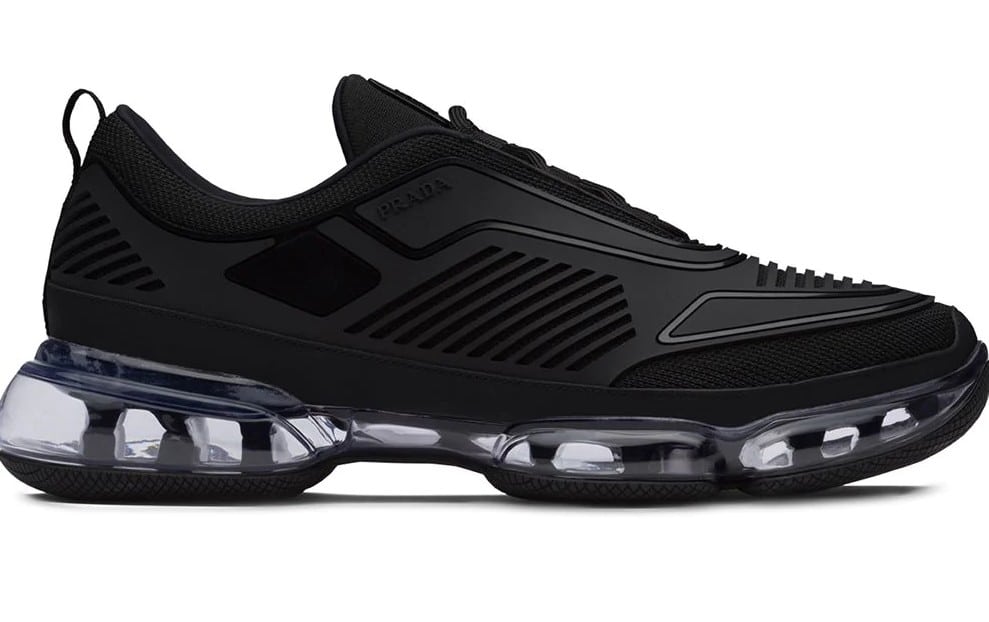 Step up your sneaker game with Prada's Cloudbust Air sneakers. These unique kicks feature a branded insole for extra comfort. And the rubber sole and rubber appliqués with 3D effect complete the look and provide the durability you need to rock these sneakers all day long.
Berluti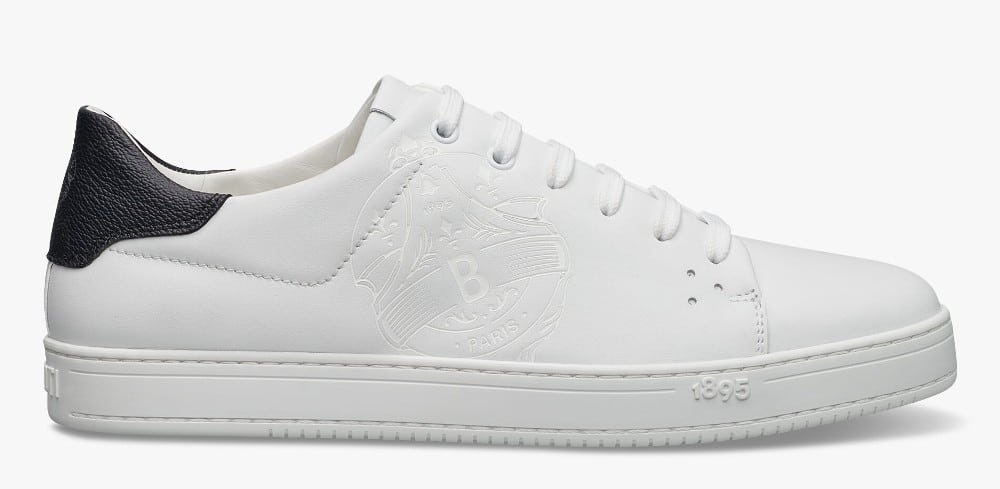 Introducing Berluti's Vitello logo-stamped leather trainers —the perfect addition to your everyday wardrobe. Made from the finest leather, these luxurious leather trainers are a must-have and are sure to turn heads with their's subtle tonal crest.
Church's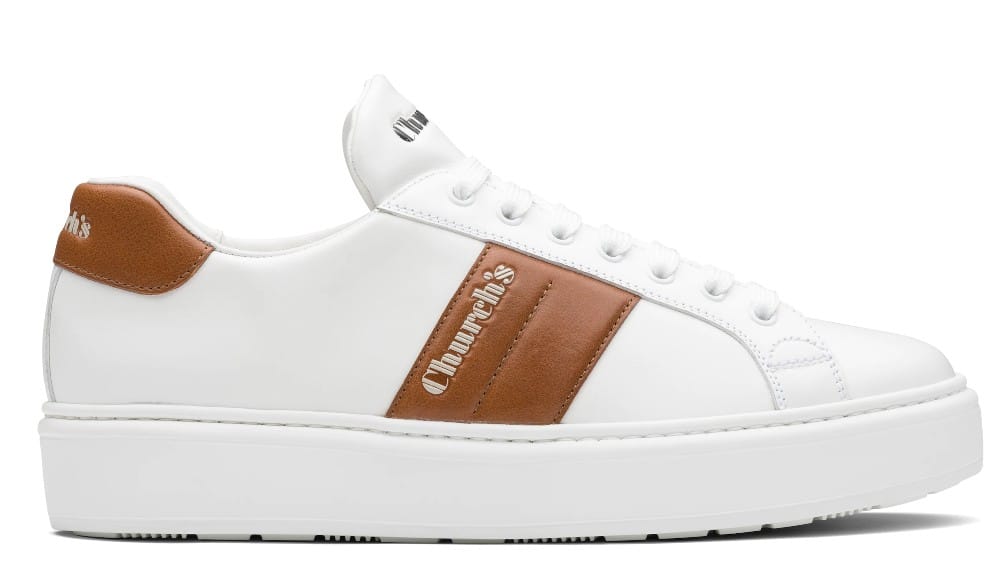 Slip into a touch of luxury with Church's Mach 3 Calf Leather Classic Sneaker White. This easygoing sneaker is enhanced by the natural finish of Monteria calf leather, coupled with bold logos.
Alexander McQueen Oversized Runner Sneakers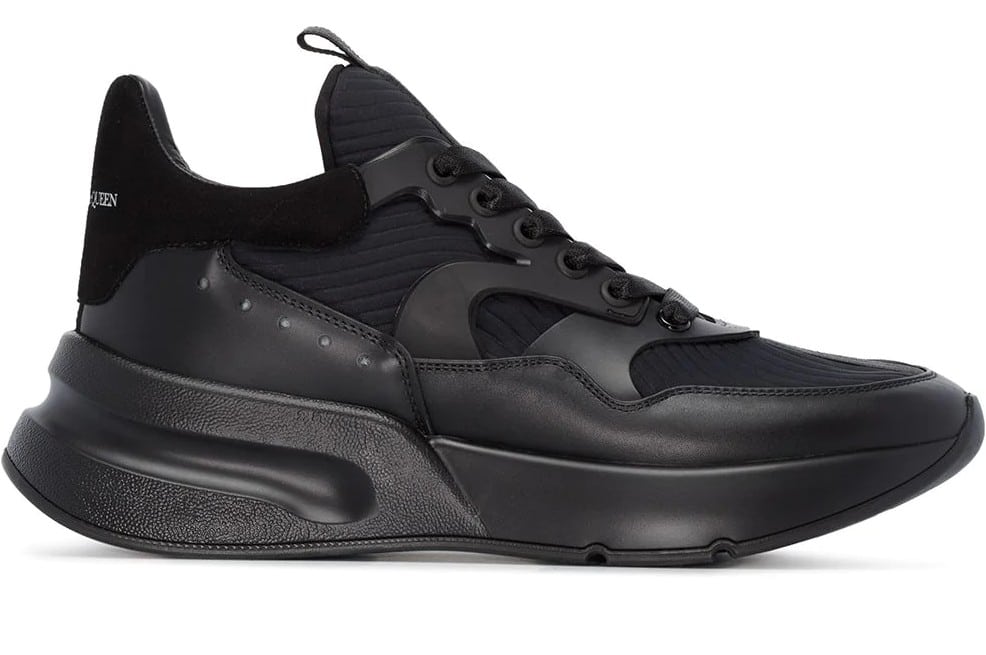 Take your style to new heights with these Alexander McQueen Oversized Runner Sneakers. Finished with a suede heel counter, McQueen's Oversized Runner Sneakers deliver an upscale look that will have you standing out from the crowd.
Celine Homme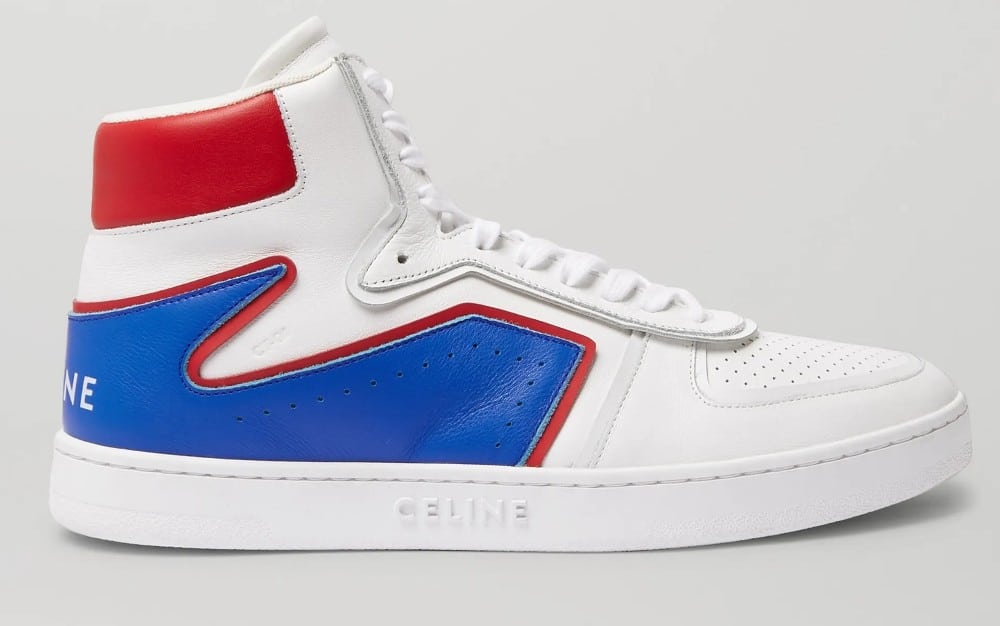 Made from rich leather and colour-blocked in bright yellow, white, and black hues, Celine's Homme Z Leather High-Tops are inspired by the motocross riders of California. With a snug fit and sturdy construction, these sneakers will keep you looking cool and feeling comfortable all day long.
Tod's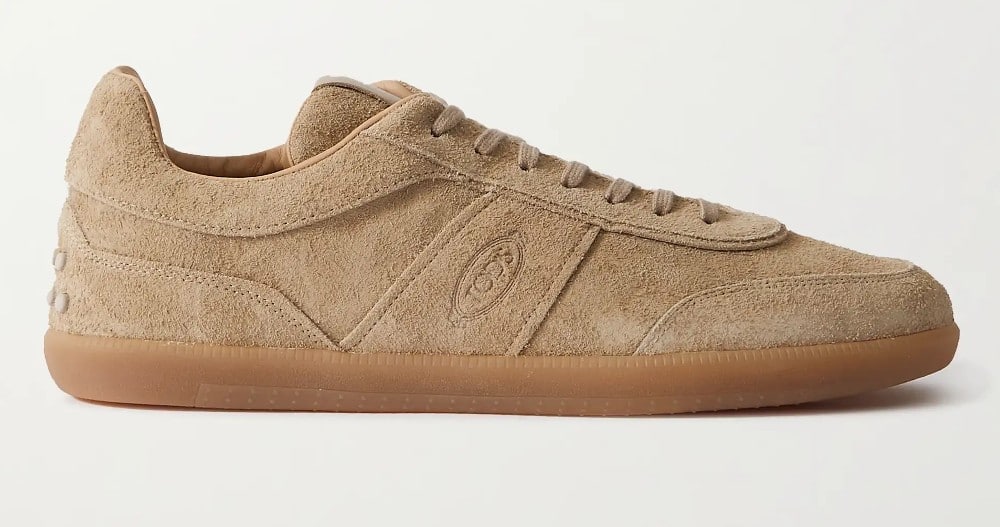 With a sleek and versatile silhouette, our Tod's Leather-Trimmed Suede Sneakers are trimmed with fine leather and finished with a debossed logo. They're perfect for downtime dressing or dressing up – the choice is yours.
Givenchy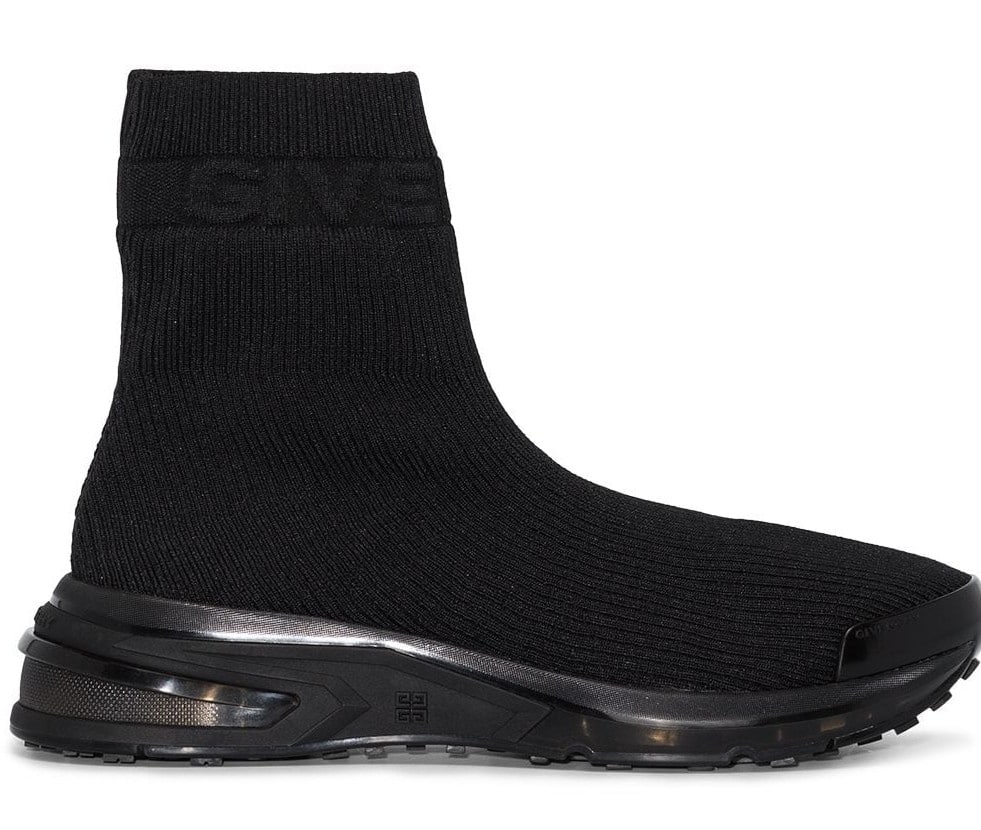 It's all about comfort when it comes to choosing a pair of sneakers, and for a fashionable yet comfortable look, nothing beats a pair of Givenchy's GIV 1 sock sneakers. Because of their smooth fabric and snug fit, these sneakers will keep your feet feeling great all day. Whether you're going to work or out on the town, these knitted beauties will add a relaxed luxe vibe to your look.
Ralph Lauren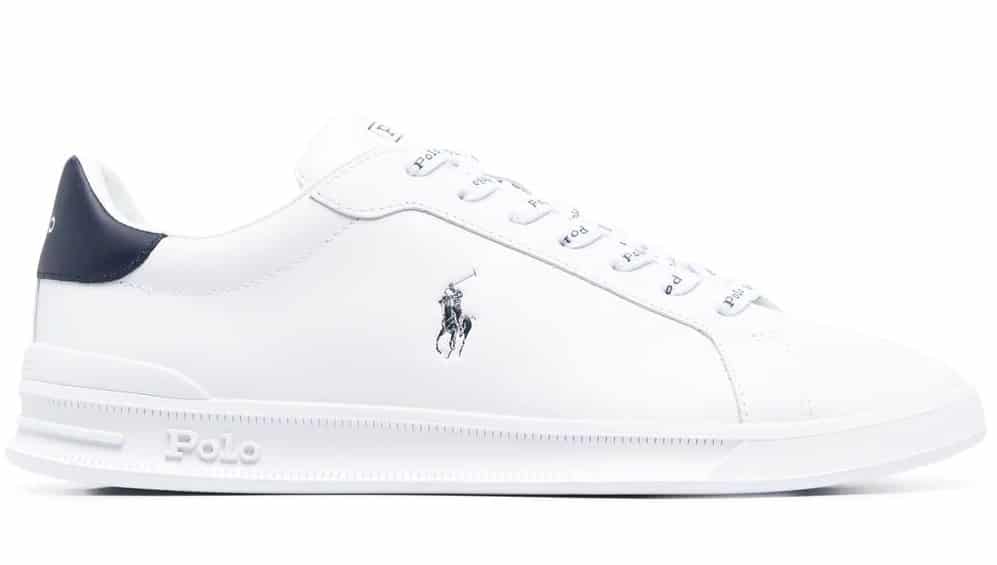 Want to add some polish to your look? Made from white leather, with a lace-up front fastening, and a flat rubber sole, Ralph Lauren's low-top sneakers are perfect for the job. The iconic Polo logo is displayed on the sides of the shoes in contrasting navy, while the insole is embossed with the Ralph Lauren logo.
Converse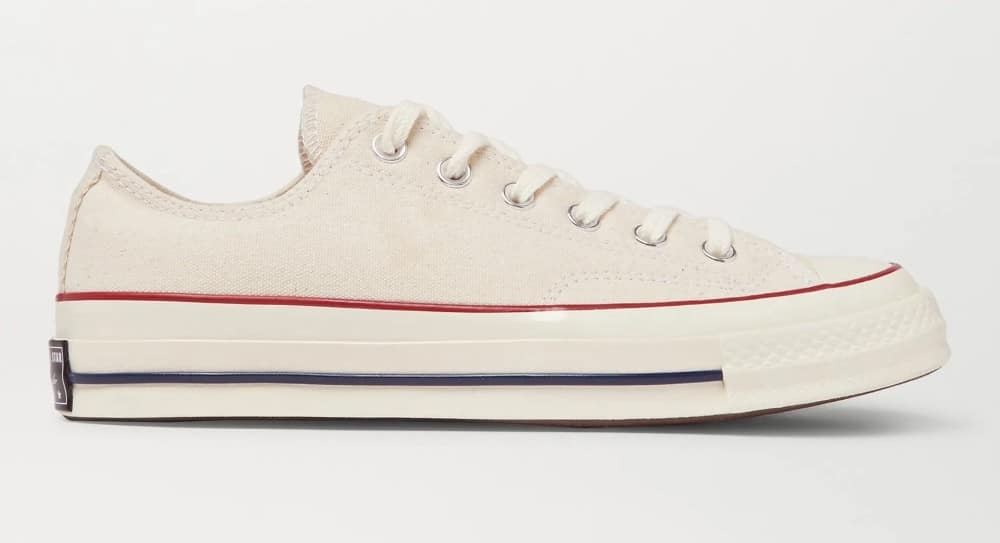 Converse's Chuck Taylor men's sneakers have reached iconic status because of their comfort and durability. It also helps that they're loved by celebrities everywhere. With the Converse Chuck Taylor 70 Canvas Sneakers, you can rock these bad boys all day every day, without your feet feeling beat up.
Saint Laurent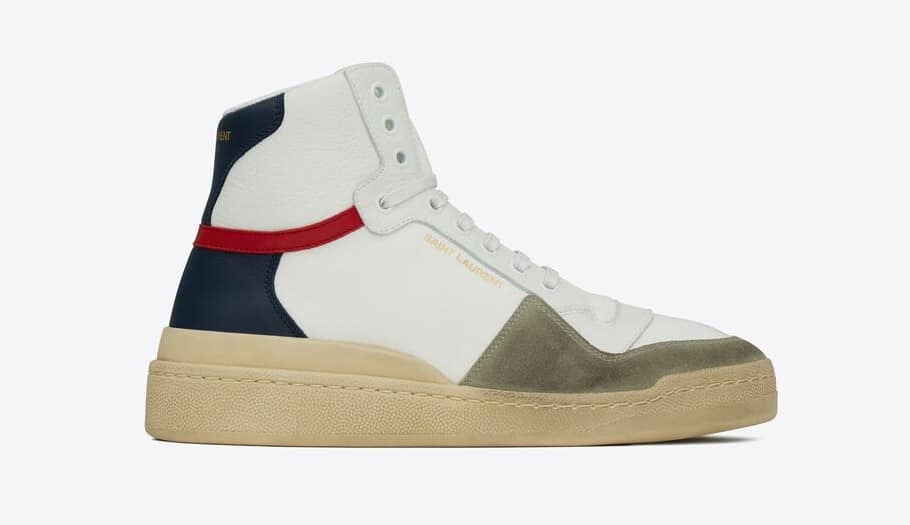 Street style meets high fashion with Saint Laurent's SL24 mid-top sneakers: These sneakers are perfect for a look that's both stylish and sustainable. Saint Laurent's signature can be found on the side of the sneaker in gold as well as inscribed on the heel for an extra touch of luxury.
What is the best brand of sneakers for men?
Some people might say that there is no such thing as a "best" sneaker brand since everyone has different preferences. But others might say that some brands are simply better than others. So, which is it? Well, the truth is there are some brands that are just a cut above the rest. And for us, these 6 sneaker brands make the best quality sneakers.
Nike
Nike is a well-known brand for sports equipment, especially sneakers. With a huge variety of designs and styles to choose from, Nike has become one of the most popular brands in the world.
Common Projects
Another big contender on our list is Common Projects. This Italian sneaker company was founded in 2004 by Peter Poopat and Flavio Girolami who wanted to create high-quality shoes that were timeless rather than flashy or trendy. Their sleek design quickly turned them into a popular luxury item, but they are still relatively affordable compared to other designer brands.
Tom Ford
One of the highest-priced brands on our list is Tom Ford. In addition to their impressive line of footwear, Tom Ford also has a line of men's fashion that includes other luxury items such as leather jackets, belts, sunglasses, ties, and wallets. Their sneakers are stylish but not overly flashy.
Adidas
The most common sneaker brand on our list is Adidas. If you're looking for something simple and stylish without the designer price tag then Adidas is definitely the way to go. They have an endless supply of fashionable styles at very affordable prices
Maison Margiela
Founded by Martin Margiela in Paris in 1988, Maison Margiela is another high-end fashion brand with its own line of luxury footwear. Like Tom Ford, they carry many different types of clothing and accessories.
Off-white
And finally, there is Off-white. This luxury sneaker brand started out as a line of streetwear but quickly became one of the most popular designer brands due to their simple yet stylish designs. Known for their iconic white stitching around the soles, they are definitely one of the best luxury sneaker brands.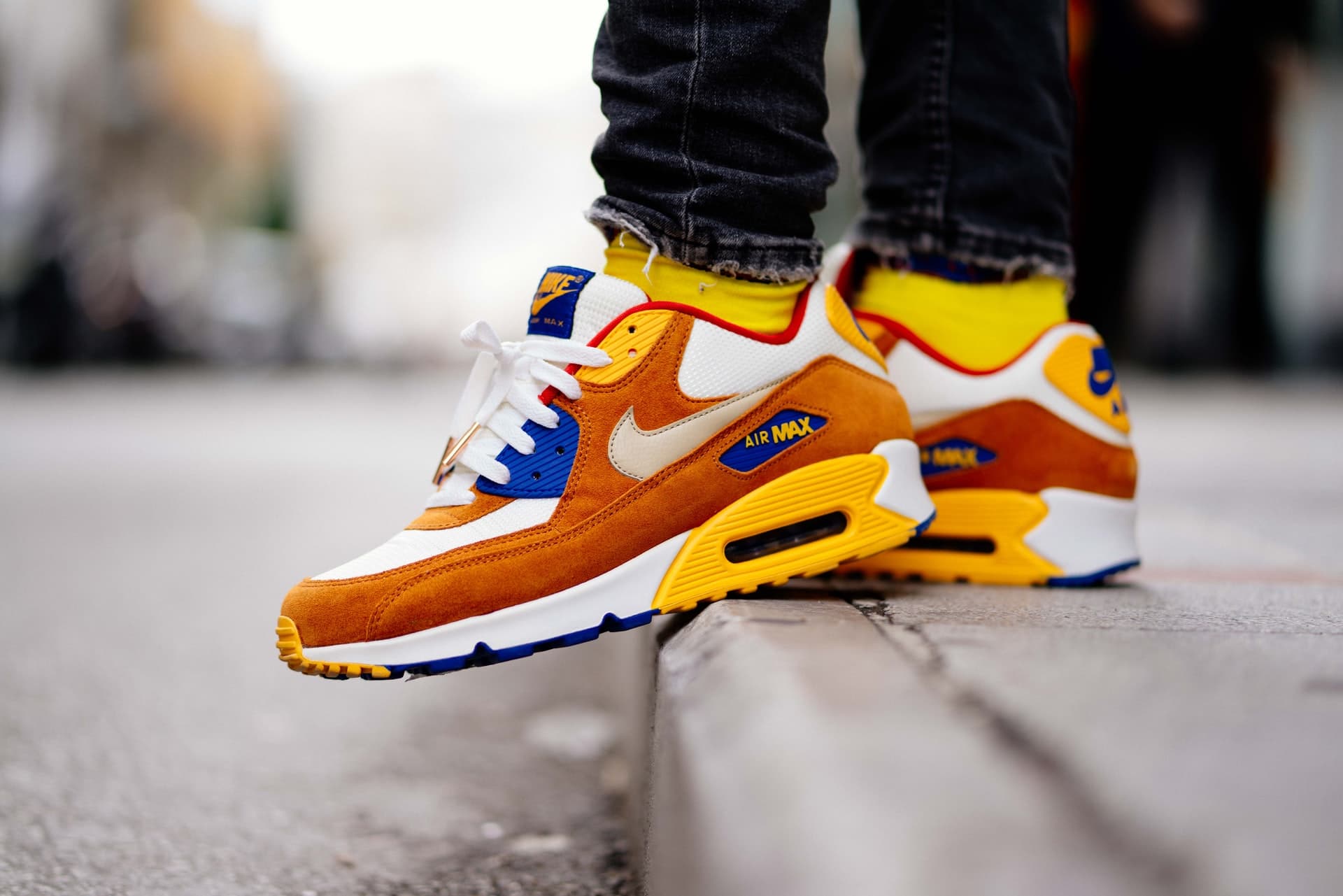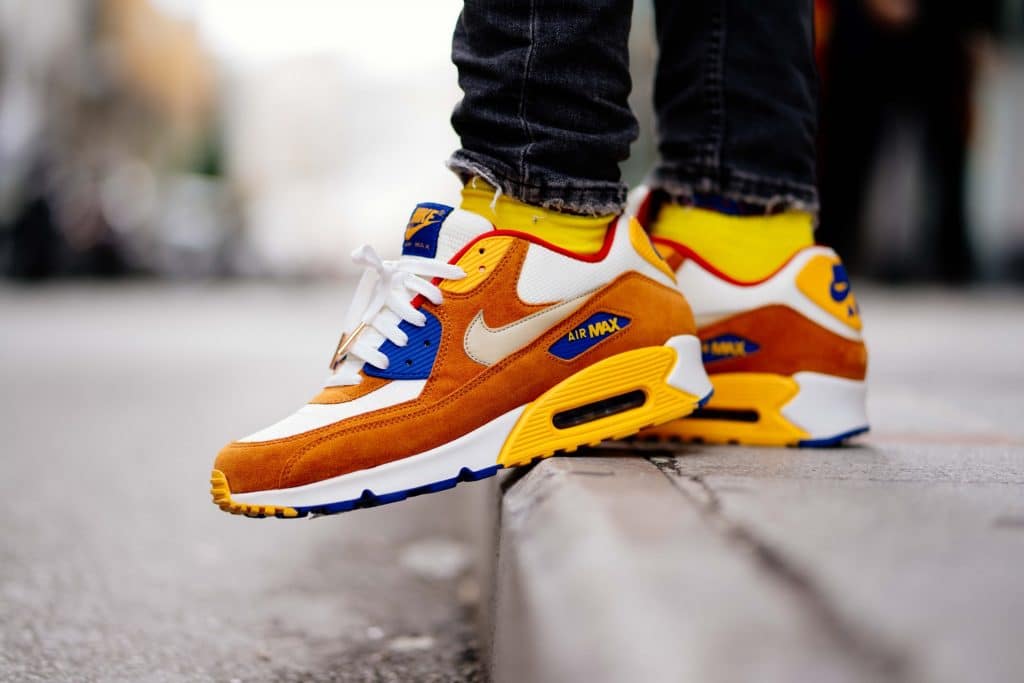 7 Things To Consider Before Buying Luxury Sneakers
There's some key factors to consider before buying designer sneakers. Don't part with your cash, till you've had a look at these 7 important things to consider…
1. Price
First up is the price – which is no surprise. This may be the most important thing to look at before making any purchases. While they can be worth it if you wear them often and they last for years or decades, sneakers, in general, tend to go out of style within 1-3 years so decide whether or not it's worth it based on how often you plan to wear them and how long they will last. For the price, it definitely needs to be something you love and wear very often!
2. The brand
Of course, we all know that Gucci is a luxury brand and therefore tends to be more expensive than other designer sneakers like Nike or Adidas. However, there are tons of other brands that make high-quality shoes, for example, Common Projects. Basically, don't just purchase a pair of sneakers because they're made by a popular brand. Instead, take some time to research other quality brands out there.
3. How often they will be worn
The next thing to consider is how often you plan on wearing your sneakers. Are they an investment or do you just want something new? If it's the latter, then feel free to opt for more trendy sneakers. However, if you're on the hunt for an investment piece make sure you make an informed decision and choose a pair of sneakers that are more classic and timeless as opposed to being on-trend.
4. If they are versatile
Think about where you will wear your sneakers and what you'll wear them with. For example, will they pair well with the majority of your wardrobe or are they more for one-off outfits? Or will you need to wear them to work? If so, consider also investing in work boots. Look for your ultimate work boots by Red Wing Shoes.
5. If they can be dressed up or down
If you plan on wearing your sneakers mostly to formal events, then opt for a luxe pair of black or white leather sneakers that can also be dressed down with jeans and a t-shirt.
6. Colors and patterns
Lastly, think about if the color or pattern is what will work best with your wardrobe. Do you need something neutral to match all of your outfits? Or do you need something colorful for when you're feeling adventurous? If it's for an investment piece then stick with classic colours like black or white so they'll be able to go with everything in your wardrobe, but casual designer sneakers definitely don't have to be plain! Just make sure that if there are too many bold colours, it doesn't look tacky so use discretion.
7. Size and fit
You don't want your sneakers to be too small or big which happens quite often with luxury sneakers. Make sure to try them on before buying! You also need to consider if there are wide or narrow fits available, depending on the style of shoe that you're choosing. If it's not a lace-up sneaker then definitely get one that can be adjusted so they'll fit just right. Also, remember that even though it's an expensive purchase, you should still wear and buy something that makes you feel comfortable and confident!