One of the many reasons hair transplant has become a popular aesthetic procedure is that thousands of people are looking for solutions to their hair loss problems. When you consider the procedure's effectiveness and how long it lasts, it's only natural for more people to choose it for their hair restoration. So if you're on this page, it means you've decided to have a hair transplant.
While this is a good decision, you need to know that the surge in demand for hair transplant services has paved the way for unsavory clinics with little to no knowledge of the procedure. Some even claim to be one of the best clinics with the best surgeons. And as it's difficult to identify them, you must do diligent research before choosing any clinic for your hair transplant surgery.
If you're resident in Mexico or traveling there for this procedure, and you're stuck at finding the best hair transplant clinic, let us help you. Here, we'll give you a comprehensive guide on finding the best hair restoration clinic in Mexico. But before we go into that, let's briefly discuss what hair transplant in Mexico is all about.
Hair Transplant Surgery in Mexico
Mexico has become one of the most chosen hair transplant destinations in the world. Thousands of medical tourists troop into the country yearly to have their hair restoration treatment. And that's because the country offers a combination of world-class clinics with renowned specialists offering great treatment options at competitive prices.
There's a bottom-up reformation in the country's healthcare system that has resulted in a deliberate investment in health, which is also extended to cosmetic surgery. So even though it's still in the transitioning stage, there has been a significant development.
The country is now home to the best hair transplant specialists. They are highly qualified by virtue of their skills and experience and their membership in several reputable organizations like the International Society of Hair Restoration Surgery (ISHRS) and the American Society of Plastic Surgeons (ASPS). These specialists are committed to quality care, and you can be confident of having a successful hair transplant in Mexico.
Traveling to Mexico for your hair transplant is straightforward. Flights are affordable, and you won't need to get a visa as a British citizen, but you'll have to fill out an immigration form required for entry and exit. But how do you find the best clinic there? Please follow our guide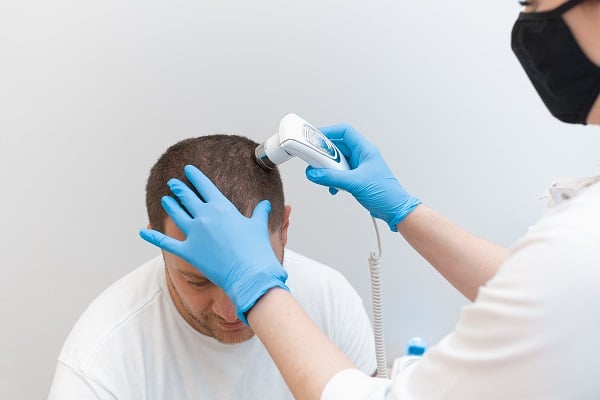 Tips to Find the Best Hair Transplant Clinic in Mexico
The following is a foolproof guide on how to find a highly rated hair transplant clinic in Mexico:
1. Research Clinics in Chosen Destination
While it's easier to get a good clinic through a referral or recommendation from a friend or acquaintance, it may be slightly difficult to find one if you're not willing to do diligent research on your chosen destination. This is the first step to finding a great hair transplant clinic. When you're researching, you shouldn't be lured by the aesthetics of websites or made-up reviews. Instead, you should dig deep into their pages and social media handles to see comments on the quality of their services and how patient-oriented they are.
2. Know Your Prospective Surgeon
The clinic's website must contain information about the lead surgeon, especially the one that'll carry out your procedure. But it doesn't end at that. You have to book a consultation with the surgeon to ask necessary questions about their expertise, the number of procedures they've performed, their success rates, and the treatment plan for your hair. As hair transplant is a time-consuming procedure, you have to know the number of patients the doctor attends daily. While it shouldn't be more than two, you have to be sure about it.
3. Check Before and After Gallery
This move allows you to verify the surgeon's capabilities that'll be performing your hair transplant. Every good clinic has a gallery containing before and after pictures and videos of the procedures, they've performed over time. In the gallery, you should pick out cases of individuals with similar hair loss conditions as you. You must compare the before and after images to create an expectation for yourself.
4. Ask About Available Procedures
As far as hair transplant surgery is concerned, one size doesn't fit all because every individual's case is unique, and they require unique treatment. This is why you must ask about the available procedures in the clinic. For example, CapilClinic offers the FUE hair transplant technique as its surgical procedure and stemcell treatment as its non-surgical procedure.
5. Prescriptions Before and After Your Operation
A hair transplant isn't a jump-in and out the procedure because there are steps to take before and after the operation. You must confirm if the clinic offers pre-operative instructions that prepare you for your surgery. You must also confirm the post-operative care treatments, which may be free for some clinics and incur costs for other clinics. All these are essential in determining the best clinic for your hair transplant.
6. The Qualifications of the Medical Team
A hair transplant is a complex procedure that requires a high level of expertise from the surgeon and other medical team members. You must confirm the qualifications of the medical team that's usually made up of nurses. They must be industry-experienced and must have a knack for the whole process, such that they can communicate every step to you along the way.
7. Confirm if there's Room for Revision in Case of Transplant Failure
Failure doesn't necessarily mean a botched hair transplant. If your expectations expressed during the consultation aren't met, and the surgeon does something contrary to what you want, you have the right to demand revision. Some clinics offer it as a value-added service, while others may require you to pay. Whatever the case may be, just ensure the clinic will revisit your procedure if you have any valid complaints.
Conclusion
Finding a hair transplant clinic in Mexico isn't difficult, but finding the best may be challenging. But if you check out a clinic like CapilClinic and follow the tips we gave in this post, you stand a good chance of having an amazing hair transplant experience.