Finding a stylish baseball leather jacket that fits your taste can be easier said than done. Chances are you might spend a considerable amount of time finding trendy baseball leather jackets or fashionable racer jackets.
Luckily, we have created a list of fashionable jackets to save you time and hassle.
Here are seven of the best baseball leather jackets.
Stewart & Strauss Original Varsity Letterman Jackets
Stewart & Strauss is a high-end leather and wool varsity baseball jacket. Its opulent style is available in a variety of color combinations for both men and women. It also comes in a variety of sizes (XXS to 6XL) to accommodate both tiny and large bodies. This jacket is suitable for both cold and hot conditions.
The materials are long-lasting, and the soft liner adds to the comfort. It contains quilting for enhanced comfort, as well as a button closure with a zipped interior and a strong waistline to keep it from bunching up while in use. Stewart & Strauss offers a machine-washable design that is simple to maintain.
Stag Wears' Black and Gold Leather Baseball Jacket
Baseball jackets, like so many other items in the male wardrobe, began as sports garments. They are also known as varsity jackets or letterman jackets. We can date them back to 1865, when they first appeared on the backs of Harvard's baseball team, complete with the letter H emblazoned on the jacket in all its grandeur. Baseball jackets have remained a prominent symbol of American jock culture and the nation's enthusiasm for baseball since then.
Despite its origins in function and an athletic heritage that may always be there in its DNA, this jacket has evolved into something far more adaptable.
Jakewood Custom Leather Baseball Jackets
A leather baseball jacket, as opposed to the more popular nylon baseball jacket, has numerous notable advantages. Durability is one of the most important benefits. Jakewood uses only the finest sheepskin and lambskin, as well as more exotic hides like alligator and python. It is guaranteed to last for many years and to withstand the demands of everyday use as well as the elements of the outdoors and weather.
Marco Leather Baseball Jacket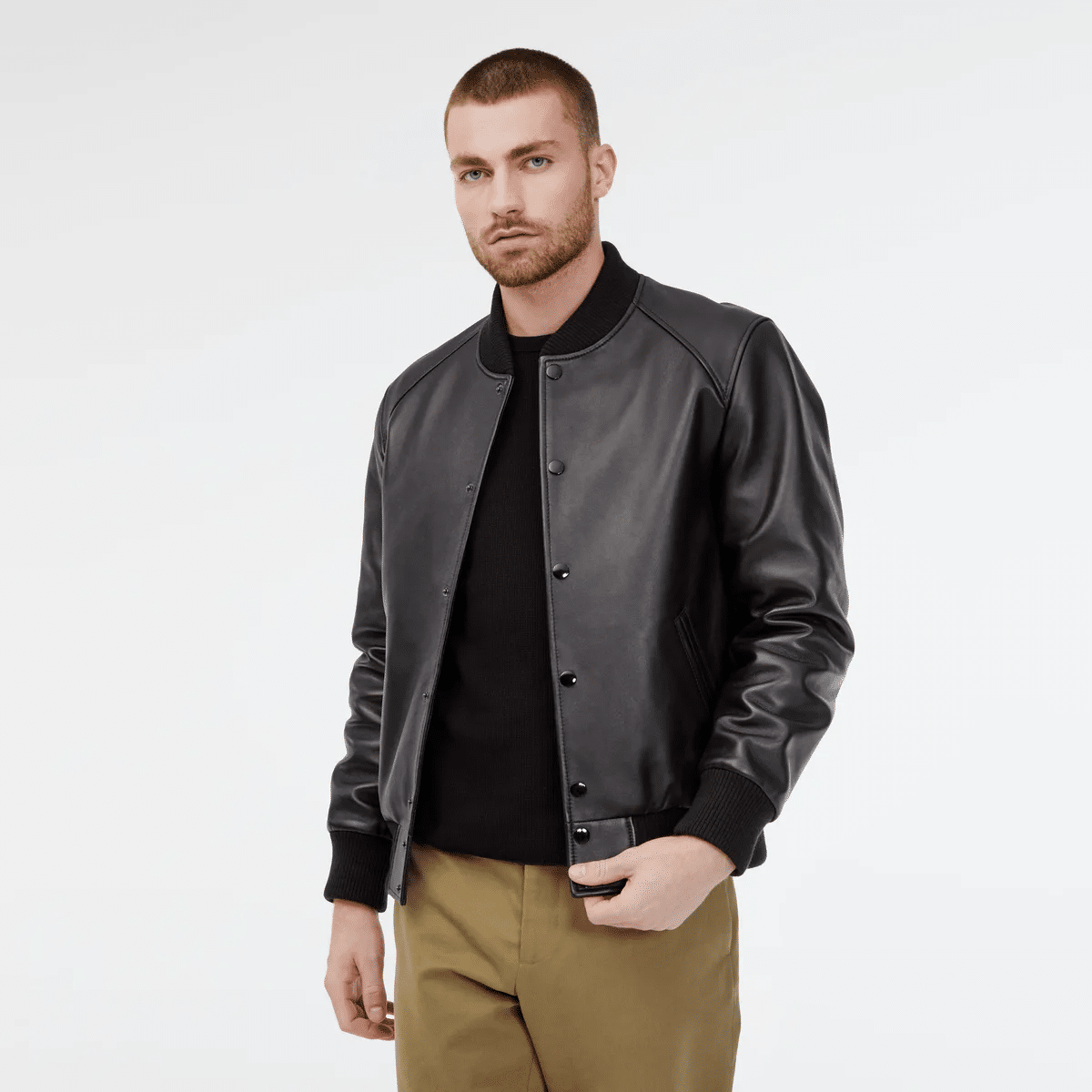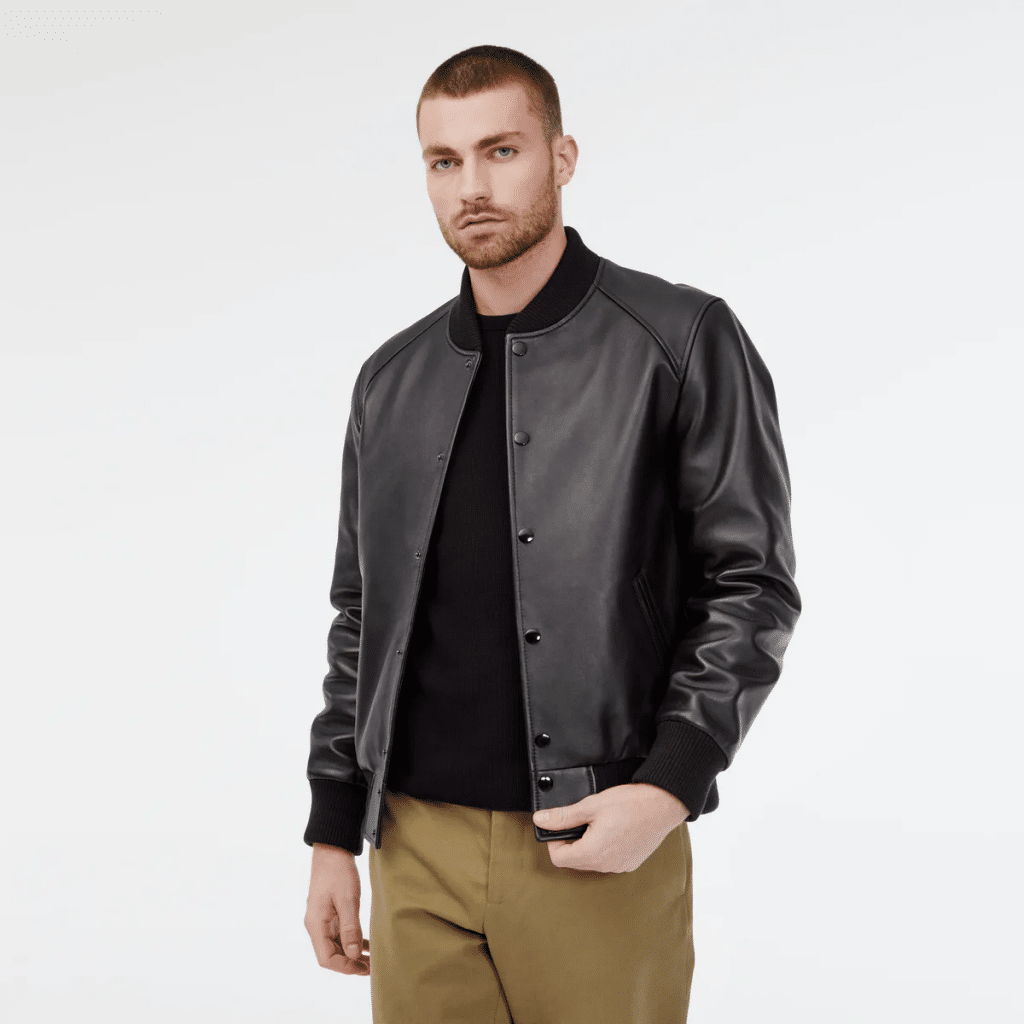 The traditional bomber jacket is given a refined makeover with buttery-smooth lambskin leather. This classic is warm and snug-fitting, with ribbed cuffs around the waist, sleeves, and neckline to complete the style.
Fits true to fit, but those in-between sizes should go with the larger size. This jacket is made with lambskin leather, polyester, viscose, wool, and rayon.
REED Men's Baseball Suede Leather Jacket
This Reed Suede Jacket is constructed of genuine pig suede and is designed to hold up without losing its softness. The first thing to think about is the type of leather you're purchasing and its advantages, as some types of leather are more durable and easier to maintain than others. Others have a fantastic appearance but are a pain to maintain. Leather is defined as an animal hide that has undergone a tanning process.
The primary factors in defining leather quality are the type of leather, the health of the animal, the tanning procedure utilized, the section of the skin used, and overall quality.
Andrew Marc Men's Black Summit Baseball Leather Bomber
A timeless classic. Our summit baseball bomber jacket is made of smooth, water-resistant lambskin leather and has a single-breasted zip front clasp and side pockets. The traditional bomber style is referenced by the tonal rib-knit collar, cuffs, and hem.
This jacket is made up of shell, polyester sleeve lining, leather shell lining, polyester knit trim, polyester jacket fill, wool, acrylic, spandex water, and polyester.
Valentino Men's Black Baseball Jacket
It's safe to say that Pierpaolo Piccioli, Valentino's Creative Director, has knocked it out of the park with this woven jacket. This varsity-inspired silhouette, complete with a baseball collar and leather sleeves, makes becoming a style MVP a breeze. With the Italian label's emblem embroidered on the chest, the college-style scores a homerun. So go ahead and prove to the coach why you deserve to be the team captain.
Conclusion
Choosing a baseball leather jacket can be a tough task for some. The brands we mentioned are some of the best in the fashion industry today. Make sure to check out the brands we mentioned to help you decide the next time you think of buying your next jacket.