As a busy mum with two toddlers, I'm constantly in need of comfortable yet stylish shoes that I can easily slip on and off.
So when Vivaia got in touch and offered me a pair of Vivaia flats for review, I was excited to try them out.
I was sent a pair of the Vivaia Aria 5 pointed toe ballet flats in black and these are my very first pair of Vivaia shoes.
Vivaia promise to offer stylish and sustainable footwear, but do they live up to the hype?
Here I'll be sharing my honest review of their shoes based on my personal experience.
First, let me give you a brief background info on this fast growing footwear brand.
Who Are Vivaia Shoes?
Vivaia are a fashionable and sustainable shoe brand that launched in 2020. They're based in London, but their manufacturing takes place in China.
The mission of Vivaia is to create stylish eco-friendly footwear that's not only stylish but also conscious of the environment.
The Vivaia collection of shoes, range from the classic pointed toe flat to over the knee boots and trendy sneakers, that are made from recycled materials.
They use plastic bottles to create the kniited upper, while the soles are crafted from natural rubber.
The recyclable materials they use, which also include natural latex and microfiber, are supposed to make their shoes comfortable and durable.
Basically, Vivaia shoes are pretty much a newer version of Rothys. Both brands specialise in ballet flats made of recycled plastic bottles…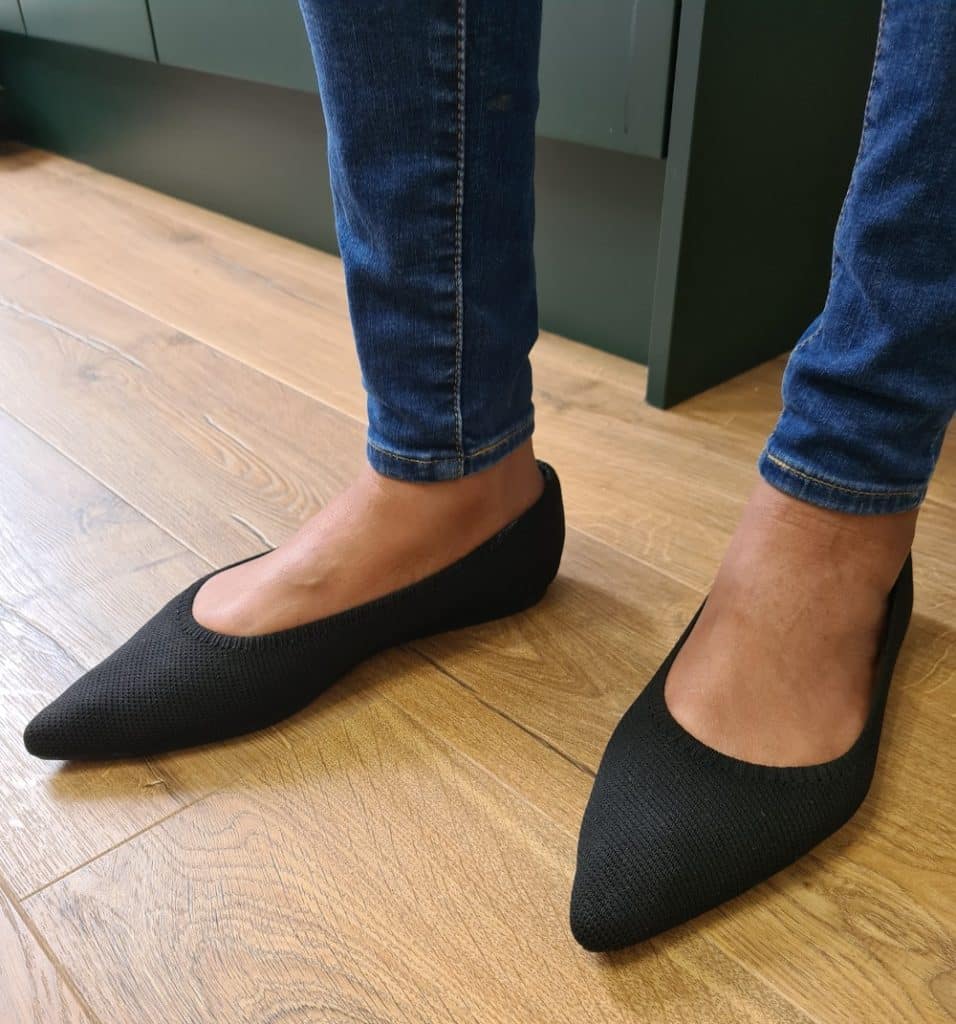 Are Vivaia Shoes Environmentally Friendly?
Vivaia Shoes is a brand that prides itself on sustainability and use different methods to lower their environmental footprint.
To ensure zero waste, they use 3D technology to make their shoes, and their standout feature is an innovative closed-loop manufacturing process in which they convert discarded plastics into shoe threads.
This unique process cuts production waste by 30%, which really reduces the amount of waste that ends up in landfills.
Vivaia's shoes are machine washable, extending their lifespan and making them even more sustainable.
All these steps are part of their mission to combat plastic pollution and waste.
But the question remains – are Vivaia Shoes truly sustainable, or is this just another case of greenwashing in the fast and fashion forward footwear industry?
My Honest Vivaia Shoe Review
Are Vivaia Shoes Comfortable?
One of the things that make Vivaia shoes incredibly comfortable is the foam insoles. The insoles are soft and cushiony, providing a soft base for your feet.
They also help absorb shock, reducing the impact on your joints.
The foam insoles are moisture-wicking, which means they help keep your feet dry and prevent blisters.
I have a pair of the Vivaia Aria 5 flats in black. They're beautiful shoes and when they were brand new, I was able to wear them all day without any issues. The moment I put them on, I could feel the cushioning and support they provide.
I've had them for over a year now and they are still just as comfy and are probably one of the most comfortable shoes I've ever worn.
Another thing that makes Vivaia's shoes extremely comfortable is the arch support and the extra padding on the heel.
Their shoes are designed to support your feet, and the arch support helps distribute your weight evenly across your feet.
This can help reduce foot fatigue and prevent pain.
Best of all Vivaia's shoes are breathable, which helps keep your feet cool and dry. Their shoes are made with a breathable fabric that allows air to circulate around your feet, preventing them from getting sweaty.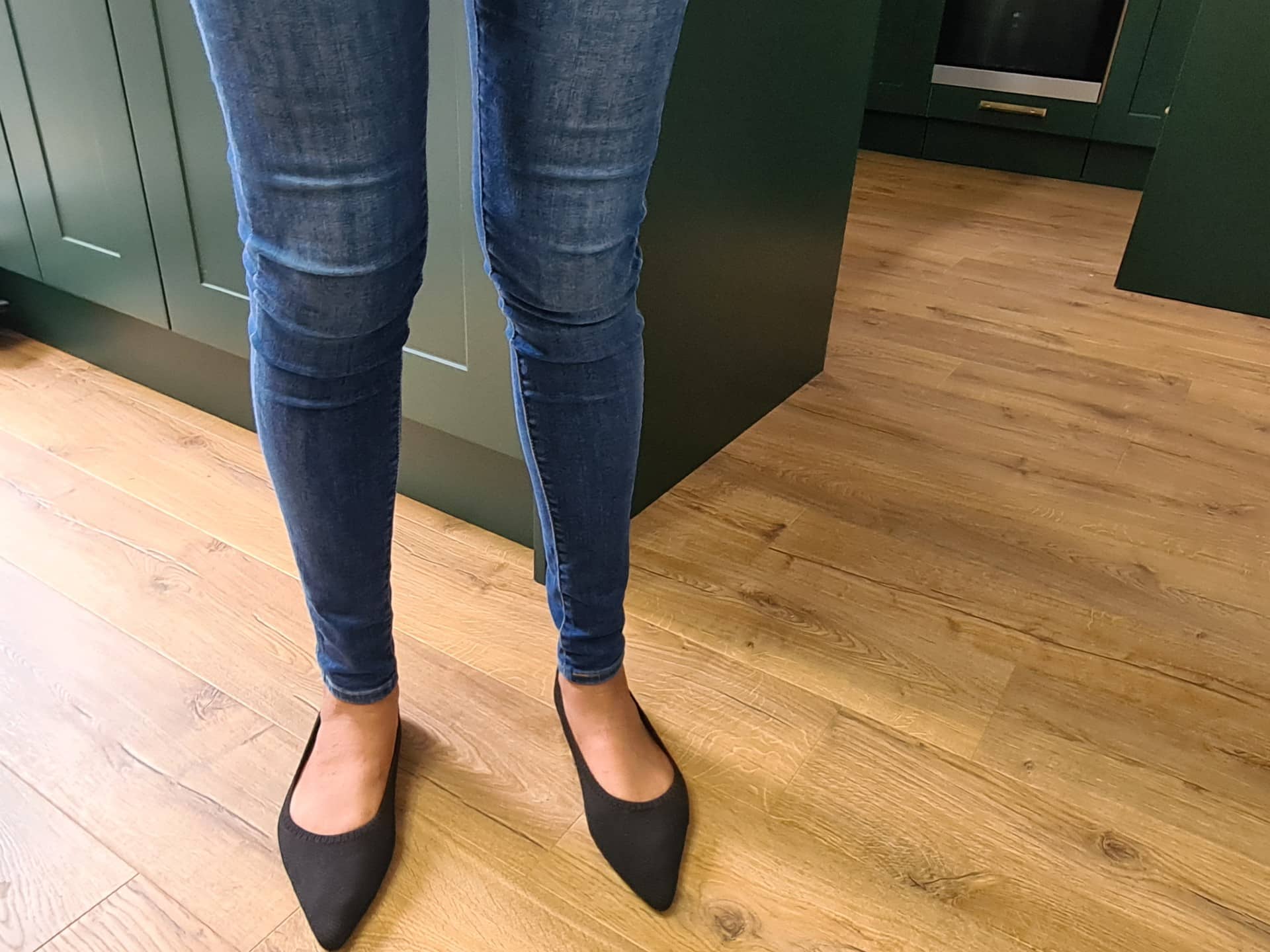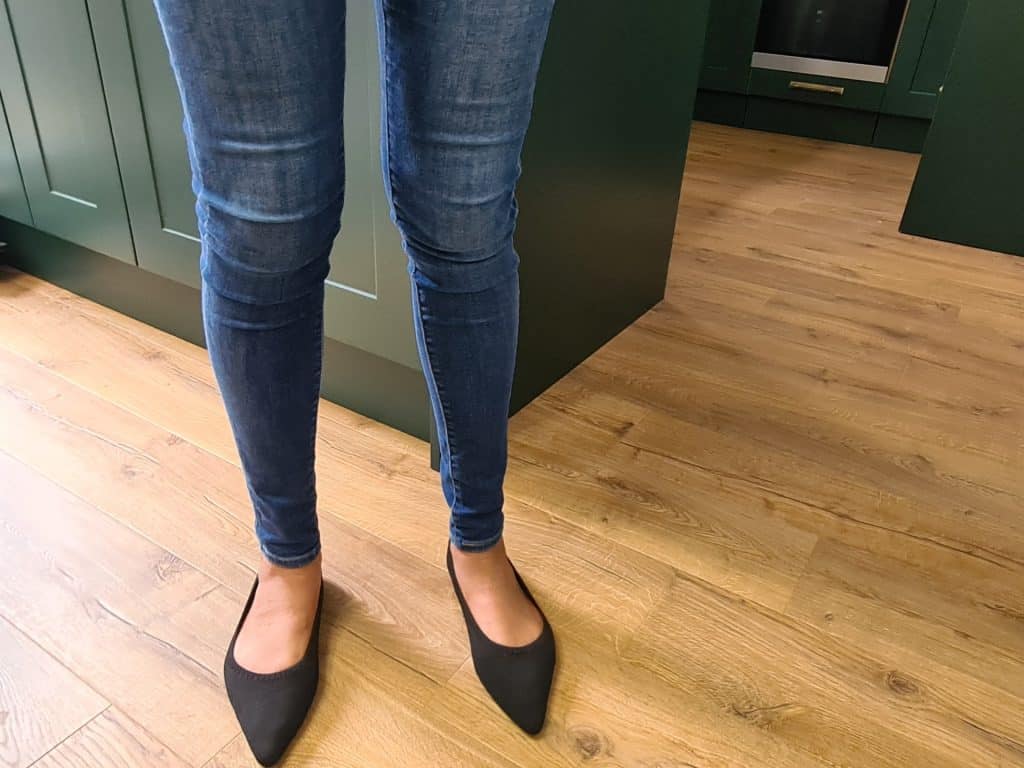 Are Vivaia Shoes Good For Wide Feet?
So I have wide feet, and the fabric of the shoes stretched comfortably around my feet. It was a little snug, but it didn't feel too tight or constricting.
Now one thing to note is that Vivaia's shoes may run slightly small. If you're a half size or have particularly wide feet, you may want to consider sizing up.
Personally, I found that my usual size worked well for me and they fit perfectly
Vivaia offers sizing information for each shoe in the product description. This can be really helpful for people with wide feet who may need to size up or down depending on the style of shoe.
Are Vivaia Shoes Washable?
Yes, Vivaia's shoes are machine washable, which makes them easy to care for and maintain.
I've washed my shoes a few times now, and they have held up really well. The shoes have not lost their shape or colour, and they still look as good as new.
When it comes to washing Vivaia's shoes, I have found that it is best to follow the care instructions provided by the shoe company itself.
On their website, they recommend using a gentle cycle and placing the shoes in a mesh laundry bag to protect them in the washing machine.
It's worth noting that some styles may require more delicate care than others, so it's always best to check the care instructions before washing.
Are Vivaia Shoes Waterproof?
I live in the U.K. and the weather is unpredictable, to say the least! So, having a pair of shoes that can withstand a sudden onslaught of rain is pretty handy.
Now the style of Aria shoes I have aren't waterproof, but Vivaia does have versions of the Aria that are water resistant.
This means they can withstand light rain and splashes of water. And I'm seriously considering snapping up a pair.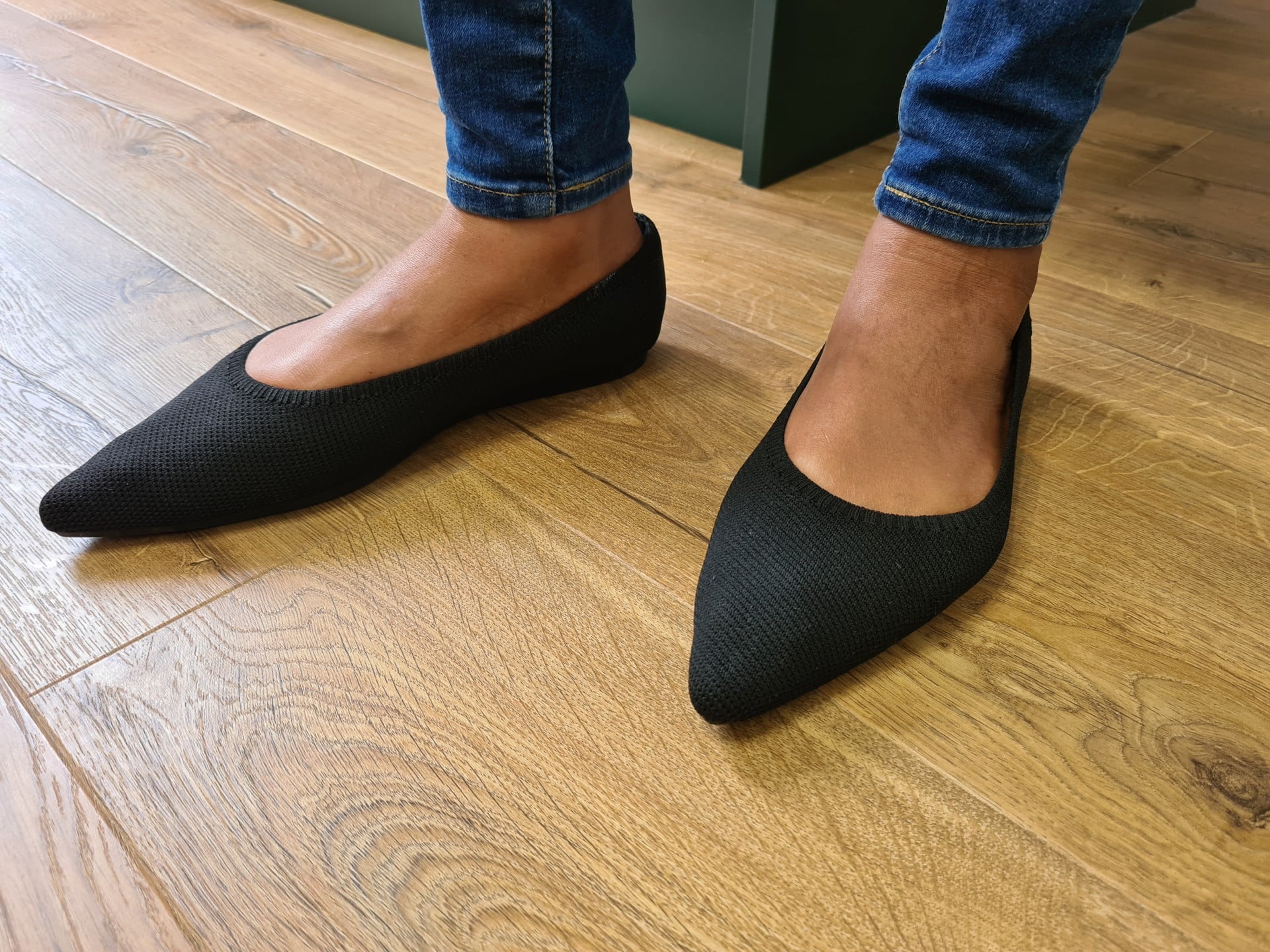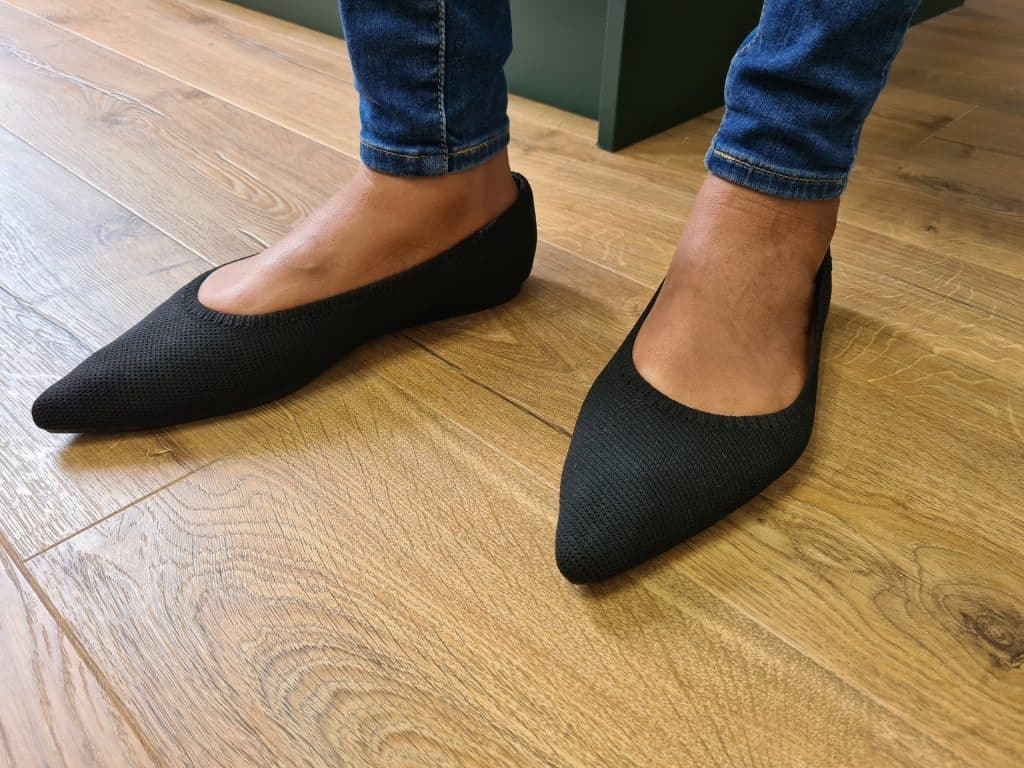 What Is The Quality Of Vivaia Shoes Like?
Now quality is where Vivaia's shoes really excel. I was really impressed with the quality of my pair of Aria flats.
I wore my flats pretty much all spring and autumn last year as well as this spring, and they have held up SO well.
The signature knit material is very durable, and you can tell straight away that they're a good quality pair of shoes.
The rubber sole also deserve a shout-out. They offer great grip, helping prevent slips and falls. Plus, I've worn my flats so much and they soles have barely worn out.
Pros Of Vivaia Shoes
In terms of style, the Aria Flats are super stylish shoes complementing most of my outfits (but I will say that I wish I had gone for the Vienna flat, it's absolutely gorgeous).
I've worn them on the school run, usually with jeans and a t-shirt and out to dinner with a nice blouse and jeans.
I do also like the fact that Vivaia's Shoes are eco-friendly and made with sustainable materials and practices.
The fact that Vivaia aims for zero waste and takes recycled plastic water bottles out of the sea to repurpose them as shoes is a great plus.
It's always a good feeling to know that you're doing your part to reduce waste and pollution with your purchases.
Also, as I mentioned earlier, they are super comfortable….
I can easily wear them all day. And in terms of price, given the quality of the materials I think Vivaia's shoes retail at quite a fair price too.
They are not the cheapest shoes on the market, but they are also not the most expensive.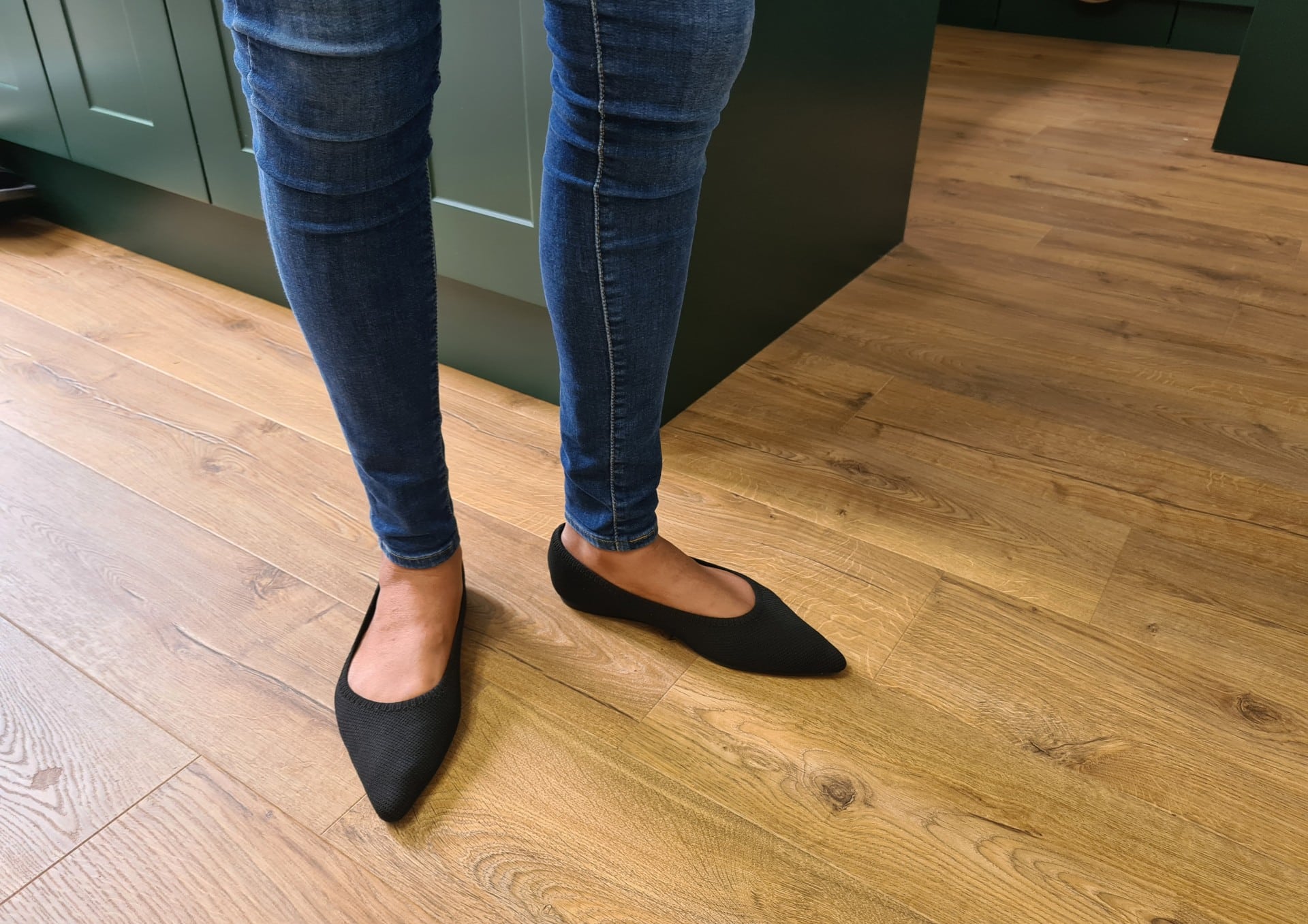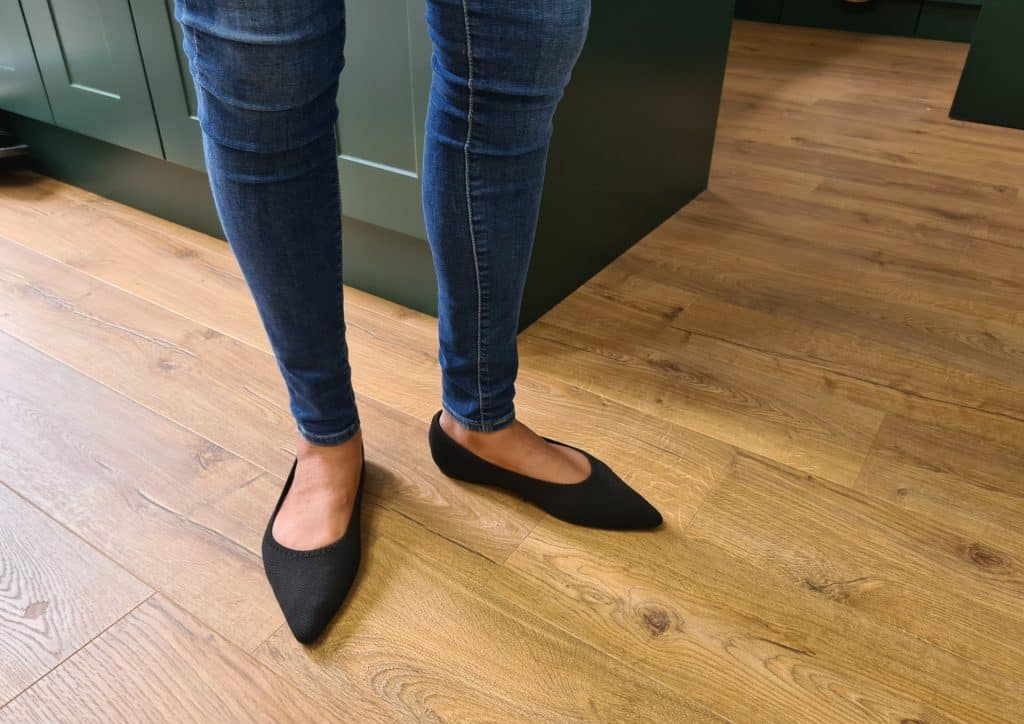 Cons Of Vivaia Shoes
My one major con with the shoes is they make my feet look really long.
Yes, I wear a large size (I'm a UK size 8), but the pointed toe shoes make my feet look gigantic, which took a lot of getting used to.
I suspect if I opted for a pair of their square toe or almond toe flats, this wouldn't be the case.
So if you have big feet like me, I would probably suggest steering clear of the classic pointed toe flats.
Also, I came across some negative reviews on Trustpilot that mentioned issues with shipping and sizing when ordering from Vivaia's website.
And some also commented that the return process for Vivaia shoes can also be a bit of a hassle and require a bit of effort on your part and that the Vivaia customer service isn't great.
Having said all of that Vivaia have also responded in trustpilot to say that they have made their return and exchange process easier.
Final Thoughts: Are Vivaia Shoes Good And Worth It?
So, do I recommend Vivaia shoes? Ultimately, it depends on your priorities and budget.
If sustainability and ethics are important to you and you're willing to spend a bit more on quality footwear, then yes, I think they are definitely worth the investment.
They are excellent quality, well-made, durable, and will last for a long time, which makes them worth it. Vivaia shoes fit well and are comfortable to wear, which is an added bonus.
On the flip side, if you're on a tighter budget or sustainability isn't your top priority, there might be other brands that suit your needs better.
Where To Buy Vivaia Shoes?
You can find Vivaia shoes on their website and on Amazon.
Vivaia's website offers free shipping on all orders over £50, and they often have promotions and discounts available.
Vivaia ships internationally, so you can snap up a pair of their shoes no matter where you are in the world.
However, keep in mind that shipping times and fees may vary depending on your location.
If you're interested in buying through Amazon, make sure to check the seller's rating and reviews before making your purchase.
At the moment, you can't buy Vivaia's shoes in retail stores.