The changing of the seasons is the perfect opportunity to fully reevaluate your wardrobe and switch things up!
As the weather transitions from hot to cold in the fall, it's time to put away your summer clothes and bring out your cozy sweaters, long sleeves, and warm jackets.
Put your winter clothes away when the winter chill gives way to spring's warmth, and break out your light, bright spring and summer clothes.
Going through all your clothes, deciding what to keep and what to tuck away for the next season, can seem like an intimidating task.
But a seasonal wardrobe change allows you to revive your style, ensure you have weather appropriate options ready to wear, and prevent closet clutter.
Follow this comprehensive guide to make your seasonal wardrobe change as seamless and stress-free as possible!
1. Thoroughly Evaluate Your Current Wardrobe
The first critical step in a seasonal wardrobe change is taking stock of what you currently have in your closet and dresser drawers. Set aside ample time for this process – it's important!
Be Ruthless: Clear Out the Clutter
Be brutally honest about items that need to be removed from your wardrobe rotation. Anything you did not wear at all last season should go – trust us, if you didn't wear it, you probably won't wear it during the next year either. Immediately get rid of anything that:
No longer fits properly – too small, too big, unflattering style or cut
Is looking worn out – stained, has holes/tears, fabric pilling, missing buttons
Is outdated and you just don't wear anymore – either because of changing style preferences or it has gone out of fashion
Be sure to check jacket pockets, purses, and bags for items like lone gloves or hats and reunite any sets. Check underwear and sock drawers and discard any with holes, tears, or elastic that has lost its stretch.
Categorize and Organize Your Closet
Next, thoroughly go through everything that remains in your wardrobe and thoughtfully organize your closet by clothing category – shirts, pants, dresses, sweaters, jackets, etc.
Hanging or shelving like garments together makes it much easier to see duplication. For example, if you have five nearly identical black t-shirts, consider keeping just one or two that are in the best condition.
Same for items like jeans, tank tops, cardigans, and other basics.
Creating organized categories also helps you clearly identify any gaps or needs you may have for the upcoming season. For instance, while going through your sweater selection you may realize you lack lightweight options for layering during spring and fall transitional weather.
Tips for Organizing:
Use matching hangers for a neat and tidy look. Hang tops together starting with sleeveless, then short sleeve, then long sleeve.
Fold pants, shorts, and skirts neatly and store upright in organized piles or shelving units.
Store clothes you don't hang in matching bins, baskets or shelving units. Label categories clearly.
Arrange lingerie, underwear, socks, etc. neatly in dresser drawers. Toss old items and bulk up on essentials like plain socks, underwear, bras, etc.
Separate off-season clothing and store properly sealed in breathable containers (more on this later!)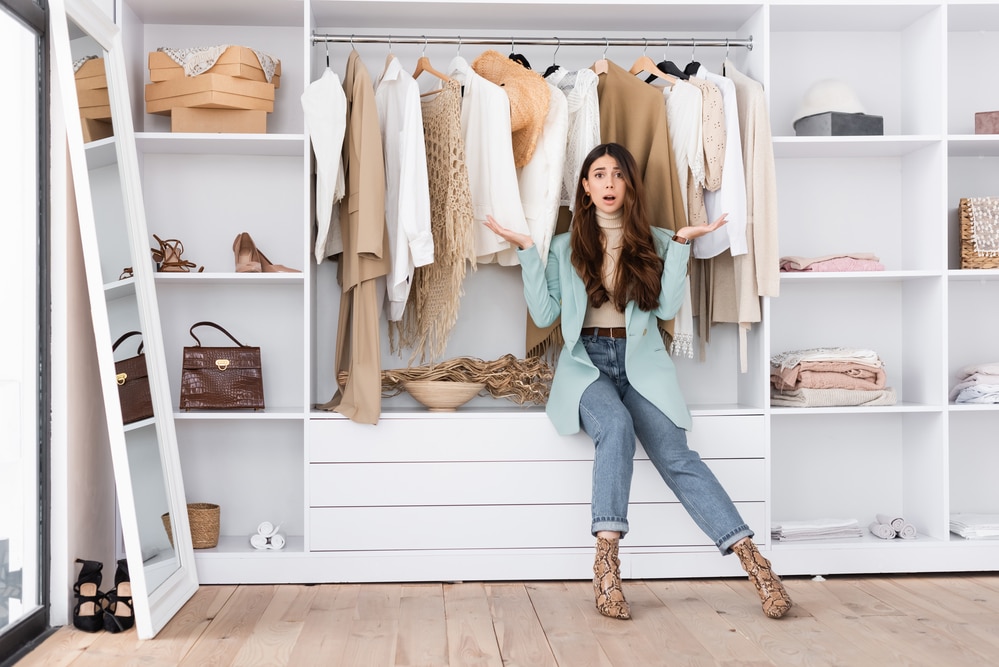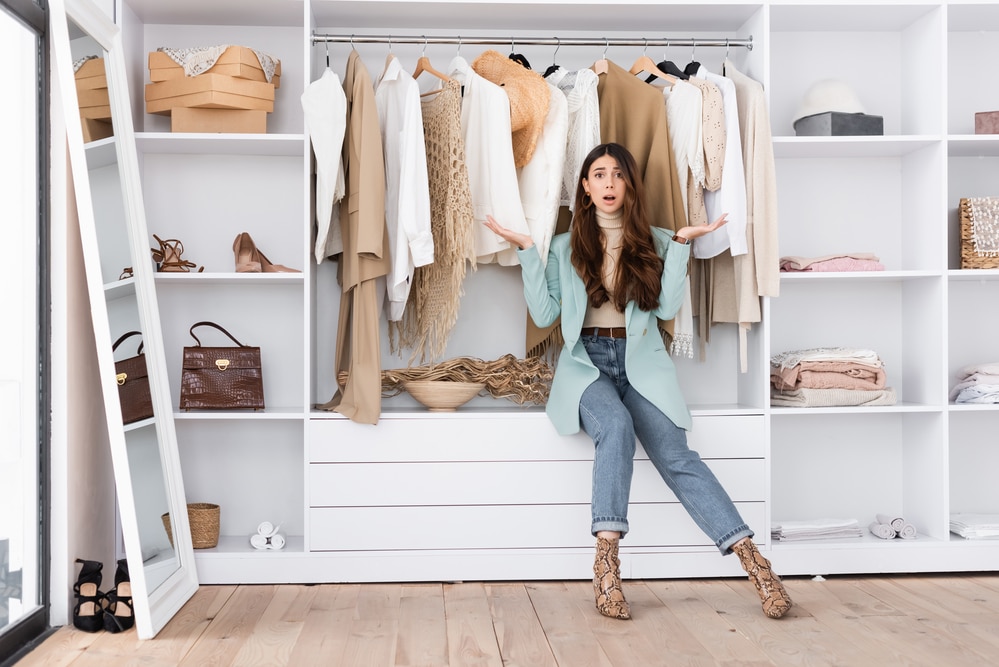 2. Conduct an Inventory of Wardrobe Essentials Needed for Upcoming Season
Once you've pared down your current wardrobe to just those items you love, wear often, and fit well, it's time to conduct an inventory of what essential pieces you'll need for the upcoming season.
Make a List of Fundamental Seasonal Staples
Carefully consider your professional and casual lifestyle needs. Make a comprehensive list of fundamental wardrobe staples that are weather appropriate for the upcoming months.
For winter, essential clothing may include:
Heavy wool coats, puffer jackets, raincoats
Soft sweaters in both lightweight and chunky knits
Variety of long sleeve shirts and blouses
Scarves, gloves, hats, and ear warmers
Waterproof winter boots with traction
Warm socks and leggings/tights to layer under pants
Spring and summer fundamentals may consist of:
Lightweight jackets and blazers
Short sleeve t-shirts, tanks, and breezy blouses
Shorts, skirts, dresses, and jumpsuits
Lightweight pants and jeans
Sandals, canvas sneakers, flats, boat shoes
Swimwear and cover-ups
Wide brim sun hats and sunglasses
For work, include appropriate bottoms, tops, dresses, suiting, and versatile layering options like cardigans. Having a solid selection of fundamental wardrobe basics on hand makes getting dressed effortless all season long!
Stock Up On Mix-and-Match Neutral Basics
Be sure your seasonal essentials list includes plenty of neutral bottoms and tops that can be worn repeatedly and mixed and matched to create multiple outfits.
Stock up on wardrobe basics in neutral solid colors like – black, gray, navy, tan, khaki, olive, brown, white, cream. Clean, minimalist styles in these colors pair easily together and with statement prints and patterns.
Having plenty of versatile neutral basics forms the foundation of a functional, wearable wardrobe.
3. Shop Your Own Closet First Before Purchasing Anything New
Now that you've identified what clothing basics you need for the upcoming season, it's time to shop! But, before browsing stores or sites for new items, conduct an thorough inventory of your own current closet.
You may be surprised to uncover forgotten wardrobe gems that are perfect for the new season with a little creative styling. Shopping your own closet first can save you money while still giving you fresh outfit options.
Re-Discover Forgotten Treasures
Try on clothes you haven't worn in awhile. You may have forgotten about some great items buried in your closet that deserve to be worn again!
See if you can come up with new ways to wear them by pairing them with other items already in your wardrobe. That floral sundress you always wore bare legged last summer might look amazing with leather or suede booties and tights this fall.
Convert a summery strapless cocktail dress into a winter staple by topping it with a chunky sweater or faux fur jacket. Freshen up old clothes with new accessories.
Repurpose Items From Current Season Into Next
Get creative about transitioning your current seasonal wardrobe into the upcoming one. For example:
Layer lightweight summer tops under chunky cardigans, sweaters and jackets
Add boots and tights to dresses and skirts to take them into fall
Roll up full length pants to 3?4 or cropped length paired with sandals or flats
Button up shirts over tank tops or t-shirts
Blazers or quilted vests worn over sundresses or strappy tanks add warmth for transitional weather
Cardigans over camis or tanks layers for warmth but peels off as day warms up
Finding ways to repurpose your existing clothes saves money and cuts down on waste. Shopping your closet first can unlock endless inspired outfit combinations you never considered!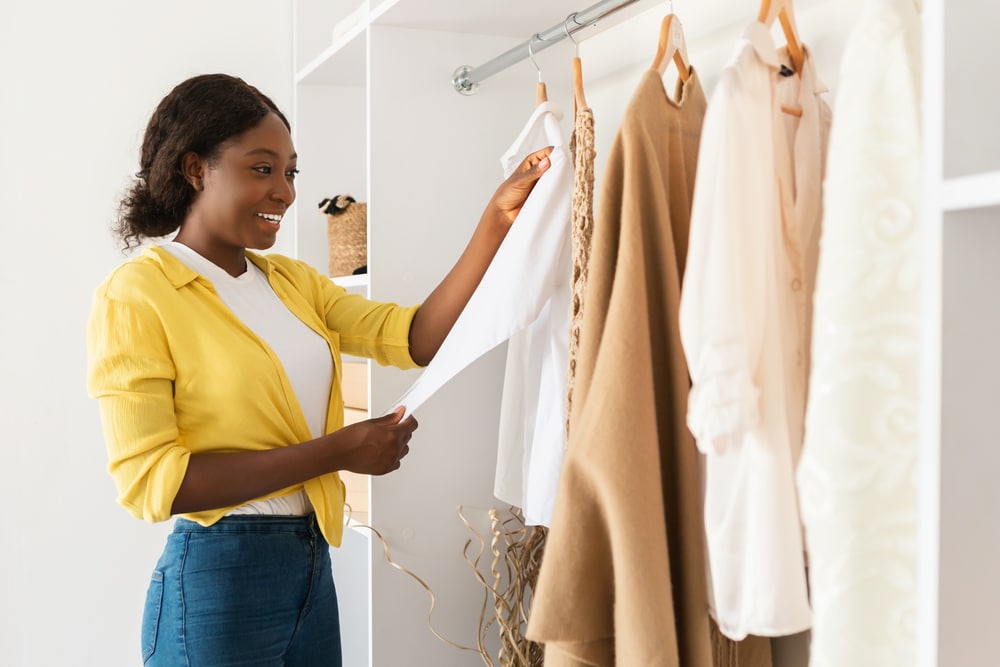 4. Make a Detailed List of All Wardrobe Needs Still Unmet
Once you've thoroughly inventoried your closet and discovered hidden gems to work into your wardrobe, it's time to re-evaluate if you still have any gaps in your seasonal essentials list.
Make a detailed list noting any specific items you need to purchase including:
Include Very Specific Details
The more details you can include on your new clothing needs list the better. Rather than just writing down vague categories like "I need work tops" or "new shorts", get very specific. For example:
2 professional button down shirts – white and light blue, fitted, wrinkle resistant
1 pair classic fit black slacks to wear with blazers
2 causal short sleeve tops – jewel tone colors, cotton knit, v-neck or crew
1 pair dark wash everyday jeans – straight leg, mid-rise
2 sweater wraps – 1 black, 1 cream or blush, open front, pashmina style
This level of detail clarifies exactly what gaps exist in your wardrobe. It will prevent impulse purchases and help you stay focused when shopping to only buy items on your needs list.
Set A Reasonable Seasonal Clothes Budget
Based on your list, do a little research online or in stores to get an idea of potential costs for items. Factor in whether you plan to purchase new or used.
Set a reasonable budget that makes sense for your financial situation. Determine how much you can reasonably allot for filling in the gaps in your seasonal wardrobe essentials.
Having a clear budget in mind before shopping is key to avoiding overspending. Look for classic styles in muted, neutral colors that maximize versatility and cost per wear. Seek out quality over quantity. Shop thrift stores and clearance racks first before paying full retail prices.
5. Transition Your Wardrobe According to Local Weather Patterns
The exact timing of fully switching over your seasonal wardrobe depends heavily on the weather and temperature changes in your local region.
Avoid Putting Winter Clothes Away Prematurely
It's tempting to eagerly pack up all your sweaters, coats and cold weather wear as soon as the spring equinox rolls around. But resist the urge if temperatures are still cool.
Likewise, don't rush to unpack your shorts and tanks at the first 80 degree day in early spring. Look at long range weather forecasts. Consider recent weather norms and patterns in your area over the last 5-10 years.
Err on the side of caution and avoid transitioning too early. Give it a few weeks or more into the new season so you know warm or cold temperatures will stick around. Nothing is more frustrating than dramatic temperature swings in April and October making it impossible to dress comfortably.
Use Layers to Adapt Outfits for In-Between Weather
Early fall and spring when weather is fluctuating wildly can be a tricky time for dressing appropriately. The key is versatility using layers that can be added or peeled off as needed to adapt to changing temperatures throughout the day.
Early fall, pair tanks, t-shirts and summery lightweight blouses under sweaters, cardigans and jackets. As the day warms up, remove layers.
In spring, wear light scarves, denim jackets, knit cardigans and blazers over dresses, skirts and short sleeves. Shed jackets and sweaters around lunchtime as afternoon temperatures climb.
Having versatile layering options readily available makes it easy to stay comfortably dressed from the cool of morning through the warmth of afternoon.
6. Use Proper Garment Storage Methods Between Seasons
How you store off-season clothing is extremely important to protect items from damage, prevent mildew smells, and keep fabrics looking their best. Use these proper storage methods to maintain your unused seasonal wardrobe:
Clean Thoroughly Before Storing
Before packing away clothing for the season, launder, dry clean or steam items so they don't sit for months with built up odors, stains, or wrinkles.
If possible, freshly clean right before switching seasons so clothes go into storage looking their best.
Use Breathable Storage Containers
Store off-season clothing in breathable containers such as canvas bins, mesh pop up hampers, or breathable garment bags. This allows air to circulate and prevents mildew.
Plastic bins and airtight plastic storage bags trap moisture creating a breeding ground for mold, mildew and stains over time.
Avoid Overcrowding Garments
Don't pack clothes too tightly together when storing. Fabrics need room to breathe. Overstuffing can lead to permanent creases and misshaping.
Only use vacuum seal space bags for items like off-season coats or bulky sweaters to compress volume. Use cautiously and unpack promptly when season arrives to hanging items again.
Include Cedar in Storage Containers
Place cedar blocks, cedar balls, or cedar hangers in with stored clothes to help naturally repel moths, absorb moisture, and keep closets and clothes smelling fresh.
Store Off Floor and Away From Heat, Sun
Keep garment storage containers up off concrete basement floors and away from direct heat sources like furnaces or hot water heaters.
Avoid storing in attics or rooms prone to extreme temperature fluctuations from hot to cold. Cool, dark spaces with moderate, stable temperatures are ideal.
In a nutshell
There you have it – a comprehensive wardrobe changing guide to breeze through transitioning your clothes each new season! Follow this checklist:
Edit and declutter your current wardrobe items – be ruthless!
Organize clothes by category and store seasonally
Shop your closet first before buying anything new
Determine essential clothing needed and make a detailed list
Set a reasonable seasonal shopping budget
Time the switch based on weather patterns in your area
Use layers to transition variable temperatures
Clean and store off-season clothes using best practices
Employing this smart strategy will ensure you have a functional wardrobe ready for the new season, no more sweating or shivering! Your closet will feel rejuvenated with fresh outfit options.