Are you stuck in a style rut, pairing the same sweater with the same dress day after day?
Do you yearn to unlock the secret to creating jaw-dropping sweater-and-dress combinations, but don't know where to start?
What if we told you the ability to create showstopping sweater-and-dress outfits is easier than you think?
Ahead, we walk you through everything you need to know to expertly pair sweaters with dresses.
You'll learn foolproof tips for combining colors, textures and silhouettes so you can create chic, put-together outfits with minimal effort required!
The First Step: Evaluating Your Dress Silhouette
When pairing a sweater with a dress, the foundational step is to assess the silhouette or shape of your dress.
Every dress style has its own unique flair that requires a complementing sweater shape to balance it out.
Here are some common dress silhouettes and what sweater styles work best with each: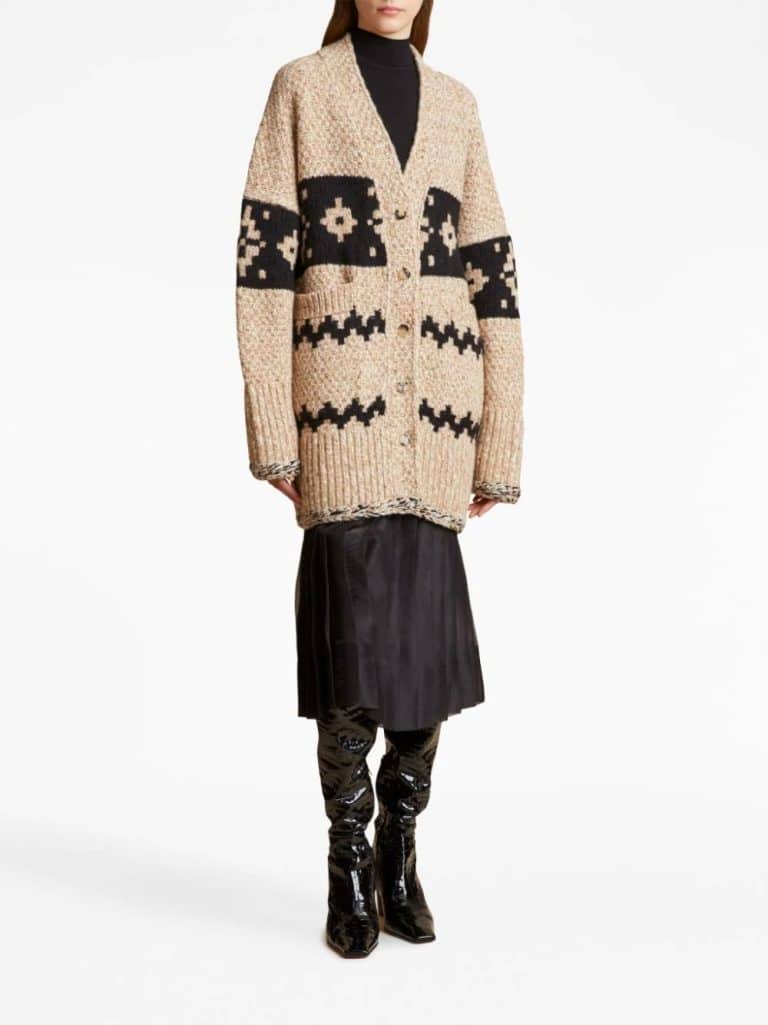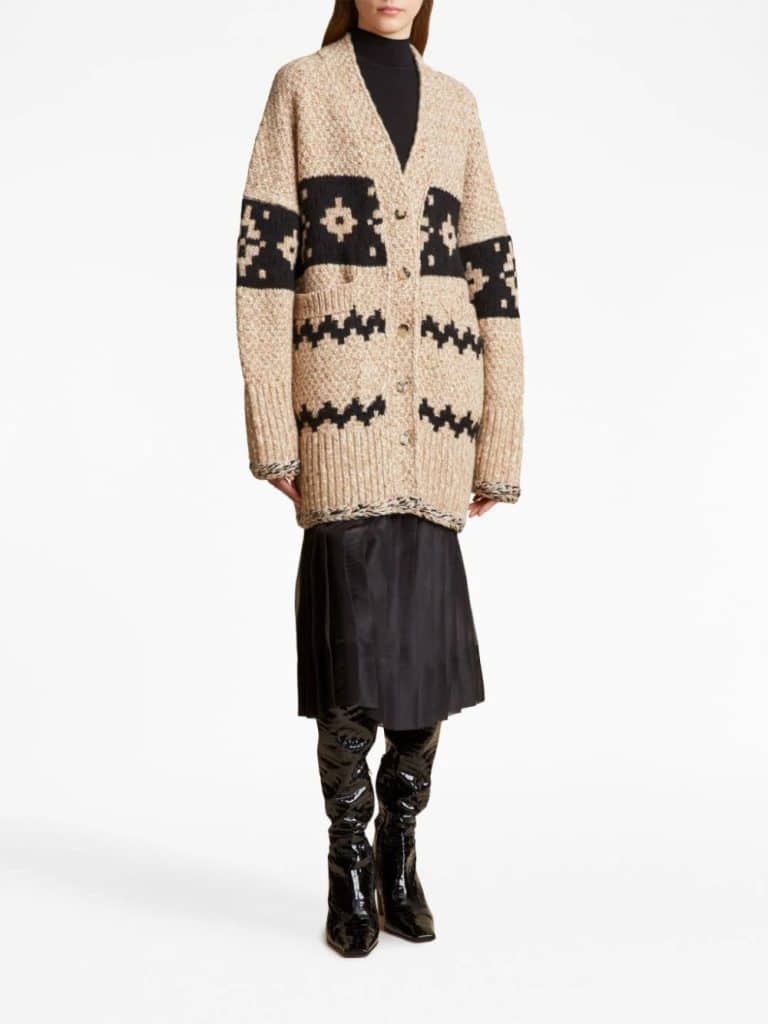 Fit and Flare Dresses
As the name implies, fit and flare dresses hug the body through the bust and waist, then flare out into a full, A-line style skirt.
To balance the flared skirt, you'll want a more fitted sweater on top. Turtlenecks, slim-fit pullovers and mock neck sweaters enhance the waistline beautifully.
For extra flair, tie a sweater around your shoulders or neck for a scarf-like effect.
Bodycon Dresses
Slinky, tight bodycon dresses scream sex appeal. The clingy fit hugs every curve, so balance is key. An oversized, slouchy sweater softened the look.
Try an exaggerated drop-shoulder cardigan or an extra baggy v-neck knit. The sweater provides coverage while the dress peeks out to show off your figure.
Shift Dresses
Shift dresses have a straight, box-like shape that lacks definition at the waist. Pair with a belted, tie-front or cropped sweater to add feminine curves back in.
Peplum sweater styles work wonderfully to define your shape. Low-heeled ankle booties ground the look for chic polish.
A-Line Dresses
A-line dresses fit snugly at the top then widen gradually into an A-shape. Maintain balance by choosing a sweater with a silhouette that mirrors the dress – fitted at the shoulders then tapering at the waist.
Crew neck or mock neck sweaters work perfectly. Add tights and booties for a classic, ladylike look.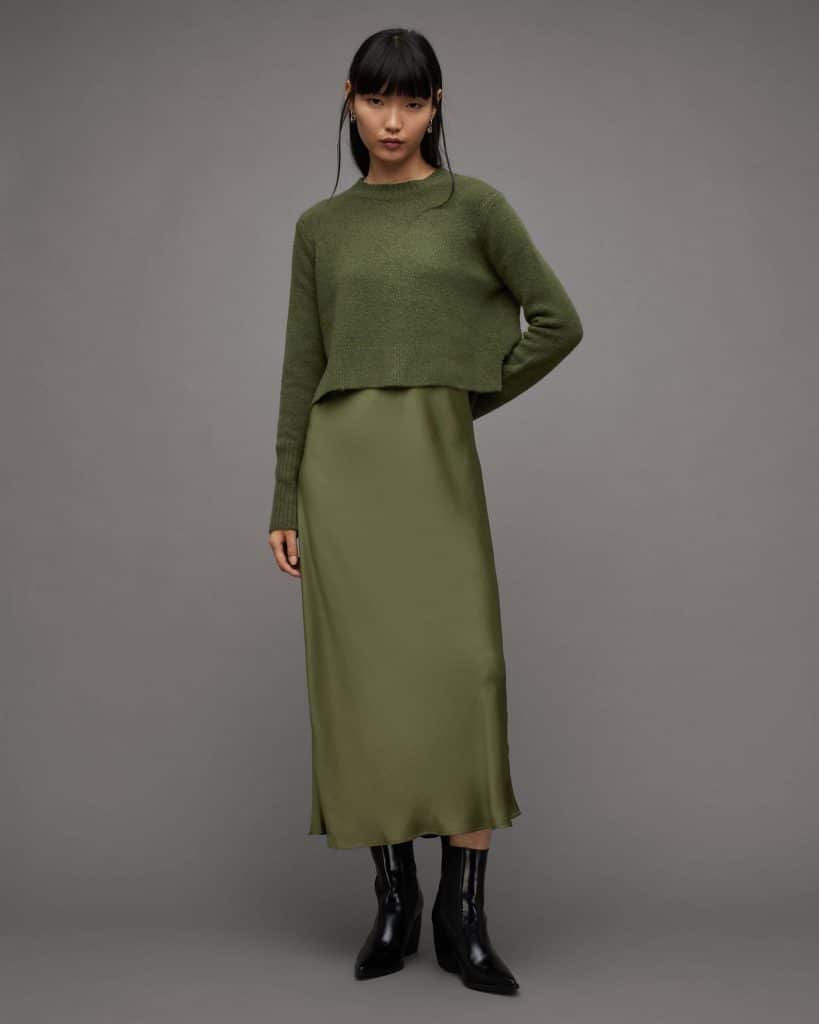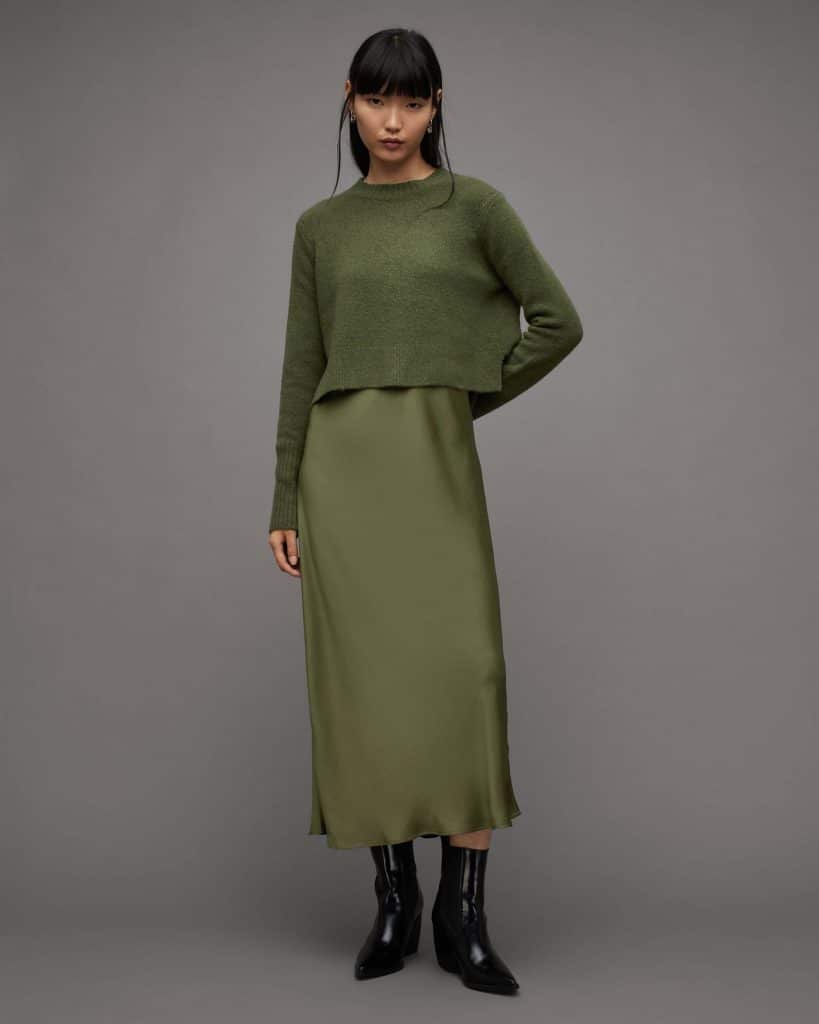 Slip Dresses
Dainty slip dresses have spaghetti straps and a lingerie-inspired vibe. Make them daytime-appropriate with an oversized, off-the-shoulder sweater that adds coverage but leaves the spaghetti straps peeking out.
A chunky knit pairing adds balance with the delicate dress.
Skater Dresses
Full-skirted skater dresses have a fit-and-flare silhouette. Pair with a cropped sweater layered over top to break up the fullness while showcasing the feminine skirt shape. Try a boldly-hued sweater to make the look pop.
Maxi Dresses
Flowing maxi dresses need lightweight sweaters that won't overwhelm. Open-front cardigans, kimonos or cropped sweaters balance the volume while letting the dress shine. Deep v-necklines and open backs show off maximal skin.
Combining Textures for Visual Interest
When pairing dresses with sweaters, texture is another key element to consider. Strategically playing with different fabric textures adds depth and visual interest to your look. On the flip side, matching similar textures creates an effortlessly cohesive vibe. Here are some tips for mixing and matching fabrics:
Lace Dress + Thick Knit Sweater
The airy openness of lace contrasts beautifully with the dense coziness of a thick cable knit or Aran sweater. For added femininity, try a lace dress in blush pink with an ivory thick-knit sweater.
Satin Dress + Cashmere Sweater
The luxurious sheen of satin gets elevated when paired with sumptuous cashmere. The fabric combo evokes elegance and sophistication. Keep the hues neutral to let the fabrics shine.
Velvet Dress + Mohair or Wool Sweater
The plush richness of velvet matches seamlessly with fuzzy mohair or comforting wool. These fabrics have similar soft textures, so choose bold colors to make the look pop.
Chiffon Dress + Cotton Sweater
The floaty lightness of chiffon needs grounding from a substantial fabric like mid-weight cotton. The sweater provides structure while the dress billows gracefully.
Denim Dress + Chunky Knit Cardigan
Distressed denim gets a cozy upgrade when topped with thick, textured cardigans. Choose unique cardigan details like Southwestern designs or vintage wooden buttons.
Sweater Dress + Wool Coat
For layered cold-weather looks, pair a sweater dress in soft chenille, cashmere or merino wool with an oversized wool peacoat or shacket. The wool-on-wool look is so chic!
Don't be afraid to play with texture mixes – just aim for balance. Lightweight dresses pair well with thick, chunky knits, while heavy fabrics like velvet can handle sheer, open sweaters.
Have fun discovering unique fabric combinations!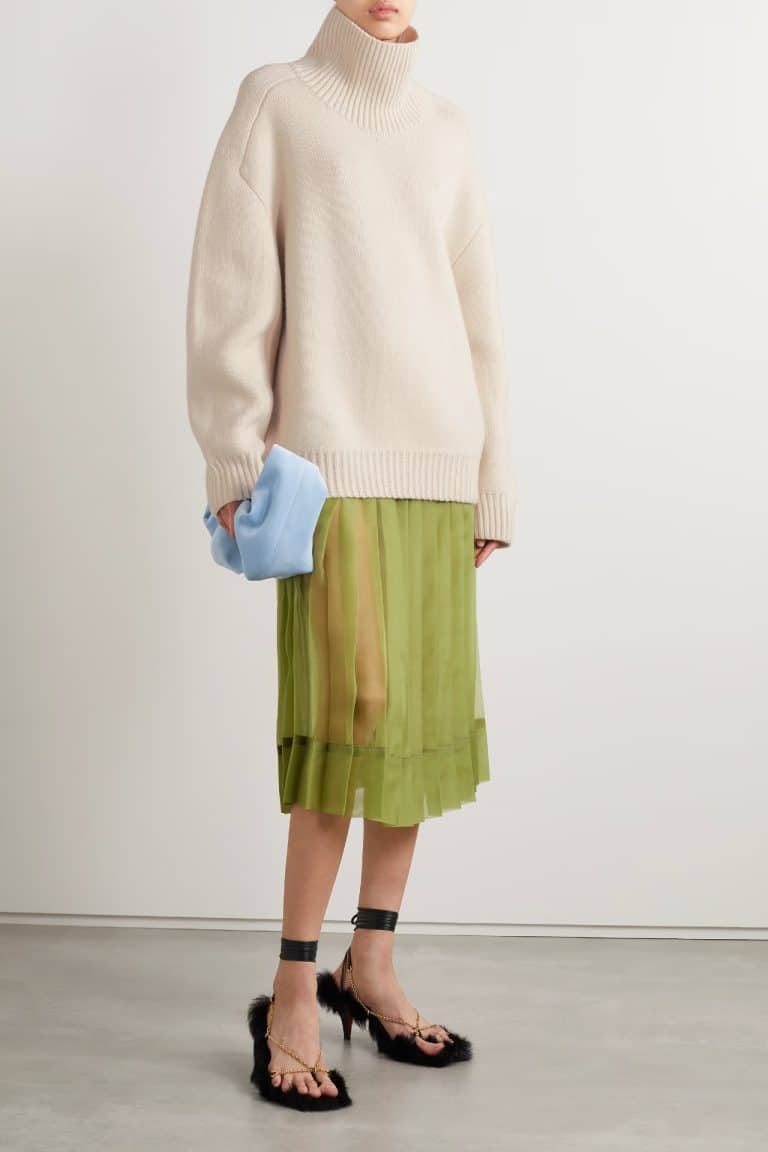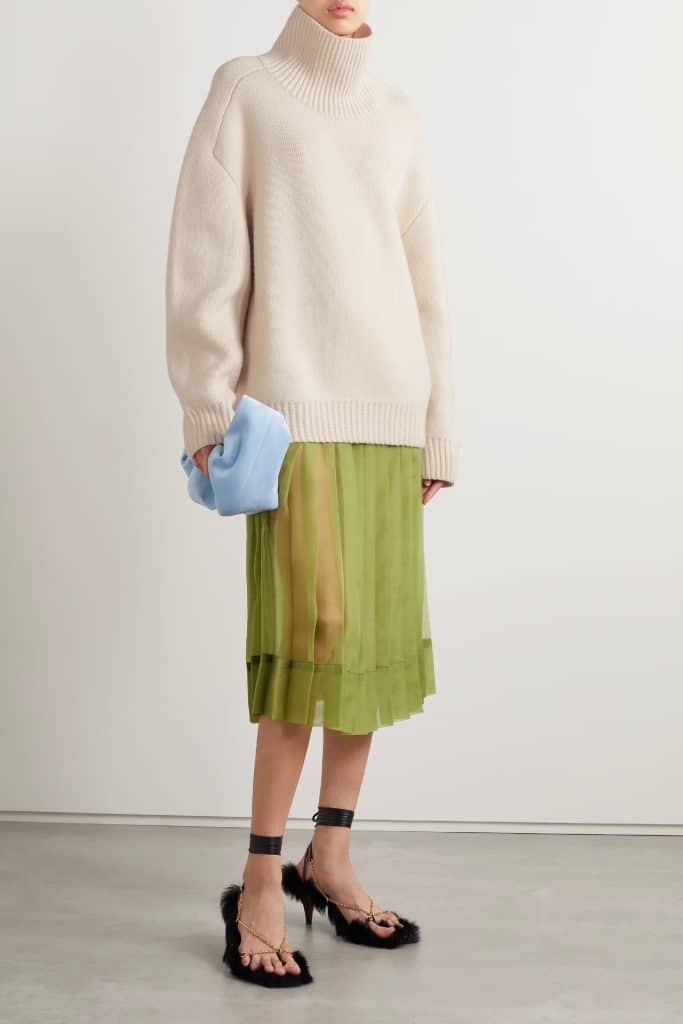 Picking Color Palettes for Maximum Impact
Beyond silhouette and texture, color choice completes the sweater and dress pairing. Use color strategically to create visual effects ranging from subtly chic to boldly eye-catching.
Monochromatic Looks
Wearing a sweater and dress in matching or similar hues gives a streamlined, elongated effect. Monochromatic looks are refined and elegant. For example – pairing a cashmere crewneck sweater with a satin midi skirt in matching rich brown.
Complementary Colors
Complementary colors (red and green, blue and orange, etc.) live directly across from each other on the color wheel, creating high-impact contrast when paired. But stick to muted shades to avoid looking garish. A burnt orange sweater over a slate blue knit dress is crisp and seasonal.
Analogous Colors
Analogous colors sit next to each other on the color wheel, creating soothing, harmonious combinations. Try pairing a heathered purple sweater with a pink fit-and-flare dress for a feminine vibe. Bonus points for adding analogous-hued accessories.
Neutral Sweater as Foundation
Pair a neutral-toned sweater with a brightly patterned or colored dress as a grounding base layer. A white v-neck sweater lets the print of a flowing maxi dress pop without competing.
Bold Sweater as Statement
Flip the neutral script by donning a vibrant, eye-catching sweater over a muted dress to make the knitwear the focal point. An emerald green cable-knit cardigan transforms a simple black shift dress.
Colorblocked
For high-contrast looks, go for colorblocked sweater and dress pairings featuring opposite colors on top and bottom. Think a tomato red chunky knit sweater over a navy skater dress and matching red booties.
Whether you prefer subtle or eye-catching, saturated or muted, the color pairing possibilities are endless! Use sweaters to ground colorful dresses or make them the colorful showstopper.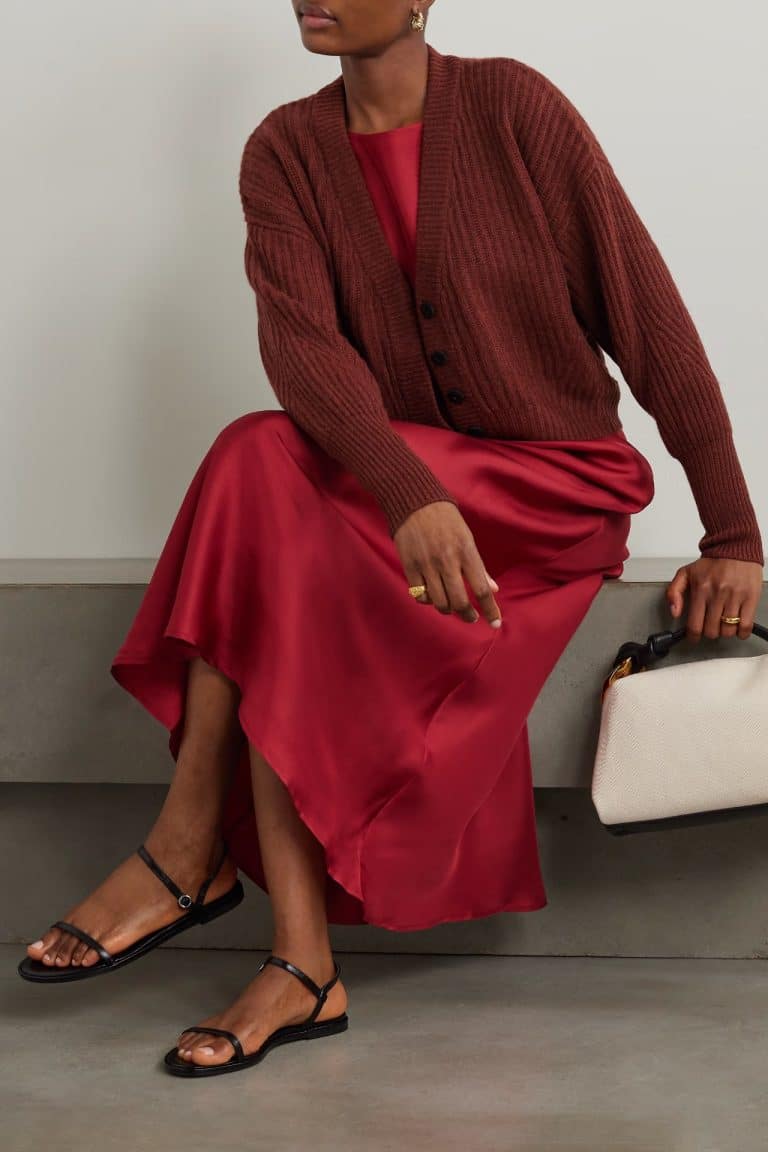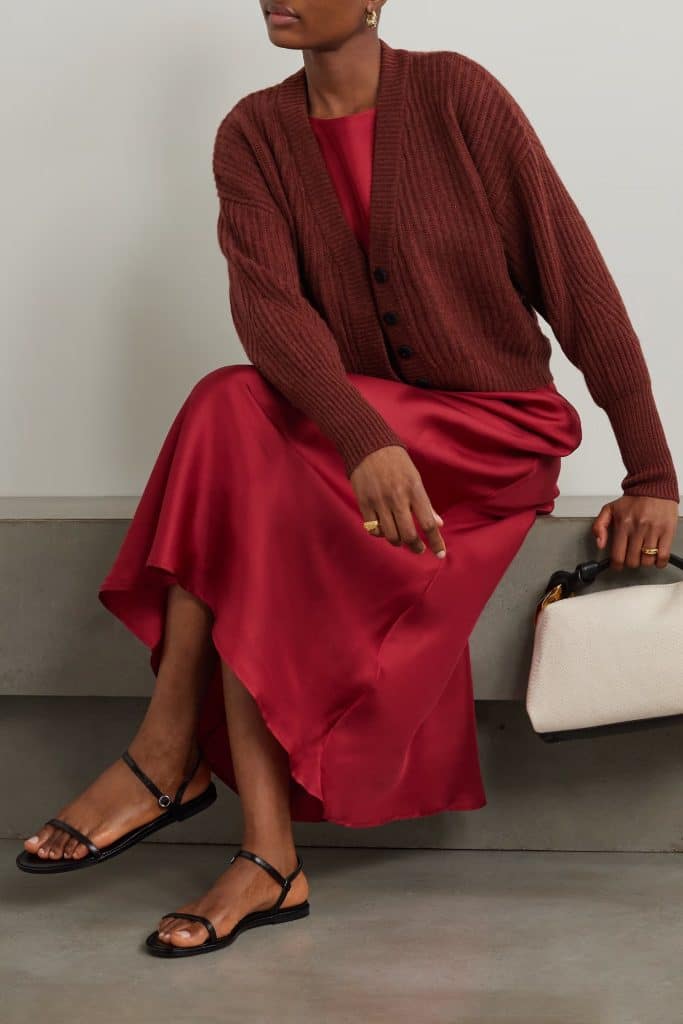 Styling Tips for Year-Round Versatility
One of the best aspects of sweater and dress pairings is their versatility for transitioning through seasons. With weather-appropriate styling adjustments, you can get year-round wear out of your favorite sweater and dress combo.
Spring Style
Breezy open-front cardigans paired with fit-and-flare or midi dresses epitomize spring style. Pastels, florals and short sleeve or sleeveless styles keep you cool as the weather warms up. Add tights and booties for transitional early spring weather.
Summer Style
Beat the heat in sleeveless, lightweight summer dresses topped with breezy crochet sweaters or lace kimonos. Bright saturated hues and tropical prints reflect the season's vibrance. Slip into flat strappy sandals for balmy summer nights.
Fall Style
As autumn's chill returns, start layering chunky knit cardigans and v-neck sweaters over your dresses. Pair an oversized cable knit cardigan with a skater dress and knee high boots for the perfect fall outfit. Earth tones, dark florals and plaids scream fall sophistication.
Winter Style
In the heart of winter, protect yourself from icy temps in wool sweaters and sweater dresses topped with wool coats or down puffer jackets.
Try an angora or cashmere blend turtleneck tucked into a sweater dress with fleece-lined leggings and snow boots for cold weather walks. Glam it up with faux fur coats over your dress and sweater combo!
As you can see, sweater and dress pairings work for any season – just get creative with seasonal styling adjustments. Pro tip: Don't pack away all your dresses come winter.
Layer with woolly sweaters and fleece tights instead so you can wear them year-round!