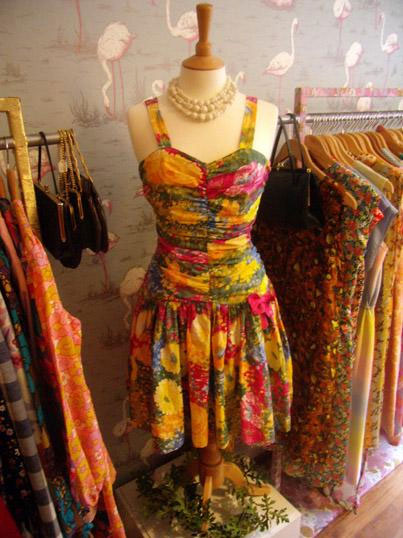 Stylish vintage treasures are hard to find, that's why we love them. But you know what it's like….you go into a vintage store and trawl through rails and rails of lime green cat suits and unspeakably bad 80s ball gowns and find not a thing. The flip side being, going into a vintage store where everything is gorgeous but prices start at £300.
But shh…I'm going to let you into a well kept secret of mine. Retro Rehab in Manchester's trendy Northern Quarter is a bit different. It is incredulously good, mainly because they have a sharp knack of selecting and stocking only the best, most wearable vintage pieces. The place is bursting with 70s print silk dresses, metal 80s waist belts and 60s shoes.
Also the changing rooms are partioned by beautiful crushed velvet theatre curtains which has got to make you feel a bit special right?
But forget all that for a moment. That alone isn't impressive. The main reason to go out of your way to pay Retro Rehab a visit is for the store's own range of clothing.
The good folk at Rehab rework old pieces that don't quite work to make new ones that do, thus solving the eternal second hand clothing frustration of loving the fabric but hating the shape.
There's rails of halter neck tea dresses fashioned from chintzy silks printed with elephants, flamingos, daffodils you name it. Best of all though are the dresses customized from cut off vest tops, with vintage fabric skirt. Prices start from around £30 and you can guarantee no-one, but no-one will be wearing the same piece as you!
Retro Rehab,91 Oldham Street, Manchester
This post appeared first on MyFashionLife.com