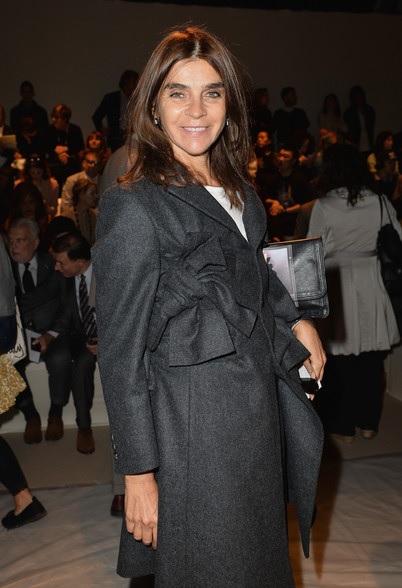 When we were invited to The May Fair Hotel for a tête-à-tête with former Editor-in-Chief of Vogue Paris, Carine Roitfeld, ahead of the release of her feature film, Mademoiselle C, a collective gasp was heard at HQ. The fashion documentary follows Roitfeld during the creation of her new magazine, CR Fashion Book.
The idea of sharing the same breathing space as Karl Lagerfeld's best friend and Tom Ford's muse was dizzying, and we simply couldn't swallow the sheer overload of Parisian polish we were about to be exposed to.
Making our way to the ninth floor (after battling with a stubborn, A-lister proof lift) we finally entered the airy space, where the impeccably dressed name behind CR Fashion Book was waiting for us, a smile beaming across her face, her dainty silhouette wrapped in an extraordinary grey coat. Accompanied by director Fabien Constant, the mastermind behind Mademoiselle C, here are a few  nuggets of golden wisdom Roitfeld delivered, complete with an adorable French lilt:
On her best fashion moment:
"I will never forget the first time we saw Tom Ford. He called me, maybe 20 times, and I said 'Who is Tom Ford? What is Gucci? What is a loafer? It's Boring.' And then I would say 'No, we have no time. Call back, maybe next month.' One day, he asked if he could visit me at the studio, and I said hmm, OK. We were sweating, because there is no AC (air-conditioning) in Paris and it was July. Tom Ford came in and I sat up in my chair and said, 'Maybe we can help you for the next shoot' because he was so charming. Working with Tom Ford and Gucci changed my career, and it's just because Tom Ford came in and he was very sexy looking!"
On advice for budding fashion editors:
"You are not going to learn a lot of things in school. Get a job as an intern and don't look at your watch until 6 p.m. and then leave. I'd see all these young kids come to the office with their CVs to get a job as an intern, and [at] quarter to 6, they start to put their coats on. I think: why are you leaving? If you love fashion, there is no time, no watch and no schedule."
On granddaughter, Romy, and how becoming a grandmother has changed her:
"She's like a dictator! She runs for everything she wants, and I have to chase her, even in high heels. You just go back to reality, but it's good she's not my daughter! I just say 'Go back to Julia now, I'm going to a show.'"
[Image]
This post appeared first on MyFashionLife.com. We claim no credit for any images posted on this site unless otherwise noted. Images on this website are copyright to their respectful owners and credited to the original source where possible.