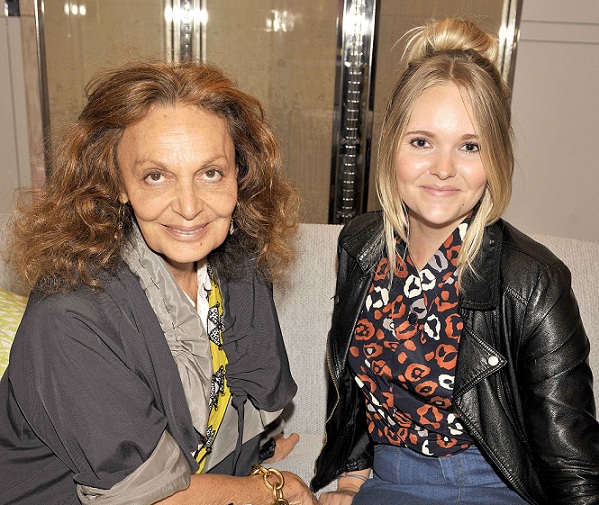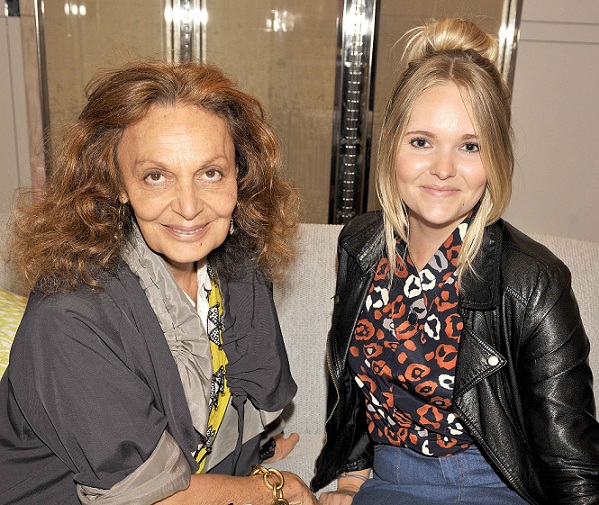 It's 11.37pm on the night before D-day (that's D for Diane (yes, Von Furstenberg, keep up)), and so far I've successfully managed to throw four fifths of my wardrobe on the floor in elimination. That's the problem when you're going to meet an icon.
After deciding that panic buying a wrap dress wouldn't be the best idea if I want to be able eat for the rest of the month, I settle on a vintage shirt with an abstract leopard print in the hope she'll appreciate my colour effort.
I tug at my denim skirt the whole way on route the next morning. Is it too short? No, DVF loves a bit of leg, right?
Right. I arrive at Harrods' Penthouse and immediately spy Diane, dressed in a lime silk piece with an oversized blazer and legs that shoot mine right out the room and back onto the tube.
"You look incredible!" I gush. As far as opening lines go, it's not the worst, but it sure as hell isn't the coolest. She smiles, appreciatively, and gives a look that might have been shy if it wasn't for her assuring confidence.
We're here at the launch of her new jewellery collection for H.Stern, and after looking at the line and gushing some more, I catch Diane on the sofa.
"It's lovely, isn't it?" She says, as I ask her about her new jewellery collection. "It's all about these beautiful rock crystals."
She points to the ring on her finger and offers me her hand. The large mirror-like crystal set in polished gold is indeed beautiful.
"Look," she says, "I'll show you the bracelet," and reaches for a fabric pouch that looks like a pencil case. Great! I'd seen her reaching for that earlier to show someone else and I'd wondered all morning what was in it.
She gets out the bracelet that I'd been admiring through the glass earlier and takes my hand to put it on. I spy her glance at my Mawi ring. It catches her eye for a second, but she doesn't say anything. Did I commit the cardinal sin of wearing another designer to meet the iconic Diane Von Furstenberg? I realise she's still clasping my wrist. Phew, I think she just wants me to take my ring off so the bracelet will fit over my hand.
"I want you to get an idea of how it feels," says Diane. She just about eases the bracelet over my wrist – God, have I got fat wrists now, too? – and fastens the clasp.
"It's so light!" I exclaim. Diane nods and smiles. "Oh, it fits so nicely!". I twist and turn my wrist this way and that to see how each of the three stones catch the light and how the chain strap moves. Diane reaches for my hand to take it off and flips it over. "Look, it's got my mantras enscrawled all over the back, too."
The characters are based on Diane's own handwriting, and it's core to the new Sutras collection. She's been working on jewellery with H.Stern for several years now, but this packs a powerful message.
"I was inspired by India, its mantras and 18th century art," she says of the eight-piece collection. "It's about beauty and strength and empowerment."
There's eight pieces – pendants, bracelets, earrings and rings – which all feature insirational words from Diane's personal sutras: love, life, laughter, freedom, harmony, confidence, truth.
They're precious pieces, but there's a statement strength that's apparent in each item. I wonder what type of woman Diane thinks can carry them.
"In anything I do, whether it's perfume or jewellery or clothes, it's to make the woman be the woman she wants to be." She notes that they're expensive – a polite way of saying not everyone can afford them – but her answer is inspiring nonetheless.
She's so passionate about her jewellery I'm surprised she doesn't have her own collection sitting in her accessories line, but she's more than satisfied with what she offers with H.Stern.
"Well, the reason I chose H.Stern – I've wanted to work with them for 20 years – is the fact that it's very rare to find such quality in fashion jewellery," she says. She explains that the design process is different for jewellery, and I get the impression that their collaboration is very much a mixture of Diane's design and H.Stern's craft.
"Anything that's trendy, the quality suffers. The quality of these pieces is beautiful," she says, stroking the stone in her ring. "I mean, you can swim in them."
I'm not sure whether she's serious about the swimming part, or whether it's one of her clever metaphors, so I laugh, shyly and nod. But it doesn't matter – I feel so comfortable around Diane that I'm not embarrassed if I fumble, which I seem to be doing quite a lot, as it happens. It's that sense of female empowerment that runs so central not only to Diane's designs but her way of living that creates an air of calm.
"It's about being the woman you want to be," she says, when I ask her what femininity is to her. "I think what symbolises femininity is strength. Sometimes women can face things in life, from someone else – their mother or their father – or in nature. Something happens that creates an insecurity that you forget from time to time, but that makes you go like this [she indicates sadness with her head in her hands]. But then, gradually, it fades, and you move on and overcome it, and I think it's the power of her mind that creates strength."
I could sit and listen to her forever, but I'm aware that time is precious for Diane, who's flown over from New York especially to launch her fragrance and jewellery collection in the UK. I press on, asking what her favourite piece is.
"This doesn't leave my wrist," she says, pointing to her chunky gold chain bracelet from a previous collection. "I wear it everywhere, so I think this is my favourite piece." She's not exaggerating, either – I recognise it from pictures, and it just so happens to be my favourite piece from the entire collaboration, too. It's a bold piece, and I wonder if that's how she prefers her jewellery.
"Well, I think jewellery is many things. I think jewellery is something for women to feel confident in, I think jewellery is also protection, I think it's good luck – it's many things," she says. "And then I also like jewellery that I wear that can cause some damage!" She taps the ring on her finger and indicates something big and sharp.
Literal protection, and there was me thinking she was speaking about spirituality. We both laugh, and I move on to ask her about her love for colour. Big, bold shades are her signature, she must have a favourite this season?
She shakes her head. "I love every colour." Every colour? Even murky greys and questionable-looking browns?
"When people ask me what it is I love about colour, I say this to them: 'imagine looking out into a garden and only seeing black and white'." She gives a knowing smile, like that of an angel or some other wise ethereal creature from a fantasy film, as though she's just opened my eyes up to the beauty of the world.
And with that, my five minutes with Diane Von Furstenberg is up. I thank her for her time, we pose for photographs, and I leave Harrods with a strange sense of ease. I doubt Diane will remember me past our goodbye, but I feel as though I've just had a lesson in philosophy, and yes, the world's a little brighter this morning.
Diane Von Furstenberg for H.Stern launches this month exclusively at Harrods.