Last Updated on 10th October 2008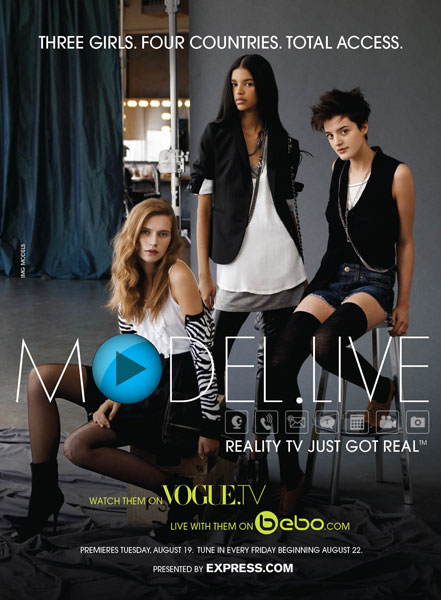 Model.Live , the new reality series from Vogue.tv premieres today. The show will follow three determined IMG Models – Austria Alcantara of the Dominican Republic (16yrs old), Cato van Ee of Amsterdam (19yrs old) and Madeline Kragh of North Carolina (20yrs old) – as they embark on supermodel status. From castings, fittings, coaching and the catwalk, viewers will get to see it all and even better interact with them all.
Fans can log on to Model.Live Channel Profile and connect with the models through their profiles which will be updated daily with video diaries and blog posts. Viewers can also leave comments or submit questions to the girls and purchase clothes and accessories featured in the show.
The series officially starts on August 22, with a new episode launching every Friday over the next 12 weeks. The drama begins in New York City with NY Fashion Week and continues throughout fashion week in London, Milan and Paris.
Vogue are on to a real winner with this one. Can you imagine if we'd been able to interact with Naomi, Linda or Kate when they struggling to get their break? My point exactly. Click here to watch the first episode.
Image courtesy of IMG/Vogue.TV