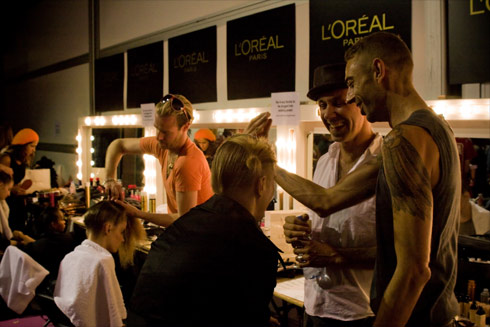 The Trends:
Stepford Wives , Ladylike glamour with a sexy edge, think form fitting dresses and pencil skirts.
Playschool , A childish trend to embrace the sun, think primary colours, childlike prints, dinosaurs, trapeze tops and tent dresses.
The Orient , Grace and elegance are seen in Obi belts, silk prints, florals, feathers and birds.
Barely There , Sheer almost invisible chiffons, nude coloured laces, SS09 is all about baring all.
Space Age , With a strong emphasis on tailoring exaggerated shoulders and hips created a futuristic look found in leathers, cottons and playsuits.
The Pieces:
Harem pants , These loose fitting trousers are hanging around for another season; get them in floral print or for the daring leather.
The bra crop top , A questionable fashion trend but due to it's infamous presence at almost every show, this 80s throwback is certainly on trend.
The playsuit , In full length, crop, short and micro short, the playsuit has become ultra feminine in silks and lace, and tougher in heavy land girl like cottons.
The chiffon dress , If you buy anything for SS09 make sure it's a pretty chiffon dress in a lemon or pastel. Chiffons were teamed with leathers to toughen them up or worn with a boy style blazer.
The Accessories:
50s cat sunglasses , pure Marilyn glamour
Headwear , scarves, hats, headbands , Anything goes as long as it's on your head, big bows, twisted scarves.
Platforms , Clogs, Mary Jane's even ankle boots, the platform is the only SS09 height to be seen in.
The Colours:
Thankfully there's a colour out there for everyone!
Candy Stripe/Pastels
Coral
Aqua
Nude
Orange
Grey Lilac
The Designers:
Eley Kishimoto , Pure childish glee, oh the tights, oh the prints, oh the handbags, oh I want an ice cream.
Giles , Stylish, luxurious, chic with enough of the London edge to make Giles a pure genius.
Luella , The UK's answer to Muiccia Prada, loveable Luella has given us the most wearable of collections that is sure to get you noticed.
Nathan Jenden , A flawless, colour popping, beautiful body enhancing collection.
The Beauty:
Big wavy hair or scraped back buns
Fresh nude faces
Drama eye make up in candy colours
Glossy bold lipsticks
Weirdest SS09 trend:
Knitwear , ok, so Louise Goldin did create the most beautiful and creative of knits, but honestly can't we still pretend that we get hot summers?
Leather , if knits weren't bad enough, nearly every designer had leather: jackets, trousers, dresses, skirts, shrugs, where have the swimsuits gone?!
The fashionista's fashion week best friend:
Wetlook leggings , the most sported trend by editors and fashionistas alike, oh yes every catwalk goer was seen to be wearing wetlook leggings at least once!
The Good: hot freebies, fab celebrities and the best fashions
The Bad: the queuing, the high heel re-heeling, the post fashion week flu
The Ugly: London fashion week down to 5 days!