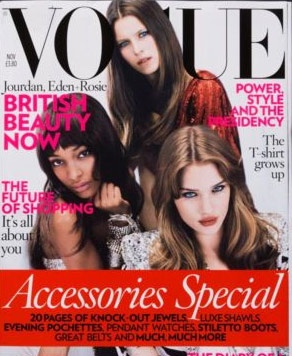 The question on everyone's lips since Vogue Italia released its all black issue back in July has been, "Will it actually make a difference?
Well, at London Fashion Week there were more black models walking the runway than previous seasons for sure and in Milan Chanel Iman became the first black model to walk for Gucci since Tom Ford's glorious days ended in 2005.
This month Jourdan Dunn breaks some boundaries of her own to become the first black model to land the cover of Vogue UK since Naomi Campbell graced its cover in 2002.
But Jourdan's not alone. She shares the spotlight with Eden Clark and Rosie Huntington-Whiteley.
Now if Jourdan had the cover all to herself that really would have been may-jah! We're guessing Vogue didn't want to push the boundaries that far….
[Image]