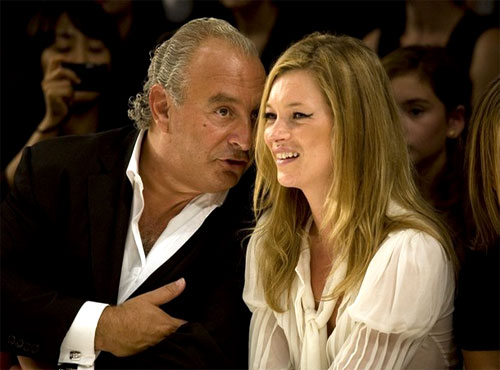 Topshop boss Philip Green, 56, looks set to take over the British high-street. Kate Moss' pal spent the weekend in Iceland negotiating a deal to purchase the debts of Icelandic retail investor Baugur.
Baugur's debts are estimated at over £1bn ($1.7bn), naturally Green will buy at a significant discount. Nothing is confirmed yet, but if all goes to plan the deal will give Green a great deal of influence over Baugur's portfolio which includes House of Fraser, Oasis, Warehouse, Whistles and Mappin & Webb.
Commenting on his weekend activities, the billionaire said,
If you're on your way home and you go past a house with a sign outside saying 'half price', you're going to knock on the door, aren't you?"
Green is knocking down Iceland's door. Aside from making the businessman even more powerful than he already is, the outcome of such a deal will inject some much needed cash into Iceland's economy. It could also result saving the jobs of 55,000 current employees in the UK, the development of approx 6,400 new stores and the employment of 90,000 people.
The retail tycoon who is heavily criticized for living as a tax exile is doing what he does best. Green is notoriously known for spotting a retail opportunity and pouncing. In the mid 80's he bought struggling fashion chain Jean Jeanie for £65,000 and sold it for £3m within a year.
Green started his career in retail with a £20,000 loan from a family bank manager. Today, he is Britain's ninth wealthiest man and his personal fortune is valued at an estimated £4.3bn by the Sunday Times rich list. Not bad for someone who left private education with no O levels.