Last Updated on 19th October 2013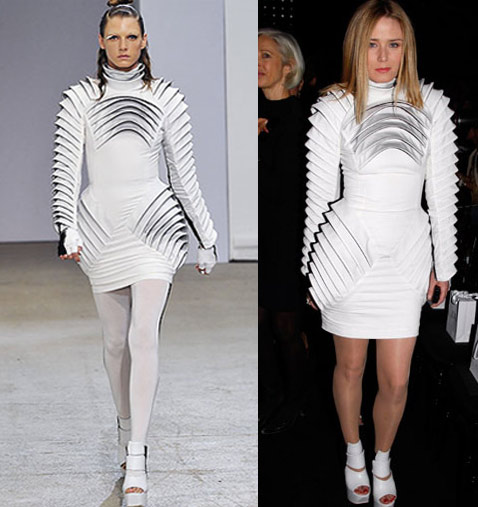 Is Gareth Pugh's SS09 collection already up for public bidding? Well technically no—if it was we'd have clued you in on the juicy tidbit but glimpses of Pugh's eldritch meets sophisticated spring line recently surfaced on Róisín Murphy, the one time lead singer of Moloko.
Murphy definitely wears the outfit well and could have vied for a slot amongst the slew of android-like models that took the stage for Pugh, but the immediacy of it all left us a bit flabbergasted and disappointed. We're sure Pugh had some hand in this and put Murphy up to it (he styled the cover of her single, "Let Me Know"), however we have our reservations about brazen instances, such as this, where fashion may be headed towards a McDonaldization of sorts.
On the heels of Pugh's show, sallying out, head-to-toe as a matter of fact, in Pugh's masterpiece is cute to an extent. But the predictability of it all can be just as nauseating. Pugh dress, Pugh shoes, Pugh's aesthetic in its entirety—it was all a bit too much.
On the other hand, all blame can't be placed on Murphy (we just happen to love her dramatic fashion sensibilities) for pulling off an intransigent applause to the phenom that is Gareth Pugh. The consistency of Pugh's design philosophy is as much a strong suit to Pugh as it is a potential weakness to the hoards of women who covet his wares. It literally renders you a walking duck as it did Murphy and left her—but not Gareth—with few admirers. Several onlookers bemoaned that Murphy went overboard—personifying Gareth Pugh, but failing to personify Róisín Murphy and what her sensibilities of style amount to.
Well can we hold Murphy in reproach for her philia for Gareth Pugh? Yes and no. As salient as Gareth Pugh's needlecraft may be, personalization can prove difficult, but as a fashion aficionado she should be cognizant of that. Then again, maybe she knew and flippantly didn't give it thought that she's a walking effigy of Gareth Pugh. Murphy can find comfort in her rather objectified look in the post-show comments of Julie Gilhart, fashion director at Barneys New York, at Pugh's collection. Gilhart alluded to the absence of commercialism in Pugh's aesthetic, which in turn can be a limiting factor to those who may want to inject individualism into a signature Gareth Pugh piece. It's kind of like an "all or none principled ensemble that can do wonders for you or leave one's sense of individuality torn asunder. Unfortunately for Róisín Murphy, public outcry doomed her fate in latter.