Last Updated on 27th October 2008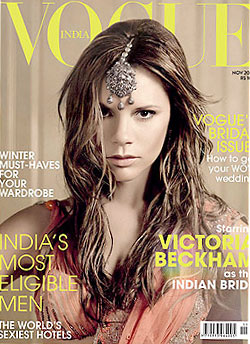 This month Victoria Beckham transforms into an Indian bride for the cover of Vogue India's bridal issue. She's swapped her pixie cut with flowing locks and replaced her tight fitting dresses with a beautiful sari.
Apparently Posh felt like an "Indian princess" and according to Vogue fashion features director Bandana Tewari she was a hoot. Talking to People magazine she said,
"Victoria had this unexpectedly dry sense of humor that all Brits seem to develop in response to their soggy weather."
This is Posh's second Vogue cover, she graced the cover of British Vogue back in April.