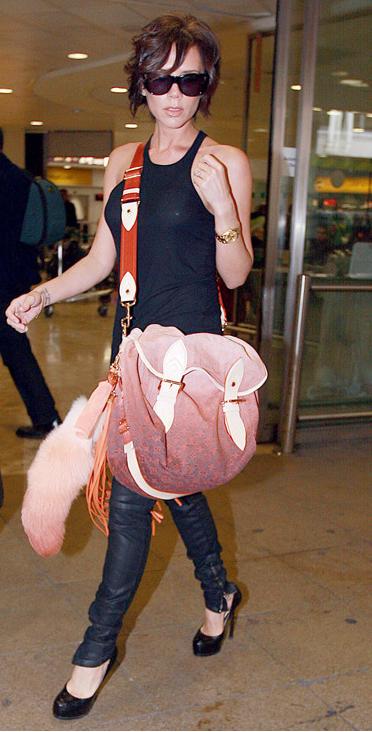 This one's hardly surprising, is it? Victoria Beckham has been spotted wearing a Louis Vuitton messenger bag from the S/S10 collection.
It's no secret that Victoria loves her arm candy (so much so she's bent on designing her own handbag collection, in fact), so that she's the first to be spotted in Louis Vuitton's new season bag at Heathrow airport over the weekend comes as no shock , especially given that she's modelled for Marc Jacobs previously, and then there's his recent revelation that he loves Victoria Beckham, too… God, we should have put money on this one a while back.
It should also come as no surprise, then, how insanely jealous we are. The gorgeously slouched messenger bag is stylish and relaxed as it hangs across the body and oozes Louis Vuitton's bohemian-meets-prarie S/S10 styling with fur tail charms and leather tassels. We absolutely adore that tonal gradient colouring too, with pastel peach moving towards burnt orange , complete with LV's signature mongram.
Oh to be rich and famous , unfortunately we'll have to wait a little longer than Ms. Beckham to get our mits on this messenger bag.
[Images]