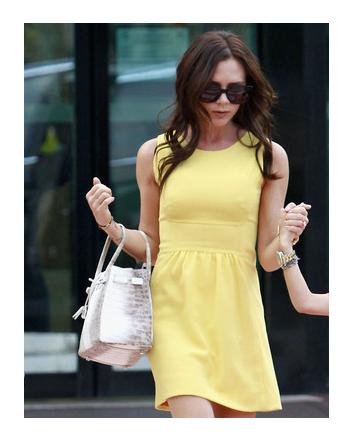 If ever there was an award for the most-copied hairstyle (consider it now established), it would most certainly go to Victoria Beckham. With that in mind, and after VB stepping out with a new 'do this weekend, we have a feeling everyone's hair is about to grow a few inches.
Yes, dear readers, Ms. Beckham's back on the extensions, and though they look far better than the ones back in her WAG heyday, they're still a little footballer's wives for our liking.
But that, if rumours are to be believed, may be no coincidence. Whispers doing the rounds at the weekend suggested her and hubby David may be about to announce a split, though her publicist was quick to quash any such tittle-tattle – so maybe it's less of a re-style and more of a message to the world.
Either way (and we sincerely hope those rumours aren't true else our faith in love will be destroyed for a second time after Brad and Jen), we can't help but feel that canary yellow dress and silver Birkin would look far better teamed with her shaggy bob.
Still, we're sure there'll be a surge of hair extensions doing the hairdressing rounds this morning.