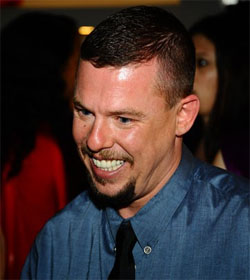 Well, well, well it turns out the rumours were true. Alexander McQueen will be designing a line for Target. From next March and for a limited time only, recessionistas everywhere will be able to get their hands on a McQueen design for next to nothing.
The move comes as Target announces its plans to bring established designers to the masses through its latest project titled Designer Collaborations.
McQueen is the first designer to participate in Designer Collaborations. The collection will be called McQ Alexander McQueen for Target and is an extended version of his McQ diffusion line. What can we expect? McQueen says he was inspired by lead singer of The Duke Spirit, Leila Moss….so there should be a number of punk rock pieces and lots of studs and tattoo prints.
It sounds like Target are banking on McQ Alexander McQueen for Target being their golden ticket next year. Trisha Adams, senior vice president of Target said of the project,
"We believe Designer Collaborations will appeal to our fashion-forward guests as well as possibly attract new customers who are fans of Alexander McQueen and McQ.
We can't stress enough how much we're looking forward to this!