Last Updated on 8th November 2008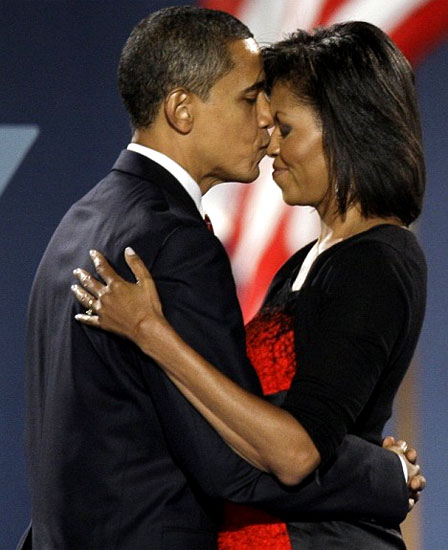 This morning we woke up to the news that Barack Obama will be the 44th President of the United States of America marking the end of what has been the most exciting election to watch unfold. We're elated, proud and so happy (not to mention relieved) to witness this groundbreaking moment in history. Naturally we have to celebrate! And we're doing so in the only way a fashion blog knows how…by paying a stylish tribute to the next first lady-in-waiting, Michelle Obama.
Michelle made Vanity Fair's International Best-Dressed List this year mainly because she's looked nothing short of fabulous while relentlessly campaigning away for her hubby. In the past we've seen her sporting designs by Maria Pinto, Thakoon, Isabel Toledo, H&M, Gap and J.Crew. To celebrate their victorious win Michelle opted for a knee length red and black dress from Narciso Rodriguez's spring 2009 collection.
Whether she's wearing skirt suits cinched at the waist, shift dresses paired with pearls or jeans a basic t—shirt and a cardigan Michelle always keeps it classic and timeless. Mrs Obama we salute you!