Alexander McQueen proclaimed Charles Darwin the inspiration of his S09 collection.  Interpreted by McQueen via skeletal neck pieces; Darwin's theory of evolution involving science and nature has become an evident trend amongst a trio of hip New York based jewellery designers who are making waves in fashion circles with their romantic-gothic collections.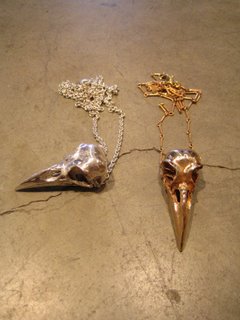 Pamela Love's, line of wildlife-inspired skulls, talons and claws are cast in silver and gold and are quite arresting suspended from your neck, gripping your wrist, or wrapped around your finger.  With an orthopaedic surgeon father and dental surgeon grandfather, Love admits to having "always loved bones and teeth, and being "obsessed with nature and science. The result of these fixations is a collection of eerily beautiful sculptural pieces that add interest to whatever you choose to wear. Pamela Love is available to buy from Liberty in the U.K.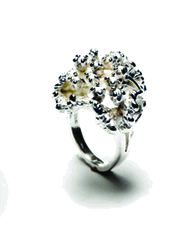 Digby and Iona are a Brooklyn-based jewellery duo who accredit their AW08 collection to the American Civil War and British Imperialism. However their wares are nature-heavy and feature genius ring and necklace designs including 3-D stags and dancing bears, coral clusters and animal bones. They have to be seen to be believed – I guarantee their witty creations will not only bring a smile to your face but many an admirer to your finger and neck! Digby and Iona is available in the U.K. from Amelieboutique.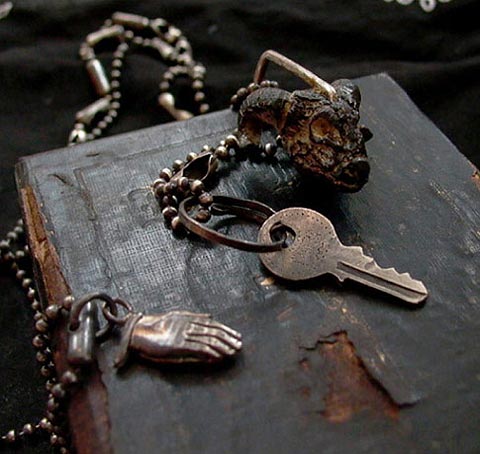 Black Sheep and Prodigal Sons is the brainchild of Derrek R. Cruz and is a collection of religious and animal-inspired jewellery and accessories.  Antique ivory hand-scripted dog tags, sterling silver whale pins, and skull pendants are beautifully presented in individually crafted bibles.  The beauty of Cruz's work is the attention to detail and painstaking craftsmanship. Black Sheep and Prodigal Sons is available to buy from their website and numerous American and Japanese stores.