Last Updated on 20th October 2013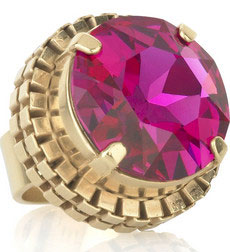 The credit crunch has had an ironic and unfortunate effect on me; in short I have become a magpie inexplicably drawn to all things shiny, sparkly and consequently rather pricey. My new favourite jewellery label, Mawi for example specialise in super-sized, super-sparkly Swarovski stones and extravagant design details, such as their trademark diamante panther, of which there are many high-street copies.
I'm particularly fond of (as in head-over-heels in love with) the oversized Swarovski fuchsia ring (pictured above) but the rest of the collection is equally spectacular. An eclectic mix of unique pieces Mawi's look is overstated opulence; an unashamed overdose of sparkle. Crystals and diamantes worked creatively alongside gold and silver – a magpie's paradise.
At £200 upward these statement pieces don't come cheap but they can be lusted after at NET-A-PORTER.COM or at www.mawi.co.uk.