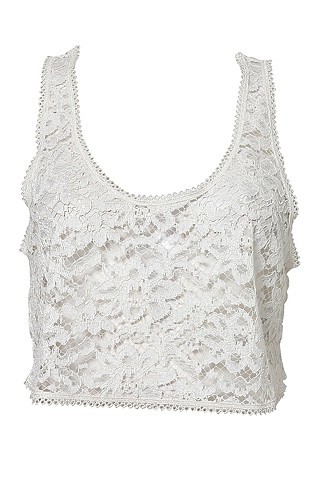 Yes crop tops are back, I warned you and now you need to decide whether you will obey the fashion gods.As we approach the summer, you will find that they will get smaller and smaller until they are basically a bra top. But the first load are in and they are a baggy t-shirt version of this frightening piece of fashion engineering.
So can you wear one without having a washboard stomach? Sort of, you can layer one, I'm afraid that the "Fame" look will return once more to the public domain.
Try pairing it with a vest top underneath and jeans for a cute casual look. For a sexier style try wearing a body con/oversized vest underneath and pair of ankle boots. And for true 70s style, team with high waisted jeans.
Deciding what type of crop top you can get away with deserves brutal honesty, you may think that cropped sweatshirt from Topshop Boutique is the way to go, but sweat fabrics will add bulk. Also because of the shorter length it will cut you in half, it can easily make you bigger than you are so by teaming longer lengths with your crop then you can elongate the body. Bustier girls will find this hard to pull off, but it's great for all you smaller chested boy shapes as the shorter length with create a waist and hips.
Crop tops are frightening, and expect to see many a celeb attempting to wear them and failing, it isn't a look for everyone, but with a little layering and some shopping around you may just find the perfect crop.
Good luck, stay strong and trust your instinct.
The pictured lace crop top is £25 from Topshop, team with jeans, a contrasting vest and beads for stylish stomach friendly look!