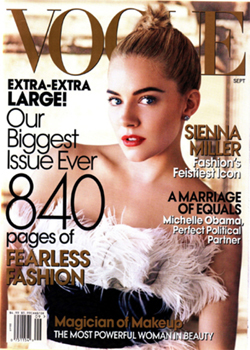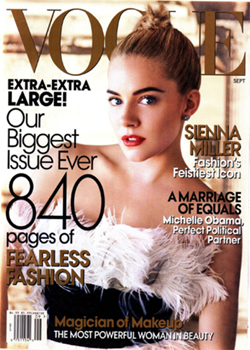 Tears before bedtime, well for Sienna Miller it probably will be. In a new fly-on-the-wall documentary about the ultimate fashion magazine US Vogue, Sienna Miller comes under fire from Anna Wintour's eye for detail.
The documentary which follows the Vogue team as they prepare for the most important issue of the year, September is directed by RJ Cutler was shown for the first time at the Sundance Film Festival.
The cover star is Sienna Miller and is photographed by Mario Testino. But whilst reviewing the images, Anna Wintour complains that Sienna is "toothy' and the rest of the staff panic over the amount of fillings she has.
And if that isn't bad enough, the Vogue team decide that the best plan of action is to superimpose one picture of Sienna's face on to another of her body. She was also hinted at to cut her hair, but our Sienna ignored the Vogue staff.
Speaking to the Daily Mirror, the Head of Communications, Patrick O'Connell said: "While some retouching is a fact for any cover, no one is more convinced of Ms Miller's beauty than Vogue. The fact she appeared on the magazine's September cover, our most important issue of the year, is a testimony to this truth." Sienna's publicist also surprisingly backed up Vogue's statement with: "Sienna Miller is the first person to admit that her photos are always retouched , no one is ever that perfect."
Will us Brits ever shake our bad teeth stereotype?! It seems unlikely. Oh but what a watch this will be!