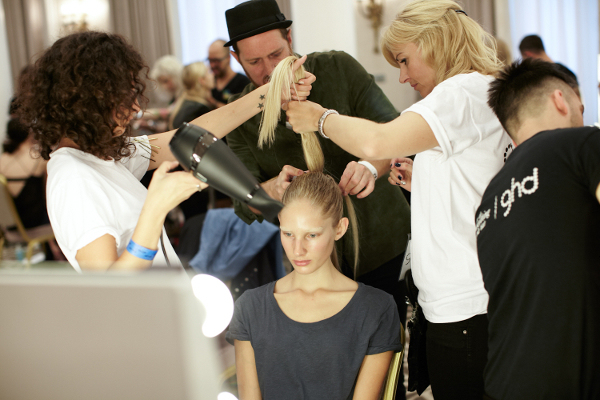 We know that we should all step away from the heat and retire our hair dryers. But some days, you need to be out of the house in five minutes and your tresses are sopping wet. What's a girl to do?
Although heat damage is endemic, investing in a hair dryer that supports the health of your hair is important. The cheapest model on the market doesn't necessarily do your tresses any favour, so it may be worth forking out for one that doesn't fry your cuticles.
But what type of hair dryer should you choose? There are plenty on the high street of all creeds and colours. Ionic, ceramic, tourmaline…what on earth does that mean? Read on for a detailed description of each type and how it can help (or hinder) your hair.
Ceramic
Ceramic is actually a clay-based substance and is completely non-metallic. Instead of copper coils, manufacturers use ceramic coils. This ensures fast and even heat distribution. Metal coils often damage and burn hair, whereas the infrared heat produced by ceramics keeps the hair safe. This is your cheapest choice and the most basic level of protection.
Ionic
You may have learned in Science lessons that ions are either negatively or positively charged, but enough of that geekery! How does this help your hair?
Negative ions in hairdryers break up water molecules into more easily handled drops. This makes the evaporation process speedier and helps to seal your cuticles. Instead of frazzling your strands, this means that there is greater moisture retention, and it creates a smoother, frizz-free finish. You'll also cut your hair drying time down considerably, so your hair isn't exposed to heat for extensive periods of time.
Even if your hair isn't that healthy, ionic hair dryers work to make your tresses appear glowing. Elchim ionic dryers may set you back a pretty penny, but that's nothing when you look at tourmaline prices. The things we do for our hair…
Tourmaline
When heated, tourmaline only generates negative ions. As we've already explored, this is a good thing for your locks. Actual parts of your dryer may be coated in tourmaline – a precious mineral that could set you back quite a few bucks.
A tourmaline hair dryer is possibly the most effective way to produce negative ions. The drying process will be exceptionally fast, leaving your hair shinier and in better nick. Don't expect to get a tourmaline hair dryer to be cheap, though.
The moral is, all hair dryers are bad for your mane, but you can take steps to reduce the damage. At the very least, buy a ceramic hair dryer, if your budget is tight. However, hair dryers tend to last for years and are a great investment. If you're a heat freak, you may even save yourself money in tearful salon appointments, begging your stylist to save your tresses. Try one out today and test the difference!