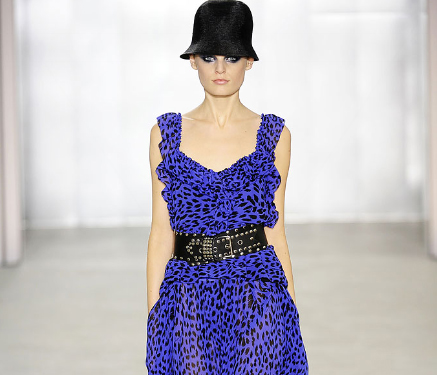 The evil credit crunch is having a grave effect on all our lovely fashions. Not only are we fearing for the demise of our favourite stores but now fashion week is being targeted.
Firstly it was announced that designers Betsey Johnson and Vera Wang as well as Monique Lhuillier and Peter Som made the decision not to show during New York Fashion Week.
Then we discovered that even the big names are cutting costs, Marc Jacobs is not going to be having an after party. And he's cutting his show's guest list from the usual 2000 to a tiny 900, so don't be disappointed if your invite doesn't appear in the post!
Now, the ever talented Alice Temperley has chosen a novel way to stage her catwalk show and avoid large costs. The designer will stage a catwalk show minus the catwalk. It will in fact be a "multimedia fashion installation. The presentation will be shown live online. Other designers have in the past done similar novelty shows, yet these tend to be from more experimental brands and less mainstream.
On a positive note we'll all get to see the catwalk show first hand, the cons are that industry reporters who really need to see the clothes close up to report back cannot.
Will such installations be the future? Whilst the recession is on, the answer is probably. Depending on how long this economic black hole goes on for, the budgets will simply not be there for the journalists and buyers to fly all over the place let alone brands having the funds to stage the shows.
Steven Kolb, executive director of the Council of Fashion Designers of America explained that the lavish affairs we have become accustomed to have not always been the case,
"Fashion shows started as small presentations, not as mega celebrity front rows. It is a new world and we are going to have to do business differently.
Alexandra Shulman, editor of British Vogue, welcomed the change saying,
"To present so many shows in so many different cities seems an anachronistic way of doing things.
Whilst I applaud the designers for scaling back the unnecessary lavishness, it does seem a little sad. Fashion Weeks are for fashion lovers the most exciting times of the year. We look forward to seeing the trends, looking at the pictures, seeing who went and who wore what. It would have given a little respite from the doom and gloom. Let's just hope they've all designed bright colours for Autumn/Winter 09. We need something to lift the mood!
Image: Temperley London Spring/Summer 09