Last Updated on 3rd February 2009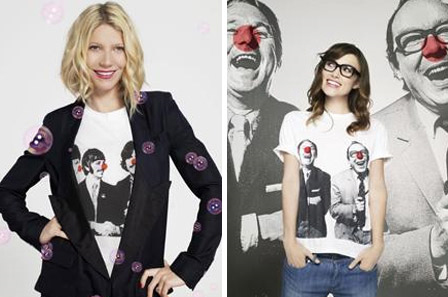 It's not very often that you get a piece of designer magic for a cut price and get to help a charity in the process. Well thanks to Stella McCartney you can.
Comic relief is coming and to help raise money for this very worthy charity Stella McCartney has designed a line of t-shirts. And not only are they super stylish but they'll get you in the Red Nose Day spirit and only cost £9.99 each, with all profits going to Comic Relief.
Oh, and if you need convincing that these are the only t-shirts to be seen in then perhaps Claudia Schiffer, Keira Knightley and Gwyneth Paltrow can convince you as they model the quirky tees.
The t-shirts carry black and white images of The Beatles, Morecambe & Wise and a rabbit for the kids, all sporting photoshopped red noses. Stella and her dad Paul weren't the only McCartney's getting involved, Stella's late mum Linda had taken the photo of The Beatles used on the t-shirt, whilst sister Mary has shot the celeb models.
Talking about Comic Relief, Stella said,
"It's a real honour to be involved in such a tremendous cause and to be a part of the Red Nose Day campaign 2009. The designs of the T-shirts were inspired by iconic images of iconic people by iconic photographers and adding an element of humour to them. I wanted to focus on photographs where people are happy and create a charity t-shirt that would become a staple of a person's wardrobe."
The t-shirts are now on sale at TK Maxx nationwide and online, so if you want to be in with the fashion crowd you'd better have a red nose (but don't forget to pair with stilettos and lipstick).