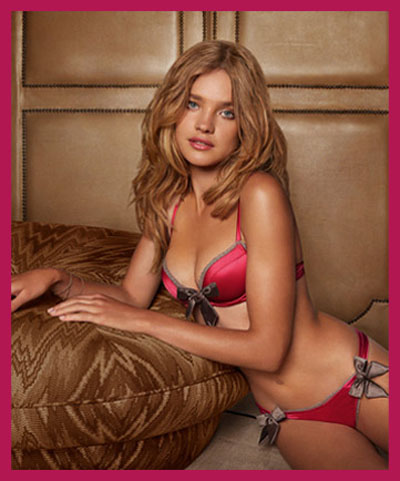 How many of you ever shopped in Tammy Girl? It was the place we all headed to as young teenagers to end up looking like rejects from Blossom, or the long lost cousin of a Spice Girl. Yes Tammy Girl was for a time a British Institution, and Etam was its' big sister.
Etam, is nothing to write home about, it was a fashion shop, not cutting edge, not terrible. It eventually fell into difficulties and was bought by our favourite fashion tycoon Sir Philip Green, who turned some of the branches into a Topshop and sold the rest off. In France, Italy and Spain, Etam remained as a brand and has now become a sexy French lingerie label. It's pretty baffling stuff if you knew Etam before all the genuine silk.
But to make things even more crazy, supermodel and all-round goddess Natalia Vodianova has become the face of the Etam. In a star studded catwalk show at the glamorous Ritz in Paris, Natalia's line ingeniously titled Natalia pour Etam, was witnessed in all it's glory by the likes of Eva Herzigova and Charlotte Casiraghi. The collection includes swimwear, lingerie and nightwear and is reasonably priced with top end being around $80. The line will launch in store from April and a further collection is expected later.
The collection is wearable and stylish, with a gorgeous beach maxi dress and silk pyjamas stealing the limelight. It is still quite bizarre to see Etam connected with such high glamour. But one thing I do wonder, when are the celebrity fashion links ups going to end? When will designers take back the reigns under their own names? I'm finding the constant celebrity endorsement a little weary now, what about you? Do celebrities inspire you to buy products or do they just put you off?