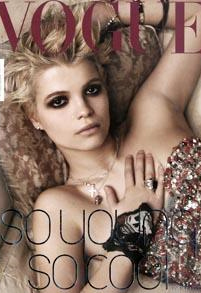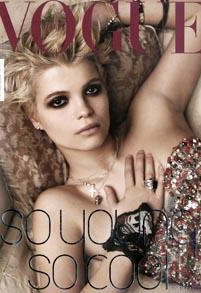 This is a surprising turn for the fashion bible. Vogue Italia is generally considered to be the most elegant of all the major Vogue titles, boasting great stylists and forward thinking shoots. It therefore comes as a bit of a shock to see Pixie Geldof draped on the front cover.
She is of course the least hateful of the Geldof's and does have a great sense of style. But the front cover of Vogue is generally reserved for only the cream of the fashion crop, so it does seem a little strange and dare I say unjust?
Pixie was shot by Steven Meisel for Vogue Italia and appears alongside best friend, co-model and celebrity offspring Daisy Lowe. 14 pages are dedicated to the pair. Meisel has already photographed both Daisy and Pixie for the Pringle ad campaign in the past, so I guess we can count him as a fan.
Pixie and Daisy appear to be the leaders of the new fashion pack. But what do you think of them? Does Pixie deserves to be a Vogue cover girl? It doesn't seem entirely right to me, Once upon a time you had to really work to be on the cover of Vogue. Although she's got a number of campaigns under her belt, Pixie does not seem nearly established enough. This is, without a doubt, going to split the fashion world right down the middle. Which side are you on?