Last Updated on 19th February 2009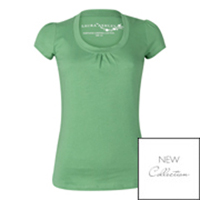 In this modern age, with so much to think about, so many gadgets to occupy our time, it is easy to forget that not everything in the world is rosy.
We all know about sweat shops and child labourers who are behind some of our favourite clothes. It is a fact and it's virtually impossible to know exactly where our clothes are coming from. That's why Fairtrade products are so important and the latest line of t-shirts from Laura Ashley are part of one of the best Fairtrade schemes around.
The Fairtrade cotton is sourced from Cameroon. Fairtrade helps approximately 60,000 people living in Cameroon. Because farmers don't usually earn enough to put food on the table, Fairtrade allows them a set price which not only gives them the money for food but also a little extra.
From the sales of Fairtrade cotton in 2007 and 2008 75 water wells were built, as well as 65 classrooms and 23 health centres.
So if you want to shop with a conscience, and wear your clothes with pride knowing you've helped someone, then head to Laura Ashley.
The t-shirts come in a range of colours and are priced at £16 each.
Shopping with a heart, is the only way to shop!