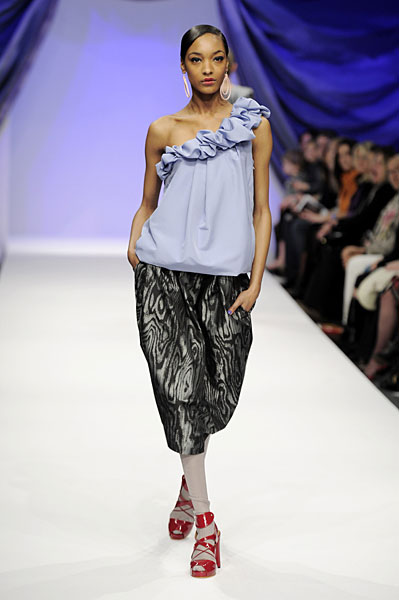 This year marks the 25th anniversary of London Fashion Week, a celebration of British designers which began in an Olympia car park and included a presentation from the legendary Betty Jackson. A quarter of a century later Jackson told London Fashion Week Daily that the British Fashion Council's event "wasn't all slick and fabulous like it is now." These days however, Betty Jackson's show is both slick and fabulous.  Her AW09 collection was a dream from start to finish and the lyrics drifting up over the transfixed crowd echoed my sentiments exactly: "I'm in love."
Model of the moment Jourdan Dunn and other bright young things glided down the catwalk in powder blue and grey mohair knits, beautiful watercolour florals and marble print silks, and antique tea coloured velvet.  Cropped jumpers and high waisted trousers gave the show a retro feel, whilst Alexis Bittar's giant lucite hoop earrings and necklaces lent edge and depth.  Flashes of tomato red on belts and a sweetheart sweater offset the browns and greys beautifully but for me the highlight of the show was seen peeping out from the shoulders of a shift dress – exquisitely leaf cut-out sleeves that appealed to both the wood nymph and nature goddess in me.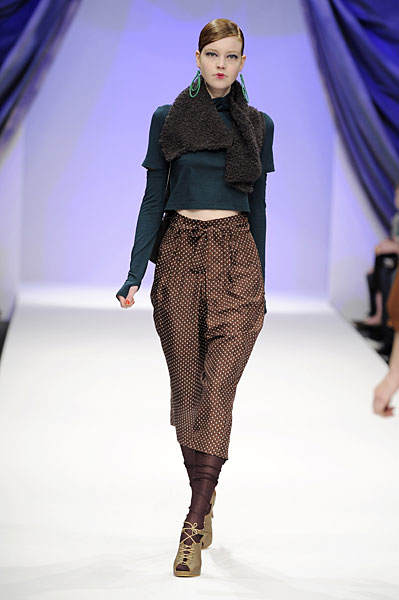 The cheers and whistles that erupted from the audience when Betty came out at the end of the show seemed to confirm that 25 is a (slick and fabulous) age to be!