Last Updated on 24th February 2009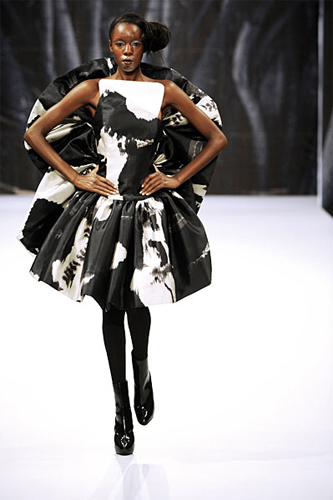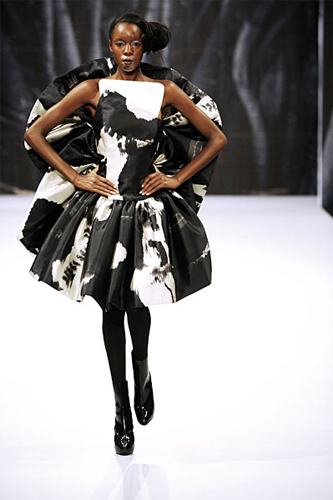 Bernard Chandran's AW09 collection was inspired by the 'romance of the Far East' which apparently translates as metallics, voluminous shapes, and graphic prints. Lame, glitter and studs in silver, gunmetal and gold reflected the stark white walls of the On|Off venue at The Science Museum. 
Balenciaga's SS08 bell-shaped dresses were heavily referenced – a silver version started the show with giant diamond like fabric fixtures on either side.  Models wore side topknots or Chinese straw cone hats on their heads, fisherman sleeves on their arms, and decorative collars of glitter round their neck.  Stiff rectangular panels with a single zip down the middle decorated the front of shirts and tunics, lending a masculine aesthetic to a collection that consisted mainly of dresses.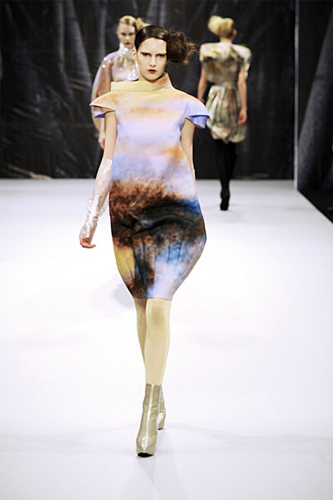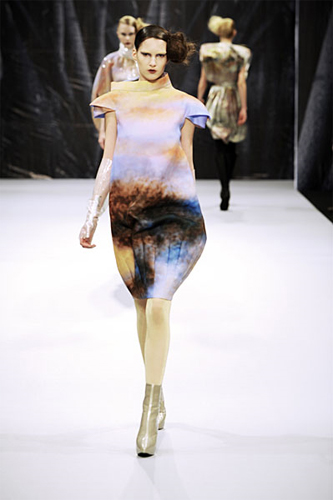 A large amount of the collection bordered on looking cheap and tacky but was saved by the stand-out items such as the floor length coat made entirely of jet black feathers, with a green and turquoise trim.  Other style-savers included the many beautiful prints on display throughout Chandran's silk creations.  A dreamy sunset with a forest skyline, an impressionist's print rendered in green, teal and cream, purple and black clouds, and a beautiful monochrome ikat print were welcome breaks from the otherwise molten palette. 
While those around me cooed over Chandran's AW09 collection for its daring "out there" sensibilities, I struggled to grasp the wide gulf that separated items into haute and horrendous.