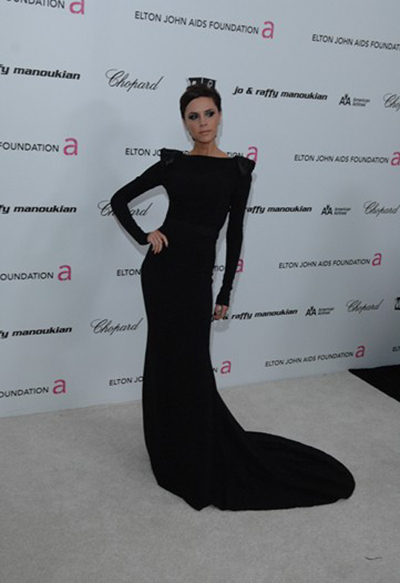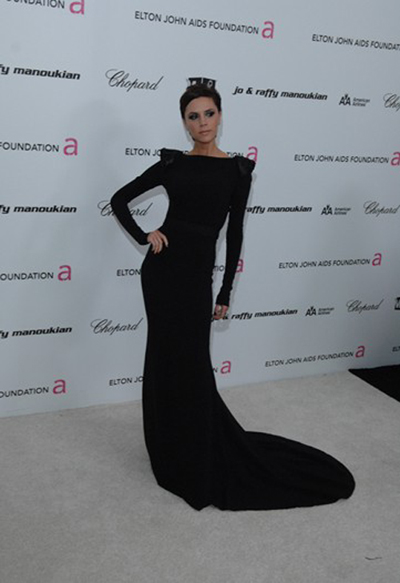 At Elton John's post Oscar party, you expect a whole host of stars. You expect all those who don't get an invite to the awards to pull out all the stops for the parties. But there was only one person, we all wanted to look at: Victoria Beckham. She looked sensational. Who would have ever thought a long sleeved, high necked, floor length gown could ever look so sexy? It is one of her own creations, from her Victoria Beckham line and it really is stunning. There were other contenders for the style crown at the party, but none could beat Victoria. But let's have a look at them anyway.
So near
There were some fabulous dresses on show, and one great trouser suit. I'm not normally a fan of suits at black tie events, but Eva Longoria managed that perfect blend between masculine and sexy. Those puffed up shoulders look fab and her toned down make up and hair suit her perfectly. Kate Beckinsale looked great in a beautiful one shouldered black dress. The diamonds also added a little sparkle turning her into a true Hollywood siren. Jennifer Love Hewitt managed to find the perfect fitting dress, and whilst it might not be the most showstopping of gowns, it suits her figure and shape beautifully.



Natasha Bedingfield also opted for black in a form fitting number. The fish tail oozed sex appeal, whilst that low back showed off her great physique. There wasn't a huge amount of colour on show. So a big round of applause goes to Tamara Mellon for her fabulous red dress. Almost modern Dynasty, she looks so on trend it hurts. And Elle Macpherson reminded us once more why she is 'The Body'. She was also the most suitably dressed for a party sponsored by Chopard. As her gown sparkled and shone like a diamond.



So far
There are always a few disasters, but it must be said, not many at this high profile party. Eve did not look terrible by any means; she just failed to look good. This is a typical 'blah' dress, despite an eye-popping colour she just fades into the background. A nice fit but just doesn't flow with the other well-dressed stars.



How on earth does Dita Von Teese look so awful? It's almost like a box of Quality Street ate her, or she ate too many and became one, I can't decide. But either way she looks mind bogglingly awful. In contrast Sharon Stone looks quite good, but not when we compare her to the other guests. She is a woman with an amazing figure and so seems to think she can get away with anything. Well you can't, I urge you to hand this back to Morticia and dig out your nice red number again. And for the finale we have Katie Price aka Jordan. As Victoria's arch nemesis, she needed to make her presence known. But because Victoria pulled off demure so well, Katie looks vulgar in comparison. I know Katie they are your babies, but please you have just too much boob on show, if you want to beat Vicky then you need to master the art of style.