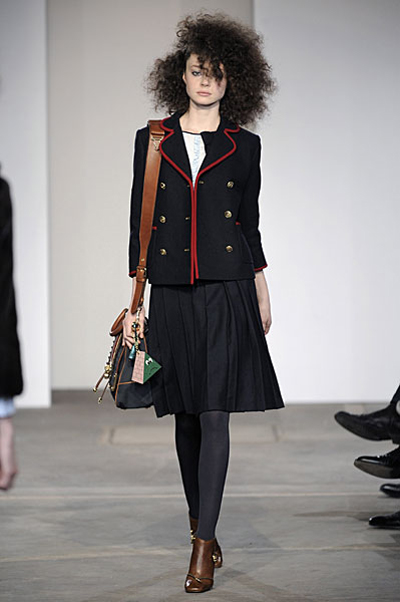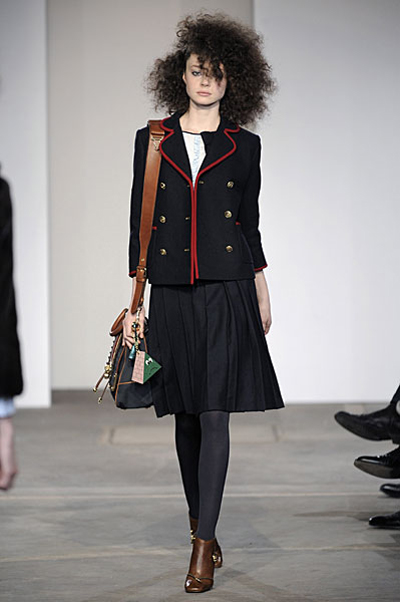 Luella is one of those brands that are loved by all. With her wearable designs, that make everyone look stylish she is a fashion lover's dream. She was therefore going to face a tough crowd. Her past few seasons have been so good, so inspiring that she was likely to face criticism no matter what she did. But for me, this was a very good collection. I liked the style, the attitude and the cuts. But I do love Luella's use of colour, which was something that was missing from this collection. And I have also in the past taken to her geek chic sense of style, this is more straightforward cool, but cool nonetheless.



There was a rebel schoolgirl feel to the collection. Beanie hats, and satchel bags carry off this look, and the bags are particularly lustworthy. The palette being a more sombre than usual grey and black mix. Although golds and olives did filter through. Never without a fabulous print, stunning gold and black brocade stole the show. The brocade trousers with fur coat being one of my favourite outfits.
It's also quite a smart look, there was a hint of a cheeky graphic t-shirt or two, but in essence this was a quite grown up collection. You can see this is a wearable collection, nothing avant-garde, but then this is the most practical. Luella has obviously been bearing practical in mind, for she only sent down five party dresses.



I think the key things to take away from this collection, is that schoolgirl chic. I am predicting this to be a major trend, school days symbolise a feeling of optimism so a perfect remedy to dark days. Look to Luella for those shrunken jackets, pinafores and jersey jodhpurs. And the hints of polka dots and gold lame should put a swing in your step.
I personally don't feel it's quite as good as her last A/W09 collection, but then I had a real soft spot for those folk style silk dresses and bold red checks. This is still; a great collection and I know I'll be in store come the first A/W stock drop off.