Last Updated on 22nd February 2009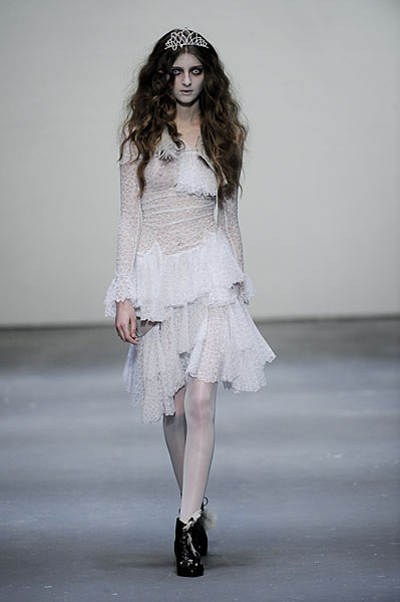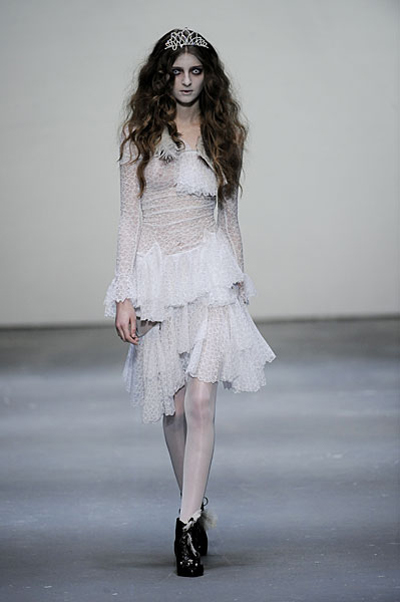 This show followed straight on from Peter Jensen, so if I was gushing a little too much in my Jensen review it was because this was in contrast horrific.
The theme for this collection is: "Ann-Sofie Back burns in hell. Now I'm not being funny, but if you choose this as a theme, you need to make sure your collection is so good that it doesn't actually create catwalk hell. Back clearly didn't understand this and instead gave us a horrific show or should I say horror show?!






To music from all our favourite horror movies, zombie models strolled, and in one case, tripped their way down the catwalk. Whitened faces, with big black eyes and contact lenses that made them look possessed was the 'beauty' trend.
The show was based on horror movies, and Poltergeist was clearly a major theme as the majority of models were made to look like walking dream catchers. Carrie was also an influence, seen best by the corpse style prom queen complete with tiara.






Everything was ripped and 'distressed', jeans, jumpers, t-shirts, dresses and skirts. The best items were an egg shaped coat with unusual fastenings, a sweatshirt saying 'Boo!' and a graphic jumper dress.
It was however, an appalling collection. I like to think I push boundaries with fashion, I like to wear the unwearable in an act of defiance to those who class them as such. But this truly was completely and utterly unwearable. Even the more simple designs, I just thought "why bother? you can pick up similar styles by rock brands on the high street. Sorry Ann-Sofie Back but you really did crash and burn.