Last Updated on 26th February 2009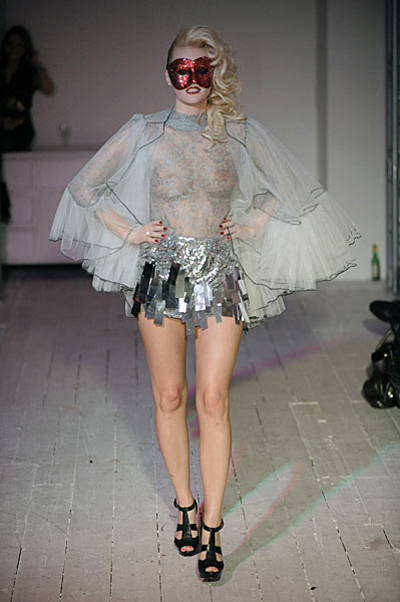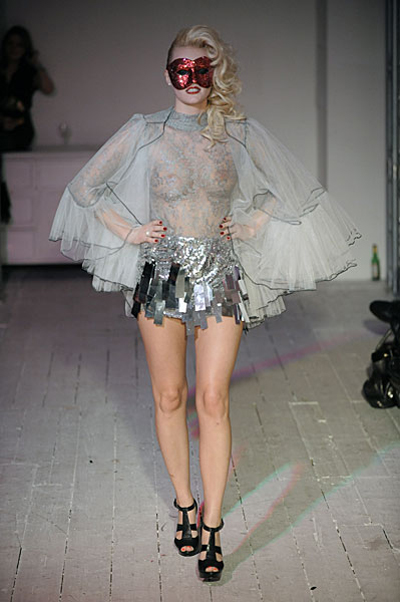 Speechless, I was left speechless after this show. I'm still not entirely sure what to say. Firstly I will say that I do think Johnny Blue Eyes is a great stylist, and his work is creative and exciting. But as a designer, I just don't get it.



There was much hype over this season, because last season Beth Ditto and Kate Moss both made an appearance on the catwalk. This year we weren't greeted to such delights, but there was a range of models, which is a refreshing sight.
But with the models, hula hoops and dog leads aside, what were the clothes like? Well, most models had a great deal of flesh on show, some certainly were displaying more than others. I'm not entirely sure how nudity constitutes as fashion, but with that aside what else do we have? There were leotards, corsets and ultra short, ultra tight mini dresses. The shining light? A vampish floor length gown.



In my own personal opinion, I just don't get it. There are only a few pieces of wearable items in this ready-to-wear line. And whilst these wearable items are ok, they are no feat of design engineering. It does feel a little like The Torture Garden decided to create a line of clothing and were aided by the Olympic gymnastics team. But this isn't a line that was created for consumer fashion and if you want to stand out from the crowd then this is the line from you, because red nipples and a drawn on heart will certainly do that.