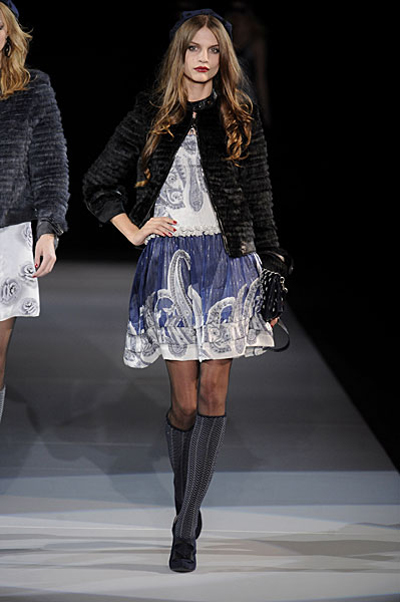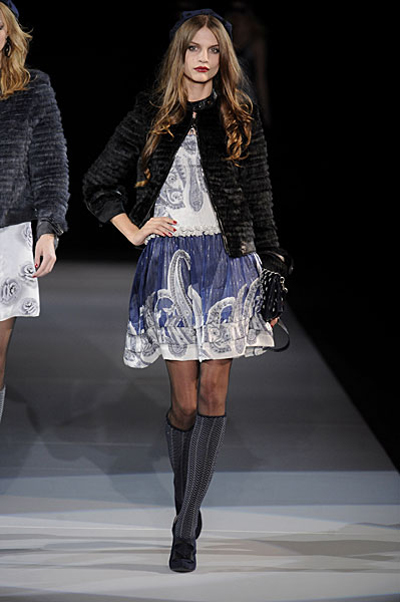 Armani is renowned for his beautiful lines and delicate cuts. And this collection is no exception. Although this did divert from typical Armani, it was far more preppy, not in a pashmina, chino sort of way, but in a Leighton Meester from Gossip Girl way.



It was an epic collection, something to please everyone, and a look to suit all occasions. Shorts, which are clearly going to be an enormous trend for autumn/winter 09, were seen strongly here in wool and satin. All outfits were teamed with socks and platform shoes, which just added to the noveau preppy feel.
I particularly liked the silk dresses paired with beanie hats and the little velvet dresses. The ruffles and bows make it girly but the dark palette of forest greens, navys and greys keep it chic rather than sickly. It's an incredibly cute collection; it has that youthful style that designers often bypass in favour for subversive, street style. But Armani has managed to tap into that other market, the one where girls want to look like Blair, they want to have that effortless style but not be overly trend led. Modern classic is probably the best explanation for this style.



As with all designs, styling is integral, and the combination of these short lengths with sassy beanie hats and clutch bags keeps it looking really fresh and up to date. You are never going to turn to Armani for post grunge or punk inspired creations, but you will for sophistication and style. This line just makes me want to pull on a pair of heels and stroll down 5th Avenue with a latte in hand. Despite the sombre palette there is optimism in the designs.