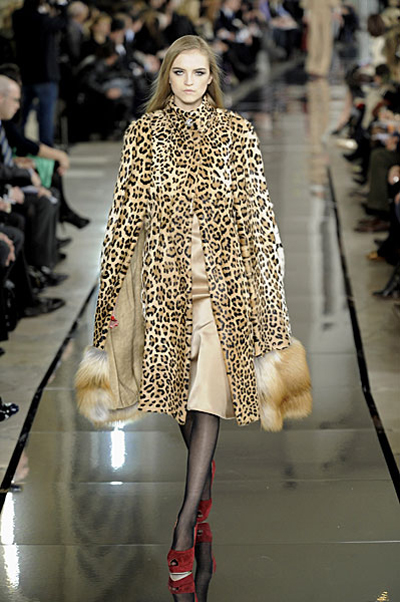 This was a lovely collection, nice lines, a good palette and pretty pieces. It was nice, inoffensive, wearable and classic. There wasn't really a wow factor. It was just all very nice.
Since Valentino retired the design house has been having a few issues, with a designer revolving door, the latest designer in charge is in fact a duo. Maria Grazia Chiuri and Pier Paolo Piccioli, they had their first outing with the couture collection, so this is only their second.



Well, you can certainly tell that they are verging on the edge of caution. Clearly, not wishing to rock the boat they produced a very safe collection.
There were no bad outfits, and there were a few very nice ones indeed. I liked the tiered blue coat and I thought the colour scheme of jade, aqua, lemon, burgundy and camel worked nicely. The silk prints were perhaps the highlight of the show.



Valentino is all about glamour and elegance and these outfits were elegant, and they had a 1950s charm to them. But they failed to captivate and were easily forgotten. They will certainly please those looking for a sleek evening gown or seasonless coat or suit. But it wasn't a collection to get the pulse racing.