Who needs nail art or even vajazzles when you can have eyebrow bling! Karl Lagerfeld sent his top models (the likes of which included Miranda Kerr, Cara Delevingne and Joan Smalls) down the Chanel runway with the sparkliest, jazzed-up eyebrows we think we've ever seen! We are firm believers in the "sparklier, the better" mantra, which is why we are lusting after Chanel's autumn/winter 2012 collection even more than we predicted. Plus, the Superman-esque crystals that adorned the Grand Palais were genius! 
We expected a light and romantic collection filled with lots of hot, classic, signature Valentino red, but that's not what we saw on the catwalk at all! Instead of loose draping, we were presented with tailored, structured silhouettes, with a darker colour palette and an edgier twist. Valentino wouldn't be Valentino without making the collection fun and feminine though, which was still very apparent despite the slight changes in tone.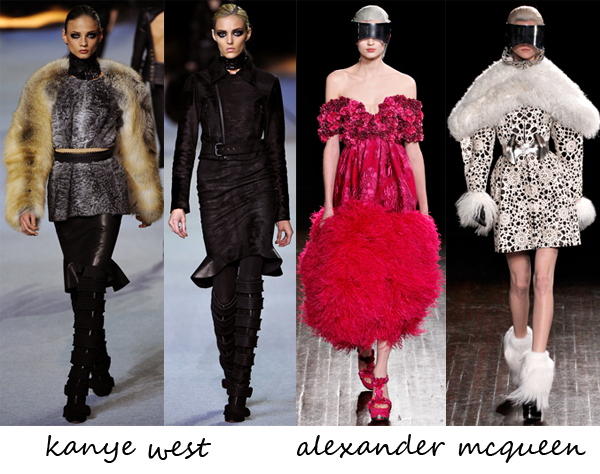 Sarah Burton once again did the late Lee McQueen proud with the latest Alexander McQueen collection. It was spellbinding and fantastical, with an abundance of magical puffball, dresses floating down the runway. Sarah Burton went for optimism this season; "the future's usually shown as stark and cold," she said. "I wanted lightness, the sense that the dresses were hovering."
We've been looking forward to Kanye West's sophomore collection for weeks now, and we thought it was a solid effort! With Kim Kardashian and other A-listers lending their support on the  front row and Karlie Kloss and Anja Rubik among the models showcasing his looks on the runway, it was quite the star-studded affair. He continued with his love of fur, which was far more fitting for an autumn/winter collection than his debut last season, and there was also plenty of leather and velvet to add some sex factor to the proceedings. Do you think he'll be the male Victoria Beckham in a few year's time?
Tomorrow: Louis Vuitton!