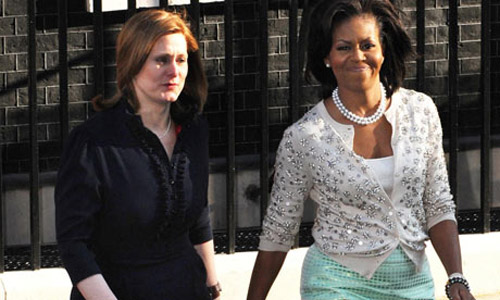 The G20 Summit has begun, chaos broke out on the streets of London, and whilst I cowered at home, too afraid to travel in to work, I decided not to stare at images of hooligans kicking windows in. But instead I watched the news eager to get a first glimpse of Barack and Michelle Obama as they landed in London.
Yes, all I was really interested in was what Michelle would be wearing. And I have to say, she really didn't disappoint, continuing her Jackie O style. She looked flawless, particularly as she boarded Air Force One, in a gorgeous Thakoon coat. The ivory tulle tweed was offset perfectly with the black trim and a simple shift dress.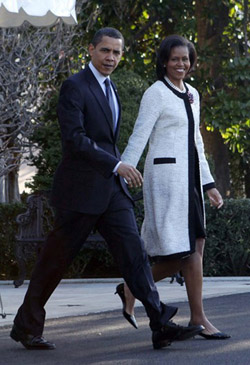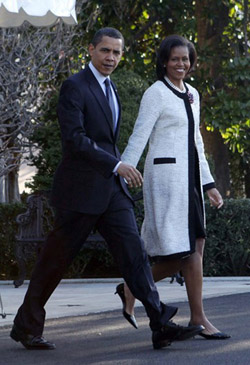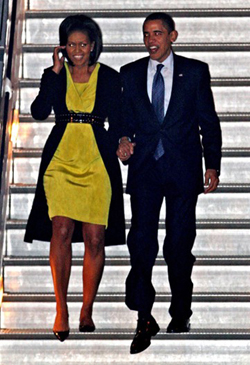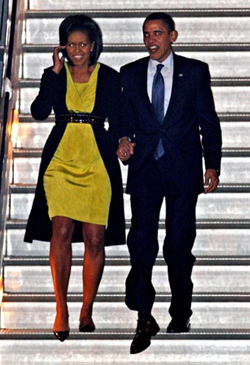 You can count on the Obama's to make an entrance. And stepping off at Stansted was no exception. Now it was time to debut Jason Wu once more. Michelle's gorgeous yellow dress was stunning. Really striking, and demure yet rather sexy. Top brownie points go for the very high waisted belt , a nice touch. Once again Wu didn't actually know that the First Lady was going to be wearing it, he had created a capsule wardrobe for her earlier in the year. But he did remark:
"Yellow is such a great colour, and it's nice that we are seeing spring right now, it's definitely very optimistic.
And a bit of optimism is just what we need right now.
For her visit to Number 10, Michelle was sporting the mint green trend along with a cute embellished cardigan, courtesy of the high street retailer J Crew. Now that's recession loveliness.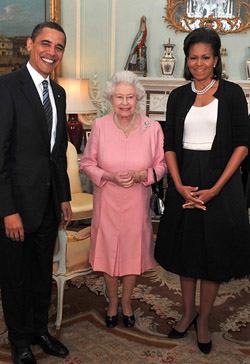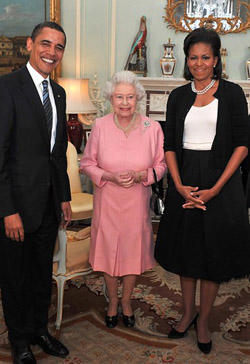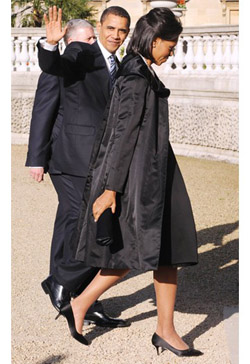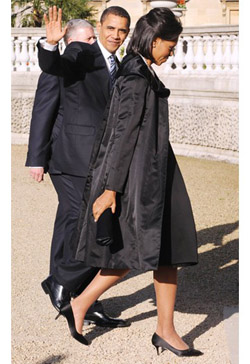 Then she popped off to see the Queen. For this outing she wore a Jason Wu coat, with an Isabel Toledo dress and an Azzedine Alaia cardigan. She kept her pearls on, and looked picture perfect. So far, Michelle has dressed appropriately for every occasion, stylish for the plane, a dramatic colour for the landing, and demure for tea with the Queen.
We will just have to wait and see what she wore to Jamie Oliver's meal. Who knew politics could be so exciting?!