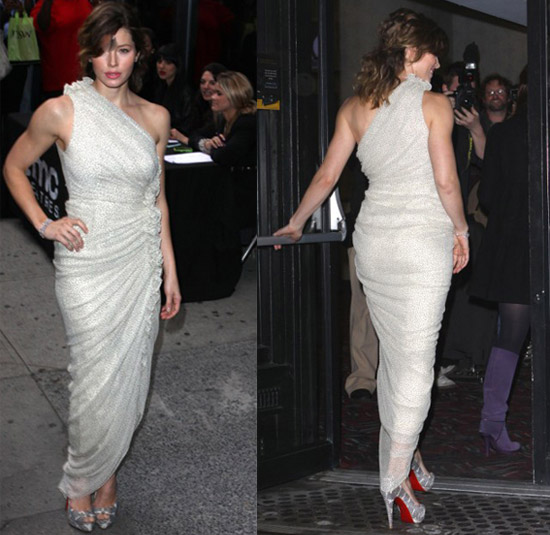 We all know that Jessica Biel is a gorgeous girl, and when thinking back, she's never really made any fashion mistakes. Yet she somehow manages to slip under the radar at times. But this must stop! She has a fabulous sense of style and last night saw a real winner of an outfit. Out with boyfriend Justin Timberlake for a special screening of her film Easy Virtue in New York, Jessica truly wowed in a gorgeous 3.1 Philip Lim Grecian style gown.
She does look amazing, the dress fits perfectly, the one shoulder is bang on trend and the ruched sides create an exciting silhouette. It does help that she has a figure that is toned to perfection. But also check out those Louboutin snake skin shoes, they are incredible. And she proves that you can have statement shoes and statement dress if you opt for tonal shades. Her hair and make up finish off the look with a demure elegance.
So Jessica Biel we are expecting great things from you so keep up the good work. Are you loving Jessica's glamorous look?
[Source]