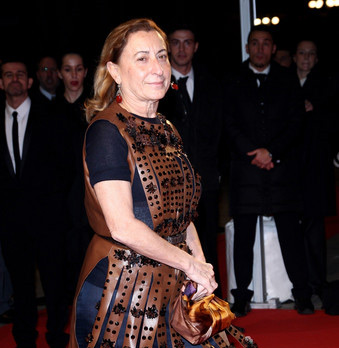 Miuccia Prada is pleased the catwalk models showcasing her 2009 spring collection fell.
The Italian designer wasn't upset two models stumbled while wearing towering snakeskin platform heels and socks because it made her show at Milan Fashion Week last September memorable.
She said: "I liked it. It made the show more interesting."
Although Miuccia remained unfazed by the tumbles, some of the Prada models were terrified at the prospect of gracing the catwalk in the challenging shoes.
One model said at the time: "I was having a panic attack, my hands were shaking. The heels were so high. Some of the girls were crying backstage they were so scared."
Meanwhile, Miuccia – whose celebrity fans include Miranda Kerr and Eva Mendes – has revealed she enjoys the stress of leaving it until the last minute to choose an outfit for a high-profile event.
She told W magazine: "It's important that you feel right, so I use an instinct at the last moment. What I think is unbearable is to wear something that we don't feel comfortable in. It's completely, totally psychological. One dress you felt so happy in for that day and that occasion, you put it on in another moment and all the magic is completely disappeared. There is a very tricky relationship between the occasion and your mind at that moment."