Oh, to have been on board the literal Louis Vuitton train! In what was one of our favourite concepts of Paris Fashion Week – and fashion month in general – Louis Vuitton's presentation took place in a makeshift train station, with very dapper looking train staff toting the models' luggage along the catwalk.
Train and personal luggage porters aside, Louis Vuitton seemed like a more extravagant extension of the autumn/winter 2012 Marc Jacobs show, as hats and bold prints that dominated his eponymous collection reappeared on the LV runway.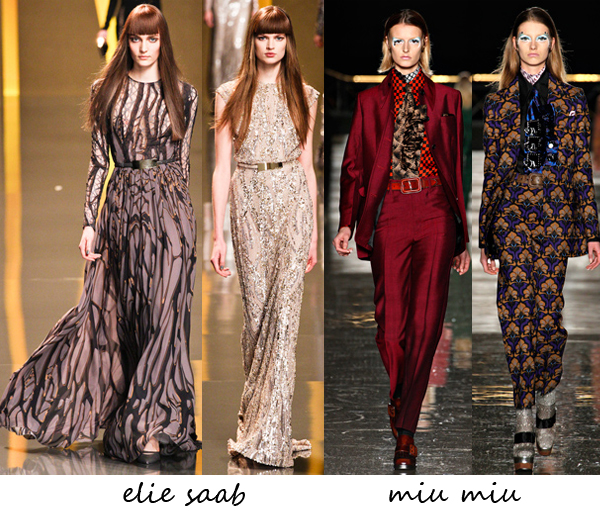 Miuccia Prada's Miu Miu collection was also a slight extension on her Prada outing, only younger, flirtier and kitsch-ier. It was a slightly more retro and masculine collection though, with plenty of wide trousers and oversized jackets appearing on the runway. Layering was also a very prominent feature, as was of course, the copious prints and splashes of colour, just as we expected. Both of Miuccia Prada's autumn/winter 2012 offerings were somewhat 'his and hers'…  but for her.
Elie Saab has been a strong presence at awards ceremonies and ultra glam red carpets this past season, which we predict will only get stronger if the latest collection is anything to go by. The first three quarters of the collection may have been all about form fitting garments, playsuits, trench coats and tailored trousers, but the finale was all about the glitz and glamour, with predominantly metallic and sexy designs coming out. We loved the fringe action on the models, too!